The Atlantic City Seafood Festival Returns to Bader Field for its 5th Year!

The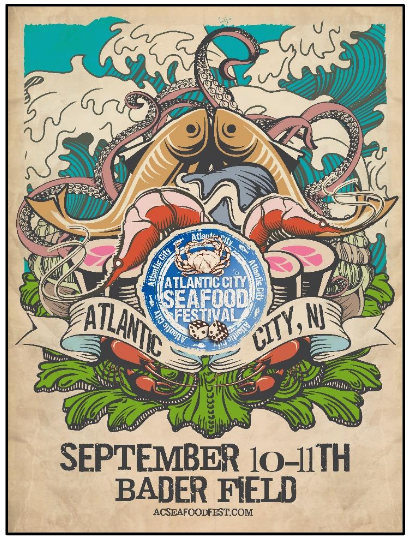 Bravura Magazine editorial staff are all a bunch of foodies, so when we heard that the Atlantic City Seafood Festival is coming back for its 5th year, we knew someone had to represent the team and cover it!
In September, the seafood festival will be returning to Bader Field and we know it will be nothing less than delicious! Read the official press release below to learn more and how to purchase tickets!
See you on the boardwalk!
Good Time Tricycle Productions and The City of Atlantic City are excited to announce the return of one of the city's most anticipated events, The Atlantic City Seafood Festival, on Saturday, September 10th, and Sunday, September 11th, at Bader Field in Atlantic City, New Jersey. This two-day extravaganza of fun, food, and entertainment celebrates the treasures of the Atlantic Ocean and the end to another fantastic summer season at our favorite seaside city.
For the 5th consecutive year, The Atlantic City Seafood Festival will host over 50 restaurants and culinary personalities. This annual celebration of ocean eats gives attendees the opportunity to experience Atlantic City as a culinary destination and is a great opportunity for Foodies and food seekers to meet some of Atlantic City's most unique chefs and restaurateurs all while eating their tasty creations. Restaurants are asked to keep their price points below ten dollars to make dishes affordable enough to experience multiple participants. Attendees are encouraged to arrive hungry!
The goal of the Festival producers is to give event attendees a reason to spend the day in Atlantic City by highlighting the fantastic dining options it has to offer. Whether it's trying the vast selection of local restaurants, sipping Jersey made craft beers, paddle boarding, cooking with local chefs, shopping unique vendors, playing in the sand or learning about wine, you'll find yourself lost in The Atlantic City Seafood Festival and all it has to offer.
In honor of September being National Hunger Action Month, The Atlantic City Seafood Festival will once again support the Community Food Bank of New Jersey by donating a portion of the proceeds to this important organization. Hunger Action Month, a nationwide campaign, challenges the public to take action by promoting ways for individuals everywhere to get involved with the movement to help solve the issue of hunger in America! Also, back by popular demand, the 2016 Chowder Cook-Off will benefit the Community Food Bank as well! In 2015, through the Chowder Cook-Off, the Festival and restaurants, we were able to raise close to $10,000 which is the equivalent of $100,000 in food distributed throughout the Garden State! This year we plan on increasing that donation with the support of our participating restaurants and festival attendees, one cup of chowder at a time!
Programming for the Atlantic City Seafood Festival includes (but not limited to):
* Children's activities and amusements
* Live Sand Sculpting
* Cooking Demos
* Live Music
* Local Art and Artists
* Wine Seminars and Tastings
* The Great Brews on NJ Tasting Tent
* Phillips Seafood Crab Cake Eating Competition
* Chowder Cook-Off benefiting the Community Food Bank of New Jersey
* SUP AC Paddle Board Race
The entry fee for The 2016 Atlantic City Seafood Festival is $5 per person, with children 12 and under being FREE. Onsite parking for this event is also FREE! For more information, check out www.acseafoodfest.com or contact Jon Henderson 609.412.9056 or at Jon@goodtimetricycle.com.