The iconic boardwalk of Atlantic City is getting ready because the biggest fashion event in New Jersey, Atlantic City Fashion Week, is only a few short days away; models will be ruling not only the runway, but a lot more during the dates of Feb. 16-18, 2017!
The newly renovated, Showboat Hotel, is gearing up to play host to Atlantic City's largest fashion extravaganza, Atlantic City Fashion Week. After yet another successful model casting, which was held a few months ago, everyone is now ecstatic to see how these models rock the designs for Ready To Wear & Couture designers!
Atlantic City Fashion Week is a show which has grown over the years. From a venue such as One Atlantic, to the fountains at The Pier Shops, and now The Showboat hotel. Not only will the show feature some of the industry's best models, but children will be walking the ramp for Season 10 of ACFW as well! And to be quite honest with you, the kids know how to SLAY on the runway!
We can all recall when the first show for Atlantic City Fashion Week was initially held, at One Atlantic. For those who don't know, it's a swanky wedding venue at the top level of The Pier Shops. Hands down, from that season, a different & creative level was set for how Fashion Week events should be hosted. And Lamont & Jeana Bowling knew just what they were up to. Little did the rest of the people know, what was to come in the future.
Now, ten seasons into it, the Bowlings' have expanded from one venue to another, going bigger and better with each one. They have even extended their brand, hosting not just two fabulous events with Atlantic City Fashion Week, but also by taking over NYC by storm, with their ever-quickly growing, SOHO Fashion Week.
This year Season 10 is going to be a fun-filled weekend, with four days of fashion-related events! On Wednesday, February 15th, they will be hosting a paneled lecture series that features industry professionals from the world of modeling, photography, cosmetology and journalism. On Thursday, February 16th, is their Student Showcase; this will be a high-fashion event featuring student and first time designers. Then on Friday, February 17th is their Ready-to-Wear designers; this event has featured past designers from the hit television show Project Runway. And then finally on Saturday, February 18th, is their international lineup of Avant Garde and Couture designers. For those who don't know, their past season's have shown collections from India, Pakistan, Australia, South Africa, Germany and Russia. The Bowlings assure you that our event will appeal to the fashionista and the first time fashion attendee!
And during the shows on Friday & Saturday evening, there will also be an array of vendors for fashionistas alike to shop during intermission. Previous seasons have included Double Red (who have the most comfortable boots ever!)…sunglasses brands, healthy & beauty, accessories & jewelry, and so much more. It's truly a great opportunity to meet such wonderful vendors that are local to the area!
But Atlantic City Fashion Week isn't just a regular fashion week event. It has turned into a home for models as well, allowing them to share & grow their creativity within the industry. How you ask? Well, I had the change to catch up with model-turned designer, Elona Hope Mitchell who exclaimed, "I'm not sure what to expect but I know it will be amazing! It's already been a dream come true. She continued, "…everything still seems so unreal to me, I'm really excited."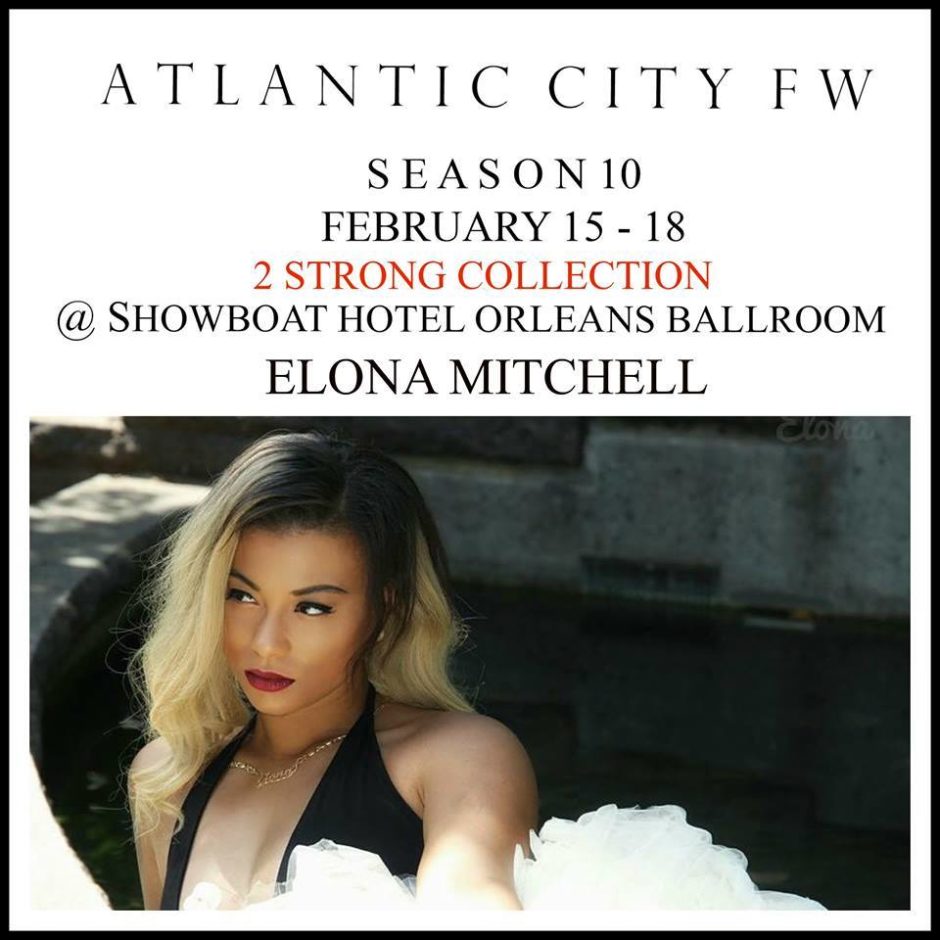 LeGrand is one of the returning designers to Atlantic City Fashion Week and we absolutely love his styles on the runway. I had the chance to speak with LeGrand Leseur and he said, "I am very excited to show my latest collection during AC fashion week! I believe my latest collection will really be spectacular and I am very excited to meet up with the other designers and models. This year I will be really able to show off my creativity." And just to give you guys a blast from the past, here is one of our favorite showcases of his from a prior season of Atlantic City Fashion Week:
This is the last week that one can purchase tickets for Season 10 of Atlantic City Fashion Week. Be sure to visit this link to get your tickets. And if you're interested, our Editor-in-Chief is also showing her first-ever couture collection, so you know it will be a fun night on the 18th! And not only that, but she will be having a few special guests in the audience, such as Miss New Jersey, Brenna Weick, VH1's Elizabeth Ann, and many more!
So get your tickets before it's too late! And if you're a seasoned fashionista, such as myself, who has been to previous seasons of Atlantic City Fashion Week, what has been one of your most favorite memories? Mine, hands down, has to have been when they hosted their season at the fountains inside the Pier Shops. The ambiance and atmosphere was unlike any other! So on that note…here's another trip down memory lane: