A Look into Couture Fashion Week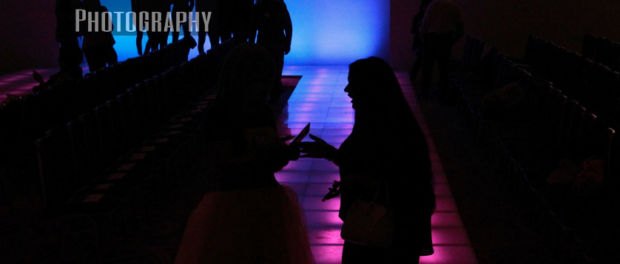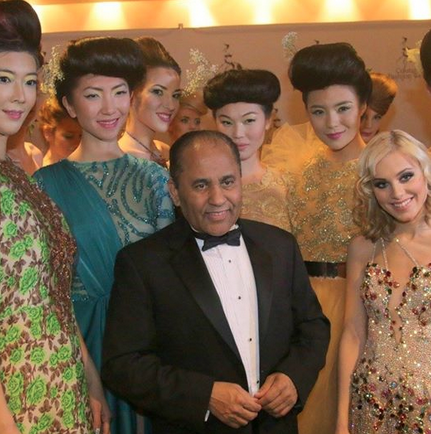 For nearly 7 years now, Bravura Magazine has had the honor of attending and covering one of the biggest fashion week events in New York City — Couture Fashion Week. It has been coined as one of the prestigious and long-lasting fashion week events to be housed in one of the most fashionable cities in the US!
Andres Aquino is the producer of Couture Fashion Week; we simply cannot get enough of his collections whenever he shows and he seems to surpass himself with each new collection! We recently caught up with Andres for an intimate interview, discussing the history of Couture Fashion Week, the growth, where it stands in the present, and how it will evolve in the future!
Couture Fashion Week has had 24 successful seasons, and is coined as one of the longest running Fashion Week events in NYC. Tell us how you started CFW many years ago and why this idea.
Andres Aquino: The New York fashion show scene was best known for ready-to-wear, until Couture Fashion Week came along. Since its start, Couture Fashion Week (CFW) has created opportunities for couture and luxury fashion designers, as well as jewelry and accessories designers, to showcase their creations, obtain publicity, and build their brands. Many are up-and-coming young designers, but the event has also presented many established and leading designers from all over the world. It also provides a great experience and resume building for makeup and hair stylists, models and event staff. CFW was the first major fashion week event to focus on high-end consumers, not just trade and press, allowing consumers to attend the shows. CFW has established itself as New York's leading entertainment, networking and business fashion event, bringing fun and excitement to the otherwise boring traditional shows.
How have you seen CFW grow not only as a show, but as a brand as well since its inception?
CFW has grown since its inception due to multiple factors including: a) the Producer's vision to create an international platform; b) the participation of international talented designers, models, performers and artists; c) our partnership with international press; d) the strategic position as the definitive couture and luxury fashion week event in New York; e) the dedicated staff and volunteers; and f) social and humanitarian dimensions.
When CFW first started, tell us the struggles and weaknesses you faced, and how you've taught yourself and your team to overcome them over the years.
New York is one of the most competitive markets in the world — as the song goes "if you can make it there, you can make it anywhere." Since the beginning, we have seen many would-be competitors attempt to reproduce our winning formula, with little or no success. I am a firm believer in perseverance. My goal was clear from the beginning: to build an event of international stature right in the heart of New York City. Of course we have seen bumps in the road along the way, but those setbacks and challenges have never been as strong as my desire to build this event into the best it can be, and so I march on.
Each season you have many successful international designers return, as well as many new designers who make their debut in New York at Couture Fashion Week. Tell us how you go about your designer selection.
Designers submit photos and videos to be considered for the event. We are always looking for high quality, creative and innovative designers. The commercial aspect is for others to follow. Our selection criteria are not based on commercial success or over exposed brands, but rather on creativity. This philosophy means both seasoned and up-and-coming designers have an opportunity to showcase their creations. Interestingly enough, for the most talented and creative designers, once they have increased awareness of their brands by showing their couture or limited edition collections, it is easier for them to develop their commercial lines in the USA and around the world.
Models are an integral part of the entire event, and help to make each season a success. Tell us, what is it that you look for in a model that will walk the runway for CFW?
We look for a combination of personality, talent, physical appearance, a healthy body weight and the ability to take direction. Height and measurements are very important because we often work with international designers who may only arrive in New York one or two days before the shows, and must dive right into fitting, with no time to re-do or tailor their garments. So it saves everyone a great deal of time to have models that are the right sizes to fit the garments. Looks are important because that helps the designers get coverage in major press outlets around the world. CFW is also proud to be the first major fashion event in New York to consistently use a rich mix of ethnicity in our models. We have featured models of all races from dozens of countries. In addition, we look for models who are not super skinny (unlike other major fashion events), and encourage a healthy body weight and self-image, since we are well aware that many young girls emulate and look up to fashion models. We have also included a number of transgender models in our shows.
Elie Esper is a brand associated with CFW for a number of seasons. Tell us how you came to know of Elie and how your relationship with him and his team came about to be the official hair stylists for CFW.
The Elie Esper Salon team is our longest running partner. We have worked with a number of hair teams through the years. Elie Esper and his talented team have proven to be a great partner – they are steady, reliable, prompt, fast and efficient, while maintaining a good relationship with models and staff. It is a mutually beneficial relationship, as Elie and his team benefit from tremendous publicity at the local, national and international levels. It is quite a challenge to do the hair for so many models in a short period of time, since we do multiple shows one after another. Elie has always delivered creative and highly professional hair styling quickly.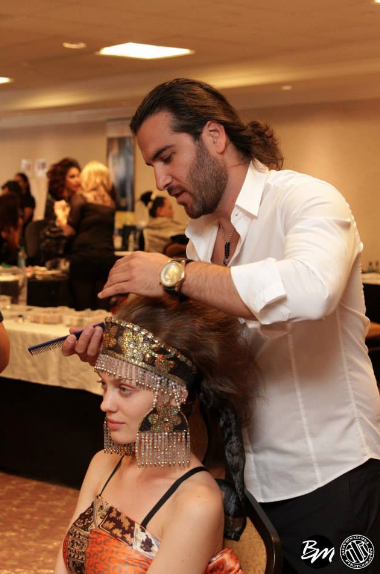 The CFW brand has become very involved in Cannes over the past few years. Tell us how this new stepping-stone has come about and what the future holds for CFW and Cannes.
There is a synergy between CFW and our sister company, the Global Short Film Awards Festival (GSF Awards). It is a perfect match, if you will, because the correlation between the gorgeous gowns on the red carpet for the film festival and the fashion creations shown at CFW. So it was a natural extension. For CFW, Cannes represents our growth on the upscale international fashion scene.
Many have come, tried, and unfortunately failed, at hosting Fashion Week events in the glorious city of Manhattan. What advice do you have for those who are trying year after year to make their Fashion Week event known in the area?
The number of companies and individuals who have tried is big and continue to grow. There is no point in trying to do what others are doing efficiently for a long time with greater resources. Bring something new, a new and unique angle, and that will increase your chances for success.
What words of wisdom do you offer to up-and-coming designers in the fashion industry, as you're also a seasoned international designer?
Designers must find their niche. Design with a well-defined woman or consumer in mind, so you know your target market. Master your craft and keep exploring new ideas. Fashion is constant evolution and revolution.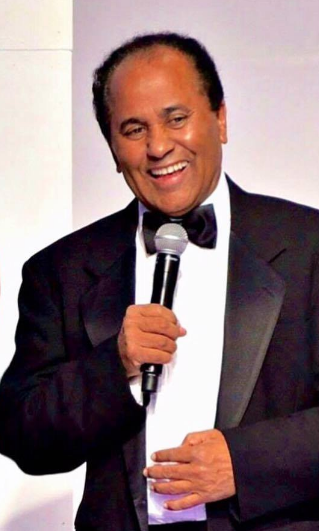 Tell us about your most recent collection and what people can expect from you at the February 2017 show.
My latest collection, "Glamour Rush," was a futuristic and nostalgic view at the dynamic and iconic New York Fashion District. Androids (male models with fabulous body art painting) carried mannequins and pushed dollies with mannequins draped with fashion concepts. Years ago, it was a common sight in the garment district – carts full of fabrics and racks laden with clothing being pushed down the street from factories to showrooms to in a beehive of activity. At the "Glamour Rush" show, the audience then saw the completed designs worn by live models on the catwalk. There were two sections to this collection: vibrant prints and New York City's most popular color, black.
"Bravura" is an artist word for exceptional; tell us what makes Couture Fashion Week "bravura" from others!
In addition to some of the points we have already mentioned:
CFW is the longest-running New York Fashion Week event running under same brand.
The event has brought millions of dollars in revenue to the city's tourist industry in hotel rentals, shopping, restaurant spending, etc.
For February 2017, CFW will introduce the social component "Changing Lives Through Fashion" which will include collaborating with a sustainable green recycling fashion program, supplying clothing to the homeless, and offering free image and clothing consulting seminars for young women to help prepare them to enter the work force.
Each season the event sees the participation of over 200 models, over 200 press houses, some 150 hair stylists and makeup artists, and over 5,000 attendees over 3 days.
Extended press coverage reaches over 170 countries and one billion viewers globally.
More Couture Fashion Week "firsts" during New York Fashion Week:

First to incorporate fashion, film and tourism
First to incorporate theatrics and entertainers on a regular basis, including top notch performers, singers and dancers from around the world. This concept has been emulated by other fashion event producers like Victoria's Secret
First to be filmed in state-of-the-art 3-D
First to create a complete line of printed hats using 3-D technology to showcase on the runway bringing a high-tech element to New York Fashion Week
First to showcase a Muslim designer presenting western-style garments in New York
First to showcase a Muslim fashion designer with a luxury couture collection bridging traditional fashion boundaries
First to present hand crafted fashions by designers from indigenous First Nations from North America
First to present couture fashions from Mongolian designers
First to promote art and culture from the Philippines and Nepal
First to present awards and recognize talented international designers on a regular basis.
On a final note, thank you "Bravura", and congratulations on your own years of success! Please visit www.CoutureFashionWeek.com for more information and tickets to the next season's shows.
– * – * –
Editor's Note: We sincerely thank Couture Fashion Week producer, Andres Aquino, for taking the time to speak with Bravura Magazine; for years we have watched his show grow and progress, and it excites us to walk into CFW each season, because we know it will be nothing less than spectacular – with an overfilling press pit, international designers, and some of the top-notch models in the country, who wouldn't ask for a better way to appreciation international haute-couture fashion! If you haven't, I suggest you visit the CFW website (noted above), and purchase tickets for their upcoming show in February; trust me when I say…you won't be disappointed!