Win a Miss America Class of 2017 AUTOGRAPHED Beachball!
Want to have a ball with the Miss America Organization​ Class of 2017?! Well now is your chance! Bravura Magazine​ is raffling off this #beachball, signed by ALL 51 contestants of #missamerica, as well as, the one & only, Miss America 2017 Savvy Shields​! Raffle tickets are 10 for $10! And ALL proceeds will go to benefit Children's Miracle Network Hospitals​! *** Raffle tickets can be paid for via VENMO - tirushadave@gmail.com *** And they will also be available for purchase in Atlantic City, during the week of Miss America! ***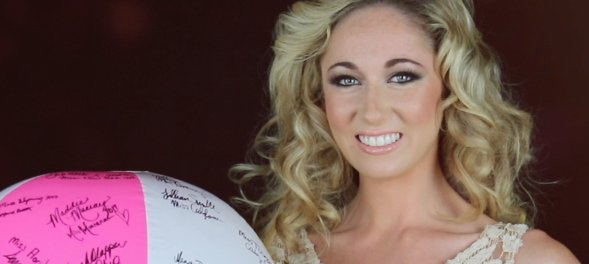 The Miss America Class of 2017: Miss Alabama Jessica Procter​, Miss Alaska Angelina Klapperich​, Miss Arizona MaddieRose Holler​, Miss Arkansas Maggie Benton​, Miss California Jillian Smith​, Miss Colorado Meredith Winnefeld​, Miss Connecticut Eliza Lynne Kanner​, Miss Delaware Chelsea Bruce​, Miss Florida Sara Zeng​, Miss Georgia Alyssa Beasley​, Miss Hawaii Kathryn Teruya​, Miss Idaho Taylor Lance​, Miss Illinois Abby Foster​, Miss Indiana Haley Begay​, Miss Iowa Chelsea Dubczak​, Miss Kansas Krystian Fish​, Miss Kentucky Molly Matney​, Miss Louisiana Laryssa Bonacquisti​, Miss Maine Katie Elliott​, Miss Massachusetts Jillian Zucco​, Miss Michigan Heather Kendrick​, Miss Minnesota Brianna Drevlow​, Miss Mississippi Anne Elizabeth Buys​, Miss Missouri Jennifer Davis​, Miss Montana Maddie Murray​, Miss Nebraska Allison Tietjen​, Miss Nevada Andrea Martinez​, Miss New Hampshire Lauren Percy​, Miss New Jersey Kaitlyn Schoeffel​, Miss New Mexico Taylor Rey​, Miss New York Gabrielle Walter​, Miss North Carolina Victoria Huggins​, Miss North Dakota Cara Mund​, Miss Ohio Sarah Clapper​, Miss Oklahoma Triana Browne​, Miss Oregon Harley Emery​, Miss Pennsylvania Katie Schreckengast​, Miss Rhode Island Nicolette Peloquin​, Miss South Carolina Suzi Roberts​, Miss South Dakota Miranda Mack​, Miss Tennessee Caty Davis​, Miss Texas Margana Wood​, Miss Utah JessiKate Riley​, Miss Vermont Erin Connor​, Miss Virginia Cecili Weber​, Miss Washington Nicole Renard​, Miss West Virginia Tamia Hardy​, Miss Wisconsin McKenna Collins​, Miss Wyoming Cheyenne Buyert​

Don't forget: tickets are NOW on sale for The 2018 Miss America Competition, Parade, and After Party!
Four-night ticket packages and single-night tickets to the "The 2018 Miss America Competition" are on sale now through Ticketmaster.com or by calling toll-free at 1-800-745-3000.
On Saturday, September 9th, 2017, the contestants will participate in one of Miss America's most beloved traditions, the Miss America "Show Us Your Shoes" Parade on the Atlantic City boardwalk! To purchase reserved seats in their prime viewing area at Kennedy Plaza, click here: Show Us Your Shoes.
Immediately following "The 2018 Miss America Competition" at Boardwalk Hall, you can join the class of 2018 and the newly crowned Miss America 2018 for a night of dancing and celebration at the Official Miss America After Party in the Palladium Ballroom at Caesars Atlantic City. To purchase tickets, click here: After Party.
For updates on competition week events and other information, visit: www.MissAmerica.org.
2018 Miss America Competition Tickets
Miss America "Show Us your Shoes" Parade Tickets