New York Fashion Week is one of the most highly anticipated times of the year, especially for fashionistas everywhere. And if there's any show that one wants to be at, it's Sherri Hill. For many year, Sherri Hill's gowns have been seen on the stages of the Miss America, Miss USA, and Miss Universe pageants. And if you ask any girl going to prom who her dream gown would be by...the answer is surely, Sherri Hill! Celebrities who have adorned the Sherri Hill brand include Selena Gomez, Carrie Underwood, Miranda Lambert , Zendaya, Ariana Grande, Gabby Douglas, and many more!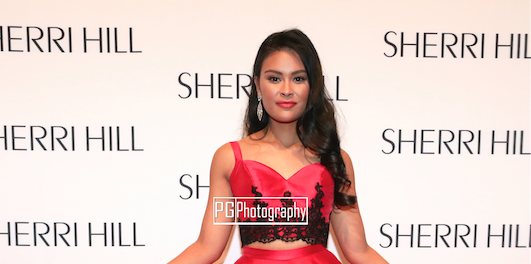 Hill began her relationship with New York Fashion Week, when she debuted in 2011. Her runway models included Kendall Jenner, international model Carmen Dell'Orefice, Miss China 2011 Luo Zilin, and Miss USA 2011 Alyssa Campanella.
This year we were honored with the opportunity to attend her highly anticipated show at Gotham Hall. And it was nothing less than star-studded. With runway superstars such as Victoria Secret model Daniela Braga, Miss Universe 2015 Pia Wurtzbach, Miss Universe 2017 Demi-Leigh Nel Peters, Sailor Brinkley Cook, and many others!
Pia first appeared down the runway in a stunning strapless gold gown, with a slit up the front, and then lit the runway on fire with Hill's all black & ruffled bottom gown. Demi-Leigh also looked so sophisticated as she walked the runway in a shorter cocktail by Hill. Sailor also made her Fashion Week debut with Hill's show, as she walked the runway in a gorgeous pink ball gown, in addition to a, green gown.
What I enjoyed the most from Hill's collection was the way in which she depicted a variety of cuts and silhouettes. I will admit though, that one of my favorite was truly the lavender dress with a long, chiffon cape train. It was simply…bravura! Check out the collection below:
A lot of celebrities and stars also walked the red carpet for the Sherri Hill show. Some notable personalities were Eva Gutowski and Niki and Gabi DeMartino – who were also there to support Sailor! Others noted on the red carpet were Alisha Marie, Madison Pettis, Teala Dunn, Ashley Nichole, and Halima Aden, to name a few. The very lovely Miss America 2018, Cara Mund, was also on the red carpet, alongside Lucy, an energetic 7-year-old and CMNH Champion! And how cool was this for Lucy, as it was her 7th birthday and her first fashion show ever! She gracefully walked the red carpet in a beautiful Sherri Hill gown as well!
We'd like to give a shout out to P.G. Photography for capturing everyone on the red carpet for us. Check out more pictures from the red carpet here: