SOHO FW Designer Spotlight – Rose Berger
Celebrating season number two, SOHO Fashion Week (sohoFW) makes its return to the FDNY Museum at 278 Spring Street in the SOHO section of Manhattan on Saturday, November 19, 2016. There will be a 3:00 PM show and a 7:00 PM show.
From the Executive Producers of Atlantic City Fashion Week and fashionSTYLE LIVE, their latest addition to the New York Fashion Week market, SOHO Fashion Week brings together an intimate show that includes Couture, Ready to Wear and Children's Fashion.
One of the many designers who is showing during Season 2 of SOHO Fashion Week is Rose Berger. We had the opportunity to catch up with Rose before SOHO Fashion Week!
1. If this is your first time showing at SOHO Fashion Week, what made you inclined to showcase your collection? Yes, this is my first showing at SoHo Fashion week. Even though I have been designing since 2005, I've recently started designing looks for the runway. This seems like a wonderful opportunity to showcase my collection and gain exposure.
2. Share with us the inspiration behind your collection which you're showing in SOHOFW. My collection, Elegant Warrior, was inspired by my love for ancient history. When I design a piece of jewelry, what comes to mind is the structure and shape of the human body. My desire is not only to make sure that every design looks good but also feels good. Each piece is designed to exhibit the exquisiteness of the human body.
3. What is one of your most favorite piece from the collection you're showing and why? One of my favorite pieces is the stainless steel aluminum and rubber ring headpiece. This stunning piece took the longest to make and is also a favorite among models who've worn it. The materials I used inspired me to think outside-of-the-box and venture further into using other raw metals when designing pieces.
4. What do your designs say about you as a designer/brand? Each of my handcrafted pieces are made with precision. I can make a pair of gold or sterling silver earrings for an elegant evening or an outfit for a comic con event. These designs are unique statement pieces that will stand out and be noticed.
5. "Bravura" is an artistic word for exceptional. Tell us what makes you "bravura"! I take a holistic approach in my designing process making sure to visualize the aesthetics and feel before making each piece. I'm a trained silversmith with an expertise in soldering precious metals.
6. Where can attendees learn more about your work and/or purchase your designs if interested? Website: http://www.roseberger.nyc/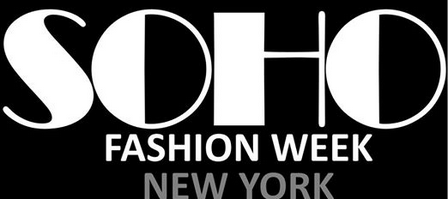 About SOHO Fashion Week:
Tickets for SOHO Fashion Week are $50 for general admission and can be purchased on our website. Additional information about model casting, VIP seating or press credentials can be found on our website. SOHO Fashion Week is presented in part by fashionSTYLE Magazine and KingBee Media LLC. SOHO Fashion Week is the latest addition to the high end fashion industry market. SOHOFW is held twice a year in New York and is attended by VIPs, press and fashionable attendees.