Miss America 2018 Cara Mund
It has been quite the long week, and everyone has been eagerly awaiting the start of the Miss America 2018 pageant, which aired live on ABC this evening. The entire week all 51 contestants have been going through evenings of preliminary competition, filming for the big day, sleepless nights due to excitement & nervousness, and so much more. But it was all worth it for the big event - Miss America 2018. And tonight, a new Miss America was crowned.
For the first time in Miss America history, Miss North Dakota, Cara Mund, brought home the crown.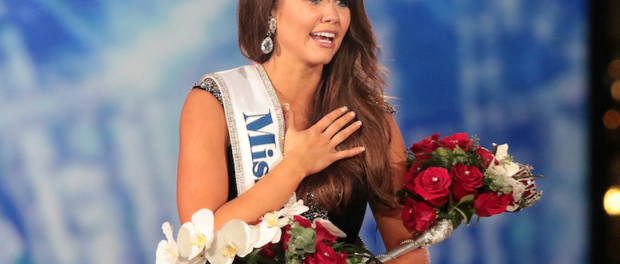 Mund is no stranger to the pageant world; she started to take part in pageants at a young age; and in 2010, she took part in the Miss North Dakota's Outstanding Teen pageant; she went onto win the title of MAOTeen North Dakota, and then competed for the national title of Miss America's Outstanding Teen.
It was a few years later that she decided to take part in the Miss pageants, and in 2016, she competed for the title of Miss North Dakota and placed first runner-up. Excited and ready, she then took the crown as Miss North Dakota 2017

And tonight, the ever-so-beautiful Savvy Shields placed the prestigious crown on Mund's head, and then she took her first walk down the iconic Miss America runway. During the new addition of preliminary questions during the pageant, Mund was asked about the number one item on her bucket list. Her response was quick and perfect: "Honestly, it was to get to Miss America and make it past the top ten…(w)e've only had three girls ever make it this far and so it just proves that it doesn't matter where you come from geographically, if you have the ability to do it and you dream it, you can do it."

For her talent performance, Mund performed a jazz routine to Michael Jackson's The Way You Make Me Feel. And she was hit with a tough question during the second round, in regards to Trump administration's decision to pull out of the Paris agreement. But even then, she answered with such grace stating, "…I do believe it's a bad decision…Once we reject that, we take ourselves out of the negotiation table and that's something that we really need to keep in mind. There is evidence that climate change is existing. So whether you believe it or not, we need to be at that table, and I think it's just a bad decision on behalf of the United States."
And it also goes without fail to honor and congratulate The Miss America 2018 court:
The first runner-up was Miss Missouri Jennifer Davis; Davis earned a $25,000 scholarship. Her talent was a Bollywood dance routine and her personal platform is United We Stand, Divided We Fall: Diversity Matters.  The second runner-up was Jersey's very own, Miss New Jersey Kaitlyn Schoeffel; she received a $20,000 scholarship. Her talent was dance, and her personal platform is Operation Empowerment.
The third runner-up was Miss District of Columbia Briana Kinsey, who obtained a $15,000 scholarship. Her talent was pop vocal, and her platform is Daring to Defeat Diabetes. And finally, the fourth runner-up was Miss Texas Margana Wood, who was awarded a $10,000 scholarship. Her talent was contemporary dance and her platform is You Belong.
We wish Cara Mund all the best as she embarks on this new journey as Miss America; we hope she comes back to New Jersey soon. In the meantime, check out some pictures of Cara during the week of Miss America!