Miss America 2018 – Prelims Night 3
Friday evening was the third and final night of preliminary competition for the title of Miss America 2018; it was a day of many emotions, primarily because the last night of prelims equals 48 hours until Savvy Shields crowns a new Miss America! But at the same time, that means that someone new will step into the spotlight, and we will be able to watch her grow in the months to come as a person and a beautiful representation of what the Miss America Organization stands for. After a beautiful performance of the National Anthem, host Dena Blizzard took to the stage, as started the program. All 51 contestants vying for the title of Miss America 2018 brought their final and strongest A-game to the stage tonight, as they competed in the categories of: Lifestyle & Fitness - Swimsuit, Talent, On-Stage Question, and Evening Gown.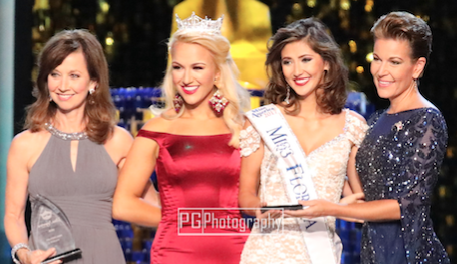 Before the prelims began, congratulations were announced to Debra Dene Barnes, who at the time was a 20 year old, Miss Kansas, who took the crown home as Miss America 1968! Celebrating her 50th anniversary, she gracefully walked the stage and spoke to those in attendance that night.
"…every Miss America has brought her character…her integrity to the crown…my satisfaction has come by being an advocate for domestic violence victims," and ended with, "…beauty is ageless."
Debra was the first Miss Kansas to win the Miss America title; as part of her talent, she played the theme from "Born Free." After she graduated from KSTC, she performed two concertos with the university orchestra and Gershwin's "Rhapsody in Blue," with the Carthage Symphonic Band. Currently, she is still imprinting on the lives of others as she is an associate professor of piano studies, elementary music, and staff accompanist at Missouri Southern State University in Joplin, Missouri.

Recapping the evening, congrats were in effect for Miss Louisiana, Laryssa Bonacquisti, who was named as the preliminary Talent winner for her ventriloquist performance. And for those who were not at the pageant, Laryssa also won the preliminary on Thursday evening, for Lifestyle and Fitness; this now makes her a "double preliminary winner!" For Friday night's preliminary win, she will receive a $2,000 scholarship. Other honorable mentions were Miss Michigan's rendition of Lady Gaga's "Bad Romance," on the violin, and Miss Oregon's "Moonlight Escape," on the piano. Check out some more images from the talent portion of Friday's preliminaries:
And also a big congrats to Miss Florida, Sara Zeng, who was the preliminary Lifestyle and Fitness winner; for this Sara will receive a $1,000 scholarship. Here are some more images from the Lifestyle & Fitness preliminary competition.

For a final time this year, the contestants took the stage in the preliminary portion of the pageant, to answer their onstage question, in regards to their personal platform. Each of the women were so eloquent with their responses and did not hesitate to tell the judges, from their hearts, why they are 100% supportive of their platforms.

And last but not least, again we were so amazed by the choice of style these women took for their evening gowns. There were so many colors, patterns, and textures which were brought to life on the Miss America stage Friday evening. Here is a recap of those who competed in Evening Gown on Friday evening:
Saturday is the "Show Us Your Shoes" Parade, which is a huge tradition in the Miss America Organization. If ticketed seats were not purchased, you can still get them now. Otherwise, good luck trying to find an open spot on the boardwalk. Why?! Because people travel from states afar to see how the ladies adorn their shoes to best represent themselves and the state which they are representing! And of course, Sunday evening, at 8PM EST, is the LIVE broadcast of the Miss America 2018 pageant, on ABC! If you're not going to be home, then make sure you record it on the DVR, because this one one pageant you're not going to want to miss!