Miss America 2018 – Prelims Night 2
As Miss New Jersey Kaitlyn Schoeffel asked, what does she have in common with the Miss America pageant? Well...they were BOTH born in Atlantic City! And all jokes aside, tonight was an amazing showcase of talent, confidence, poise, grace, and articulation, as all of the 51 contestants competed in a second day of preliminaries. Just as yesterday, the contestants took part in Lifestyle & Fitness - Swimsuit, Talent, Evening Gown, and On-Stage Question. The contestants were broken down into three different groups - Alpha, Sigma & Mu - and had their opportunity to show the judges the best them, they could be! The evening began with Miss Michigan's Outstanding Teen, Katie Preston, who sang the National Anthem so beautifully. And then Dena Blizzard took to the stage, again, to host this evening's preliminary competition.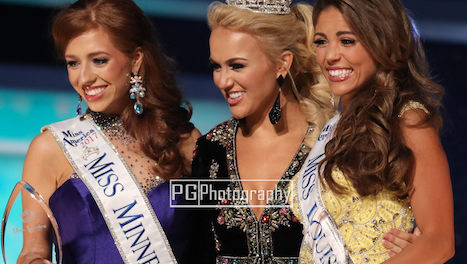 The first portion of the night was the Lifestyle & Fitness competition, accounting for 15% of the contestants' total score. Miss Louisiana, Laryssa Bonacquisti, was named as the preliminary Lifestyle and Fitness winner; for this Laryssa will receive a $1,000 scholarship.

The second part of the evening was one of my favorites – talent. The talent competition accounts for 20% o the contestants' overall score. Miss Minnesota, Brianna Drevlow, was as the preliminary Talent winner for her classical piano performance; for this Brianna will receive a $2,000 scholarship.
Some honorable mentions from the talent portion of this evening were Miss Missouri (Jenn LeighDavis) and her amazing Bollywood dance. Davis has been learning Bollywood dance from the dance master himself, Nakul Dev, for nearly four years now. Dev had written on a Facebook post not too long ago, "It makes me so proud that Bollywood dance has been embraced in America. Many people will troll and be ignorant to why this girl, who is not Indian, is doing Bollywood dance as her talent. My answer, Bollywood is not just for Indians, it is for the world. Dance has no color, no religion and no gender. Jennifer is a shinning example of of her platform…DIVERSITY MATTERS!"
Another performance from the evening, which stood out, was North Dakota's jazz dance to "The Way You Make Me Feel." I really enjoyed her high-energy and my favorite part was her chair dip! If that didn't catch your attention, then I don't know what will!

The third part of the competition was Evening Gown, which accounts for 20% of their final preliminary competition score. The stage was a sea full of colors, as the contestants from the Mu group shared with the audience their taste in red carpet fashion! Gowns which stood out me were from Miss Michigan, Miss New Hampshire, Miss Kentucky, Miss Montana, and Miss District of Columbia; check out some images from the evening gown, and let us know which ones you really liked!

In between talent, contestants from the Alpha group were asked an on-stage quest by Blizzard, in regards to their personal platform. This accounted for 5% of their overall preliminary scores. Some statements which stood out were:
"1 in 10 kids will receive treatment from a CMN Hospital; I share stories of kids like Carson…sharing their stories is the best way to get those donations." – Miss Connecticut on how to get people to help with fundraising.

"We need role models and that is so important for young women…they will see that they can do this!" -Miss Maine on empowering women in politics.

"…it's something we all have a responsibility to step in and stand up for…" -Miss West Virginia on taking action against sexual assault.

"…it's all about making it fun & interesting; I've made Miss Hawaii toothbrushes…" -Miss Hawaii on how to get children excited about oral hygiene.

"The arts are an integral part of our community; it enriches the economy…we need to e funding the arts." -Miss New Mexico on why the arts are important.

"…addiction destroys families…12 of my family members struggled and one of them was my father…we have to erase the stigma thru education." -Miss Tennessee on the opioid epidemic.
Before the night was over, Savvy took to the stage with some emotional sentiments. We can be sure that there will not be a dry eye in Boardwalk Hall on Sunday evening, when she crowns a new Miss America. Savvy has personified what it is like to be Miss America. And as Landon "The Intern" said to me the other day, "Savvy has made herself so vulnerable to the public, and has created a realistic role model for young girls to look up to." And he nailed it with that statement! Some things from Savvy's monolouge which stood out were…

"…I want to give the biggest thank you in the world…to my pageant family: you ave made being Miss America what it is. I am a different human being that who I was last year on September 10th…being Miss America has been the biggest honor of my life…I've met the most amazing human beings…I have seen so often, this year, how similar we all are…I have become a collective of everyone I've met this year."
And she spoke those words which such beauty. How can you not love Savvy?!

Before the night was over, there were several awards which were announced. The first were the Miracle Maker Scholarships. There were three different awards, all with a top winner, 1st runner up and 2nd runner up.
The first was the Local Miracle Maker Award, which was awarded to the top three local title-holders.
2nd Runner-up ($2,000): Chelsea Yarber from Alabama
1st Runner-up ($3,000): Greeshma Reddy from Kansas
Winner ($5,000): Miss South Carolina Suzi Roberts
The next was the State Miracle Maker Award, which was awarded to the top three state organizations.
Winner: Miss South Carolina Organization
1st RU: Miss Alabama Organization
2nd RU: Miss Utah Organization
The last was the National Miracle Maker Award, which was awarded to the top three national title-holders competing for the title of Miss America 2018.
Winner: Miss South Carolina, raised $63,000
1st RU: Miss North Carolina, raised over $25,400
2nd RU: Miss Massachusetts, raised over $14,400
Next, the Quality of Life Awards were given out. There were seven finalists for this award, and the winners were:
Winner – Miss Alabama, $6,000 scholarship
1st RU – Miss North Dakota, $4,000 scholarship
2nd RU – Miss South Carolina, $2,000 scholarship
The next awards for the evening were the S.T.E.M. Awards; fr this there were five finalists, and three winners, each obtaining a $5,000 scholarship. The winners were: Miss District of Columbia. Miss Kentucky, and Miss Massachusetts.
The final set of awards were for the Women in Business; of the four finalists, the two who earned a $5,000 scholarship each, were: Miss Colorado, and Miss Ohio.

Tickets for the final night of prelims, as well as, the Miss America 2018 pageant are still available via Ticketmaster.com! And you can also get your tickets for the Miss America parade (Saturday evening), and official after party (Sunday evening). And if you cannot make it to the pageant, be sure to tune into ABC at 8PM EST, to watch the pageant live!