Catching Up with MAOTeen Jessica Baeder
Last month we shared with you when Miss Alabama's Outstanding Teen, Jessica Baeder, was announced as Miss America's Outstanding Teen. Since then she has been preparing for one of the biggest appearances as MAOTeen - the Miss America 2018 pageant. And after a long flight into Atlantic City last night, we were able to catch up with her over some coffee to see how her time as MAOTeen has been.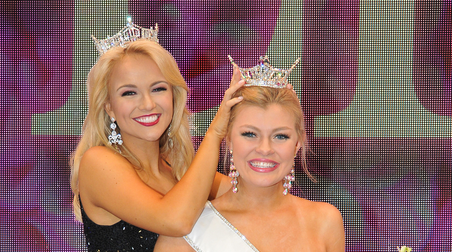 When it came to preparing for MAOTeen, what was your process, your mindset, and the guidance you received?
I have a very supportive board – the Alabama board is very supportive. I did a lot of mock interviews with them, worked on walking! My gown! I've never worn a gown that big before; and that white gown was the biggest I've ever worn, so I was really scared about that. And also just being in the dance studio as much as possible to work on my dance.
How has your journey been so far as MAOTeen?
It has been a whirlwind. And I think it's starting to settle down now since it has been a little over a month. Being in Atlantic City right now is pretty crazy because this is the first time that I have actually traveled as Miss America's Outstanding Teen. Doing this interview right now is crazy! When I said I never thought I would be on a national stage, I was not kidding. Because I didn't grow up in pageants; I started when I was 15-years old. And it's all I've known. My first year at states, I competed and walked away with nothing but experience. And that prepared me to be at Nationals. It has just been so fun and I cannot wait for the rest of the year!
Tell us a bit about what fashion is to you.
Fashion is another way to express yourself. Everyone's fashion is different. There can be trends, or "what's in," but it's really what you define it to be. I do like to dress up when I am going out or doing appearances, but if you catch me at school, I probably have no make-up on and am wearing a t-shirt. So, my fashion really differs on where I am going. I do like bright colors because I think it makes a statement. But your statement is whatever you want it to say.

Want to know what else MAOTeen Jessica Baeder and I talked about?! You will have to wait until we release out BONUS digital issue after Miss America 2018 is crowned! Who will she be?! Tune in at 8PM EST on ABC to find out!