Miss New Jersey 2017 – Shoe Parade
Opening night for the Miss New Jersey pageant was kicked off with their annual Shoe Parade, down on the Boardwalk, in Ocean City. Each year there is a different theme for the contestants, similar to that of the Miss America parade. All 28 contestants were present for the parade, along with their Outstanding Teen, their Little Stars from the Princess program, Miss New Jersey 2016 Brenna Weick, and Miss New Jersey's Outstanding Teen, Augostina Mallous.

The shoe parade is a great time for friends & family to come together, while experience the Jersey shore boardwalk, and cheer on the contestants, who have spent weeks working on their creative, themed shoes & car decor! We had blasts from the past with shoes & cars themed out in hits such as M*A*S*H, and I Dream of Genie, to current mainstream hits as, The Walking Dead, and Scandal.

We caught up with a few people during and after the parade to get their thoughts on this year's theme and outcome! First was Julie Seeley, mom to one of the contestants, Kyra. She said, "It was a wonderful evening on the Ocean City boardwalk seeing the Miss New Jersey contestants representing a variety of TV shows. From oldies, such as MASH (my daughter Miss Central Coast Kyra Seeley), to newer shows such as Game of Thrones (Miss Monmouth County Jessica Milne). The crowd seemed larger than last year. A perfect evening in Ocean City!"
And she is indeed correct! There was such a variety of themed shoes & cars this year. Even classics such as The Addams Family and The Mary Tyler Moore show were depicted, to one of my personal favorites, Once Upon A Time. Game-shows such as The Price Is Right, were also part of the theme!
And this leads right into the amazing creativity behind the contestants ideas. Heather Lynne, Miss Northern Lakes Executive Director, stated "I loved the creativity! the girls perfectly incorporated their cars with their own specific themes. The use of props and extras to tag along made it extra fun!"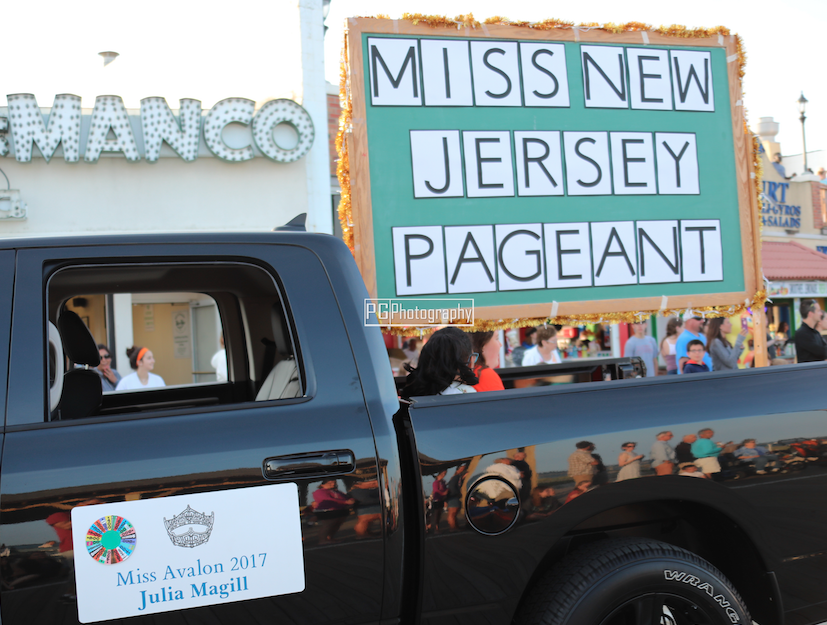 Vickie Indio, mom of Miss Tri-County, Jessica Indio, exclaimed, "Each and every girl brought there own unique style." And this unique style was quite evident in each car that drove down the boardwalk!
Debbie Frye, mom of contestant Laura Frye, simple smiled at the end of the parade and said, "I want to wish her all of the luck! This is her first time at the pageant, and I hope she does wonderful."
And that, at the end of the day, is the most important factor! As long as each of the girls are having fun and enjoying their time together with one another! Television truly did come alive tonight on the Boardwalk in more ways than one! Here's to an amazing way to kick of Miss New Jersey week! More highlights from the rest of pageant week coming soon!

Check our more images from the official Miss New Jersey Shoe Parade, thanks to our partner at P.G. Photography: