The Road to Miss Arkansas – Destiny Quinn, Miss Arkansas State University
The next contestant to be featured as part of our series, "The Road to Miss Arkansas," is Destiny Quinn, the current Miss Arkansas State University! Continue reading to learn more about Destiny, her journey to the crown, and what she's learn from her current Miss Arkansas, as well as, Miss America, Savvy Shields!


Please share with our readers your platform along with a brief description of what it is.
My platform, "Vote It's Not Just Your Right. It's Your Duty," focuses attention on the fact that, even in a politically-charged climate, many people fail to follow through on the most important right we have as American citizens: the right to vote. Apathy is a terrible thing for democracy. Less than half of registered voters cast ballots in the last Presidential election. Youth voter apathy is especially rampant. My goal is to actively engage that demographic and others to ensure that everyone's voice is heard to effectively run our local, state and federal government operations. Government can't work for us, if we don't make our voices heard.
How long have you competed in pageants? How do you think you've personally grown with all your prior pageant experience?
I began competing in pageants at the age of sixteen. Funny story– I actually wore jeans to my first MAOT interview! I had no idea what I was doing! The Miss America Organization has changed my life in so many ways. It has allowed me the opportunity to grow in all aspects of my life. I have developed valuable interview skills that I will carry with me when I begin to search for jobs. I have learned how to live a healthy lifestyle via "Savvy Choices," a nod to our amazing Miss America's platform! I have developed poise and the ability to perform a talent in front of hundreds of people. Without a doubt, one of the biggest blessings, though, has been the fact that I have developed life-long friendships with people from all over my state and, parts of the nation. There's a sense of "family" that goes along with the Miss America organization. Many have taken the time to help me just because they have such great respect for the Miss Arkansas organization and the people who lead it. I am forever indebted to them for helping me become the young woman that I am today.
In regards to your platform, why did you choose to go with this particular one?
I chose my platform, "Vote It's Not Just Your Right. It's Your Duty," after speaking to classmates at Arkansas State University. It surprised me to learn how few were actually registered to vote. It was like that had never crossed their minds. You can begin voting at the age of 18. So why were so few young men and women not following through on something we learned about in 8th grade civics class? That confounded me! So, I became "that girl" who set up a table in the student union and worked to register students at lunchtime. I used social media to engage A-State students in hopes of casting an "even wider net" to get more students to register. My voter registration effort spanning two years was called, (#whyimvoting). Armed with a chalkboard, my cellphone camera and my Instagram account, I was able to get millennials to engage in the process. I took their completed voting forms down to the County Clerk's office and voila'– the voting rolls in Craighead county grew!

How has working alongside your platform made you into a stronger person?
How am I stronger because of my platform? I am considered a millennial. This generation makes up 1/3 of the electorate. It is my belief that change begins with me. Working on my platform has made me realize that, in order to reach out to this generation (which I am part of), you have to make them realize "what's in in for me." Sadly, I think that's what's also made it a challenge for me to find an effective way to reach my peers. My resolve has been tested, in that, I want to change attitudes and remove the apathy that exists in today's society when it comes to being a part of the political process. But, negative attitudes exist. To vote, is to imply "hope." We "hope" for a better day by selecting a particular candidate or ballot measure. In order to try to fight that, I came up with a way to take my platform into the classroom and begin educating students at an early age of their responsibility to effect change. Though they may not be close to voting age, they can begin to understand the process and engage their parents in conversation. That, in itself, could make Mom or Dad realize they have a duty to vote their conscience when even a child realizes the importance of doing so. My platform has even afforded me the opportunity to speak on the Arkansas State Senate floor during the 91st General Assembly. Arkansas lawmakers were able to hear my ideas about how to get more young people more actively engaged in the political process.
What have you learned from your current Miss Arkansas Savannah Skidmore as well as our Miss America Savvy Shields, which you hope to carry with you if you were to win the title of  Miss Arkansas?
Miss Arkansas Savannah Skidmore has shown a brilliant light on a very dark subject in hopes of saving lives. The loss of her uncle to suicide was painful and (had an impact). She has taught me just how important it is to be passionate about your personal platform—even if the conversation may be one that is a bit uncomfortable. Getting people to talk about issues they don't want to face or focus on is a powerful thing when you a public figure like Miss Arkansas. Who brings this idea home even more is our very own Miss America Savvy Shields! Savvy and I became good friends last year during the pageant. (We were right beside each other in the line-up.) Savvy has had the chance to take her platform, "Eat Better, Live Better," to a national, and in some cases, international level. Teaching people to make simple changes to improve their nutrition and lifestyle has been her goal. I've gotten to hear her speak at length on the subject when she visited my hometown for a United Way fundraiser and can now understand how she has been able to get so many people to embrace her ideas, and really, a healthier life. Savvy has taught me that you don't have to have a complicated message—just a very personal one. She has said that she hopes to make every girl she meets feel as if they could become Miss America, too. I would want to carry that legacy on; if I was crowned Miss Arkansas. Savvy is able to engage people with her genuine caring attitude and smile. People are receptive to her because she listens and is kind. We are all so proud of Savvy. She has done a phenomenal job as our Miss America. I can speak for every contestant and say that she has made a huge impact on the Miss America Organization.
As a title-holder, what is one of the single-most important messages, which you think you convey to your followers?
The single-most important message as a titleholder that I try to convey to my followers is that you can achieve your goals. I've done numerous presentations on just how important it is to set short-term goals, long-term goals, and life-time goals. With a drive and dedication, anyone can accomplish anything they set their minds to. The first step is to get started today! Too many times we put off making goals for ourselves. But, there's nothing more important than having a goal and working to reach it.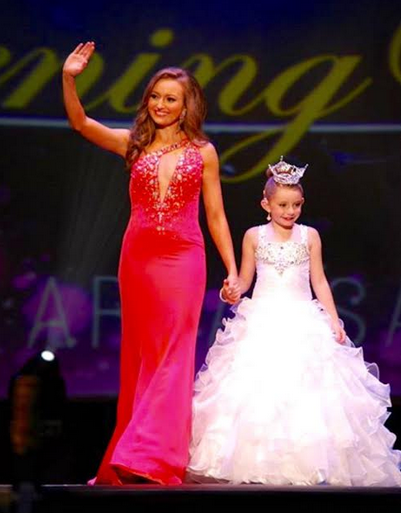 If you were to win the title of Miss Arkansas, what is the one thing which you would strive the hardest to accomplish?
As Miss Arkansas, the one thing I would strive the hardest to accomplish would be to speak to as many schools and organizations as possible. It's important for Miss Arkansas to be accessible—both in person and online. If children can hear and interact with someone like Miss Arkansas, they can see that goals are obtainable. They can hear the passion I have for my platform and why they need to be excited to learn about their civic responsibility as a future voter. There is nothing more exciting for a child than to meet someone they can look up to. I want to be that person for the children of Arkansas.
Imagine you're competing for Miss America, and your roommate has never visited Arkansas; how would you describe your state to your roommate?
The "Natural" state has so much to offer! If you visit Arkansas, you will be amazed by not only how beautiful our great state is, but also, by all of the amazing places you can visit. Northwest Arkansas has Crystal Bridges, a world-renown art museum that attracts exhibits from all over the world. The museum is situated not far from the Boston Mountains, which provide so many scenic opportunities for pictures—especially in the fall when the leaves are turning. I'd be sure to tell my roommate about the amazing Blanchard Springs Caverns in Mountain View.  In Northeast Arkansas, I'd make sure she heard about the flat-lands of the Delta, which are home to museums highlighting the culture and heritage of those who lived here before us. There's the Johnny Cash boyhood home in Dyess. Not far from there are huge steel mills that make raw products shipped to all parts of the world. There's my all-favorite place to be: Centennial Bank Stadium, home to the Red Wolves football team that claimed their fifth championship title in six years.
If you could place three items in a time capsule, which represent the women of today, what would they be and why?
If I could put three items in a time capsule that represent women of today, I would include a cell phone with a calendar app filled to show how we juggle so many tasks at one time. Being a journalist, I would include a videotaped story about the past Presidential election for people in the future to see what people thought of this time in history. The third item(s) I would include is 78 cents. In Arkansas, a woman makes 78 cents for every dollar that a man makes. I think this would be powerful for women of the future to see, so that they could understand (hopefully) how far we have been able to come.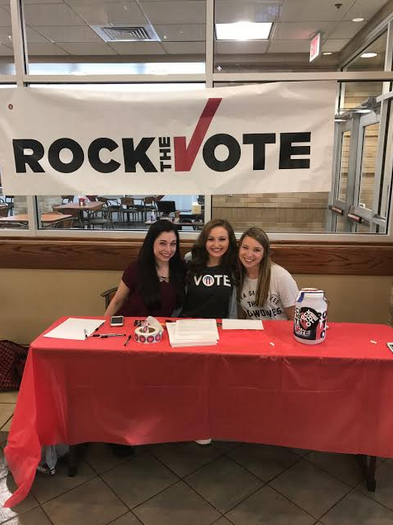 Because of media, many people tend to look at pageant with a very scrutinizing opinion; For you. personally, what have been some of the biggest benefits of being a part of the Miss America Organization. And how would you share the positive nature of pageants with others who may not be familiar?
The Miss America Organization has played a huge role in my life. The four points of the crown are the best way to portray to anyone that doesn't believe in pageants, just how vitally important this whole process can be for young women. The four points consist of style, success, scholarship and service. The most important point to me is service. I have always believed that to whom much has been given, much is expected. Holding a local title has paid for over half of my college expenses and will be paying for my master's degree that I am pursuing in the fall. Another point of the grown, success, is proven by all titleholders in the Miss America Organization. Titleholders, myself included, learn at an early age that we are capable of achieving anything we set our minds to. And, on to the last point of the crown, style. Style is upheld with every contestant. Being a part of something bigger than ourselves, shows that you must do things with a style that is reflective of the organization as a whole. I believe we are held to a higher standard because of the Miss America Organization.
The name of this magazine is Bravura.  "Bravura" is an artistic word for exceptional; in your opinion, what makes you "bravura"?
I believe my work ethic is what makes me "Bravura." I believe that once you commit to something, you must put your all (your heart, your soul and your passion) into it. There's no time for excuses. It's my desire to effect change and make the world in which I live in a better place. I am a hard-worker and dedicate my time to projects that, I hope, will always help the greater good.
Where can fans follow you on social media?
Instagram: @destinyq
Twitter: @destinyquinn13
LinkedIn- Destiny Quinn
Facebook- Destiny Quinn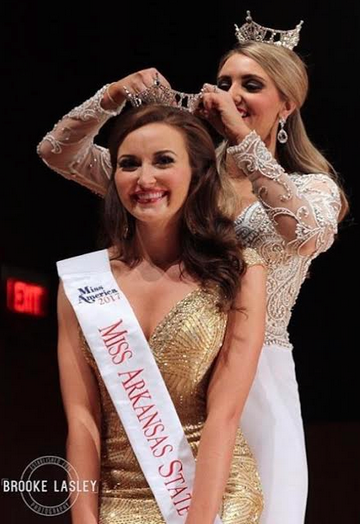 What advice do you have for those who want to take part in pageants?
My advice for a future contestant would be to believe in yourself and BE YOURSELF! Too many times we see someone we admire and fashion ourselves after that person. However, the best you is YOU. Be true to yourself! Examine what other successful titleholders do and how they conduct themselves. Then, formulate a plan for yourself. You are capable of holding a title if you give it your all. Don't hold back, set goals and you will see progress towards winning that crown.
What words of thanks do you have for those who have helped to bring you to where you are today  – a member of the Miss Arkansas Class of 2017?
I can never find enough words to express the gratitude I have for the friends and family who have helped me to be a part of the Miss Arkansas Class of 2017.  It truly "takes a village" to get to Miss Arkansas. I am so very blessed to have the most encouraging and supportive people in "my village." From the time I first competed in a pageant until now, I have been blessed by experiences I would never have had—if I had not been a part of the Miss America system. From dance instructors, teachers, MAO donors, caring pageant directors and friends of the pageant system who still give back to the organization, I say, "thank you." None of this would have ever been possible without so many people sharing their time and talents with me. I am so thankful for each and every one of you.
What final words, if any, do you have for the readers of Bravura Magazine?
People who read Bravura Magazine choose it for its exceptional look at fashion and culture. The "culture" of the pageant world is nothing like the pettiness we see in reality TV shows. I've been fortunate to be a part of the Miss Arkansas pageant for four straight years as a contestant and I have seen young women push themselves to be the best they can be. But, at the same time, they are also supportive of each other on that stage. It's not easy to get up there and walk around in a swimsuit or tackle an interview in front of a panel of judges. But, every time we put ourselves out there and push the limits to excel, we find –not only something we didn't know about ourselves—but also we learn that through challenges, we grow. Miss Arkansas is a pageant Bravura readers would enjoy reading about—but even more than that, they would be impressed to see the personal development that takes place among young women participating in it. It's changed my life! And, I know that I'm not alone in making a statement like that.