Up-Close & Personal with Atlantic City Fashion Week

I remember when I first came to meet Lamont & Jeana Dean Bowling, or as I like to call them, the powerhouse couple of fashion. It was by fluke that I came to know two people, who were so humble, and working in the fashion industry. And under their wing, I was able to experience a different since of Fashion Week, that many people merely dream of experiencing.
Going into it's fourth year, I have seen Atlantic City Fashion Week (ACFW) grow not only as an event, but as an individual brand as well, focusing on not only bringing about a unique style & fashion sense to the runway, but also being a platform for first-time designers to showcase their talents to the world.
As ACFW prepares for one if it's biggest shows yet this September, I took the time to sit down with the Bowlings, and find out a bit more of the nitty-gritty behind the brand, their vision, their ideas, and the future of ACFW.
Lamont Bowling asserted that, "Atlantic City Fashion Week was created 4 years ago with the idea of bringing a high-end 'New York Style' fashion event to the shores of New Jersey. When we started Atlantic City Fashion Week, Miss America had moved to Las Vegas with no sign of returning to New Jersey. We wanted to create a brand that Atlantic City would take ownership of."
Wanting to stay true to the state which they called home, Bowling also went onto state that, "(because) we are Jersey born and bred and only had an interest in working in New Jersey, we developed a team: Jeana Bowling the other Executive Producer, Jermain Pratt a local shoe designer and Vanessa Banks a model – all who joined me to brainstorm on ideas to implement Atlantic City Fashion Week."
And as any other brand wanting to start off on the right foot, there were indeed hurdles and challenges which they had to face. The Bowlings went onto describe that, "local businesses and organization in the Atlantic City area had a wait and see attitude. They absolutely gave us their blessing but they wanted to see the results of an event we produced. We were fortunate that our first event was a success and we haven't looked back."
Bowling was also excited to that that, "there was a quick and immediate interest in the idea of Atlantic City Fashion Week. Designers came to us ready to be a part of something spectacular. We had the responsibility to manage an event that lived up to the Fashion Week name."
And from there onwards, it was history in the making. ACFW went from one bigger venue to the next, increasing the number of designers they were showcasing and their list of celebrity guests increased rapidly. Everyone wanted to be a part of this major name. And with such grandness comes grand responsibilities as Bowling explained that, "[p]roducing Atlantic City Fashion Week is a major responsibility. It is so much bigger than Jeana and myself and we must recognize and understand that. We are humble passengers enjoying this ride. We are charged with the responsibility of creating a brand that our great-grandchildren will recognize. Atlantic City Fashion Week is second in size only to the Mercedes Benz Brand Fashion Events and will continue to grow."
And if that isn't amazing, the Bowlings were also excited to share a bit of EXCLUSIVE news with us too. Lamont chuckled and said, "starting February 2015, Atlantic City Fashion Week will produce five shows per week and looks to move to an even larger venue. The sky is the limit."
How would that even be managed?! Only time shall tell, and you know we will be there to bring you all the latest & exclusive updates! And the reason ACFW has been so successful is true to the Bowlings' mindset. "We provide an event that is well managed, well organized and well attended by the fashion community. We don't necessarily have Mercedes Benz in our sights. We just want excellence and as we increase our level of excellence success and growth will be the fruit of our labor."
They went onto assert, "Last season's event sold out. We quickly realized that we needed more space. Immediately after our show, we were in search of a new home. One that could accommodate our growth. After meeting with several resorts throughout Atlantic City, we contracted with Bally's Hotel and Casino."
And with such a dedicated brand being established, it was only a matter of time until major mainstream brands such as Michael Kors and Tiffany & Company looked into being a part of this event. The Bowlings went onto state, "Having a nationally recognized brand attached to your event often legitimizes its significance. Last season was the first time we had designers from Project Runway participate in our event. They were so happy with their experience that word quickly spread about our event. Now, several Project Runway Designers past and present look to show collections in Atlantic City"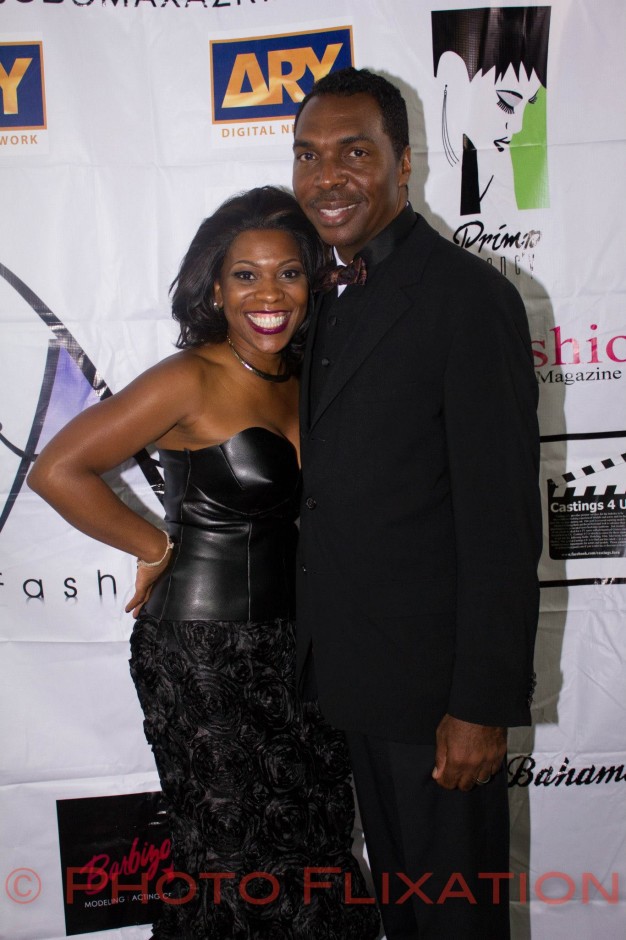 Stepping away from their amazing work, anyone who knows the Bowlings know that they both have a very tasteful, unique and distinctive style. Lamont is rarely to never seen without a bowtie, and Jeana, well, what can we say — she personifies what a fashionista truly is from head to toe! So you know we had to talk about fashion!
"Clothes do make the man," Lamont stated. "(Your) first impression is a lasting impression. And any other appropriate cliché that you can come up. We are Atlantic City Fashion Week. That means style, elegance and sophistication. We want to be noticed at an event as that amazingly well dressed couple that represent an organization. Quite often people will recognize us simply because of our style."
And with Jeana Dean Bowling being at the forefront of fashion, I needed to talk to her about something more serious — the idea of how media perceives fashion. When we're watching runway shows or flipping through the pages of magazines, all of the models we see are super-skinny and tall — which is more widely known as "industry standards." But we all know the saying is "beauty is within the eye of the beholder," and we, as women, always try to make ourselves believe that. However, media, on the other hand, continuously keeps pushing the 00-standard and you have to be thing to walk the ramp. Jeana is a women who has seen fashion change & new ideas being developed and implemented, and I wanted to know her idea on what a true model is, and why the young generation of women shouldn't follow what the media says.
And so proudly, Jeana went onto state that, "The one great thing that I have to say is that ACFW prides itself on not being like any other fashion week. When it comes to our fashion week we stand alone in numerous areas especially in regard to our models, whom we love dearly. The honest truth is that the average women is not a size 0, 2 or 4, but more so a healthy, confident, curvy and talented individual who loves the skin that they are in. So we at ACFW celebrate that and showcase these models every chance we get."

I also asked her about establishing a career in the field of modeling and she went onto assert that, "I feel like modeling is just like any career that you are passionate about, you need to eat, breathe and sleep modeling if it's something that you are truly interested in. A portfolio with professional pictures is a must and by participating in quality fashion shows you will gain the experience you need.
*** ACFW Rapid Fire Round ***
Favorite Designer:
Lamont – Changes all the time. Right now Hugo Boss
Jeana – Ralph Lauren
I would love to be styled by:
Lamont – My favorite stylist, Jeana Bowling.
Jeana – Lamont
Most fashionable couple:
Lamont – Will and Jada Smith
Jeana – Lamont and Jeana Bowling 🙂
I could never leave my house without:
Lamont – Business Cards
Jeana – My husband
When traveling, I always need…
Lamont & Jeana – Cell phone
The one accessory every man MUST have:
Lamont – pocket silk
Jeana – a bowtie
The one accessory every woman must have:
Lamont – a great pair of heels
Jeana – A great lipstick
*** My two final questions for Lamont & Jeana Dean Bowling ***
Now as you know, "bravura" is an artistic word for "exceptional." Please tell us what makes ACFW bravura!
ACFW has 12 Directors. Each bring unique talent and a level of experience that enables our event to rise to the next level. They bring a fresh prospective to fashion week events that our audience will enjoy.
Please share, with our readers, any final words which you have…
There's a quote by Lou Holtz – "It is a fine thing to have ability, but the ability to discover ability in others is the true test." – I've surrounded myself with winners. People who are absolutely dedicated to the success of Atlantic City Fashion Week. Together we will create a brand that will live for centuries.
—
To learn more about Atlantic City Fashion Week, please visit their official website. You can also find them on Facebook, and other social media networks as well. Don't forget, this season ACFW will be three days (ACFW Awards on September 25th, Ready to Wear designers on September 26th, and their Couture designers on September 27th). Be sure to get tickets for this haute event!