Milan Gosai Visits The 1920's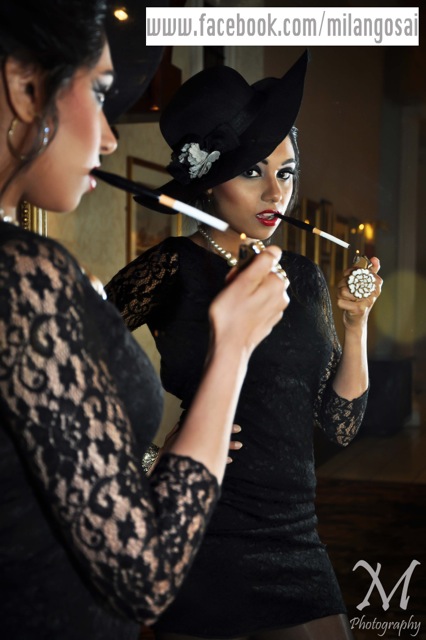 At Bravura Magazine, we're always looking for new and exciting things to share with our readers and by chance, we happened to find a great photographer from the UK - Milan Gosai.
He recently did a photoshoot at the Ramada Jarvis Hotel, based in Leicester, United Kingdom. And we had to share these images with you.

The makeup artist for this shoot was Mina Kashmir, also based in Leicester. [Be sure to check out her page and more of her creative makeup looks!]
When asked about the theme for his shoot, Gosai stated, "I was going for was the 1920 era…a time of flappers and mobs." He went onto add, "[it was to be] elegant and classy, [embracing a] rich look."
And as we know, it was in the 1920's that we saw, for the first time in many centuries, that women's legs were seen with hemlines rising to the knee; in addition to that, the dresses were more fitted than before. It was obvious that the fashion of this era was bohemian and quite "forthcoming" for its time.
We can easily see this in Gosai's images. His model is seen in two very sexy and fitted dresses, both rising above the knee line. We also see the fitted hat as an accessory, something that was becoming more popular towards the end of the 20's.
Also in the 1920's, any evening gown would have been unfit if it didn't have the one prime accessory to go with it: the "flapper-style" cigarette holder. From the mid 1910's onwards, it became a well known accessory, with it's slender tube and sense of 'being chic.' Gosai was not forgetful to even include this well-known 'style icon' from the 1920's.
We went on asking Gosai about his inspiration for the shoot and he explained to us that, "[I found] inspiration from watching Godfather 2, as it portrays the 1900's boldly and it caught my eye; I wanted to do a flapper-style shoot because I had not done such a shoot before and wanted to experiment."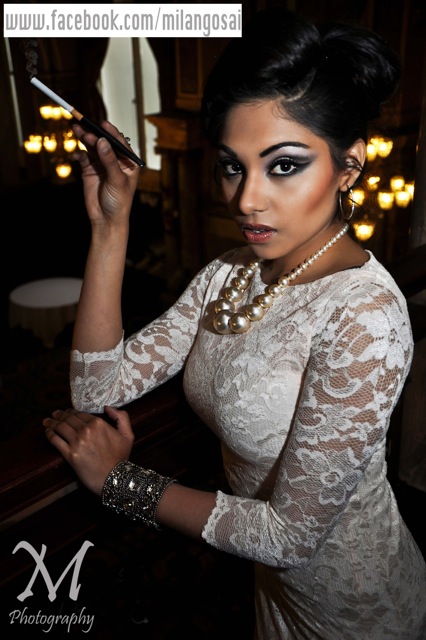 And his experiment came out ravishing. Gosai continued, "I also went to watch Chicago: The Musical, in London and sought inspiration from the character of Velma Kelly as she's strong and her costumes were vibrant and very eye catching. It made me instantly think to do a shoot around that theme; I knew it would be different and unique."
It's very rare that you see a shoot done out of the norm of what you expect when it comes to fashion. That is why we applaud Milan for taking things one step above the rest and re-visiting the past for inspiration. Let us know what you think of his style and images – contact@BravuraMagazine.com. Be sure to check out his other fashion shoots via his Facebook page!