The Road to Miss Iowa – Marissa Messinger, Miss Polk County 2017
We continue our series, "The Road to Miss Iowa," with the next contestant, Marissa Messinger, who is the current Miss Polk County 2017.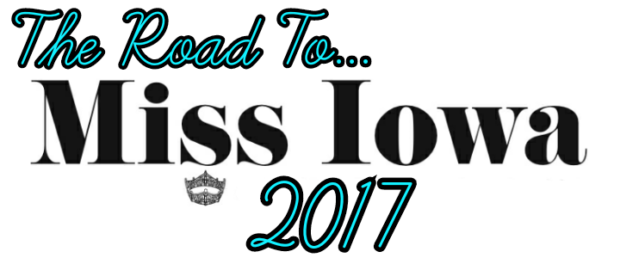 Messinger states, "I am currently serving as Miss Polk County 2017. My platform is called The 5 W's of Sexual Assault. I created it The 5 W's the summer of 2015 in efforts to make sexual assault an easier topic to not only talk about, but also easier for my audience to listen to. The 5 W's are the main question words we learn at a young age to ask when were seeking basic information. They are, who, what, when, where, and why."
She then continued, "I have not been in the pageantry business for very long, but after my first go I knew it was where I needed to be. I competed in my first pageant, Miss Midwest Princess of America, in 2014. It was a typical pageant with interview, personal introduction, evening gown, talent, and on stage question. I really entered just for the fun of doing a pageant, but after my name had been announced during crowning as the new Miss Midwest Princess of America 2014 I felt right at home. I learned about nationals, making appearances, and building connections in my community. What stood out the most to me that day was the director saying, "This crown is not meant to sit on your shelf and collect dust, it has the power to make a difference." That's why I love pageantry. The power to make a wave of difference. Pageants have altered me in so many positive ways! I can easily say I wouldn't be the woman I am today without pageantry in my life. It has given me friends for a lifetime, connections with legislators and businesses/non profits I will always hold dear to my heart. Pageantry has picked me up in my lowest spot and told me, "You can change this. It doesn't have to happen again.""
She emphasized, "My platform is personal to my life. My freshmen year of college I was raped on my university's campus. It stopped me from being me. I wasn't able to attend classes, practice with my dance team, hang out with my friends, or even sometimes leave my room. I was consumed with the fear and vivid flashbacks that could run through my mind at any given moment. They would send me into a state of panic, trying to decide what was happening in that moment versus what my trauma was making me feel in that moment. After going to counseling and working my CASA (Council against sexual assault) advocate I knew I wanted to help make a change. I knew my platform would be real and raw, but I also know the importance of talking about such crimes. It's happening all over our nation, no-where or no one is excluded from being touched someway by this, so I knew if I could use my story to make a difference with legislation, tell a survivor they are not alone, or stop one "rape joke" from circulating a school hallway. I knew my job would be done."


In regards to her platform, Messinger stated, "My platform is more than just my platform, it is my life. I live it every single day. There will not be a time in my life that my mind will be completely free of the memories. However, working so closely with IowaCASA, obtaining my Victims Counselor certificate from the Council on Sexual Assault and Domestic Violence, and hearing from so many survivors from around Iowa, it has helped to heal me. I am in a healthy place, and have been for a long time, but because it is my life my platform is also my passion. I don't want to make changes to add them to my resume, I advocate for these changes because I have the opportunity to make another survivor's story easier or better for them."
When asked about her current Miss Iowa, she said, "Miss Iowa Kelly Koch is truly one of a Kind! She has been an amazing Miss Iowa serving The Pinky Swear Foundation as it is close to her heart. One of the things I truly admired about Kelly is her perseverance. She competed at Miss Iowa two years in a row. When she walked across the Miss America Stage back in September she was absolutely stunning! Recently, she opened her personal life up to all the contestants by letting each of us know we could contact her with any questions. We could meet up for coffee to settle Miss Iowa Week jitters. If I were to win Miss Iowa that is something I would want to carry that with me. Let each contestant know I am just one of them. Contact me anytime!"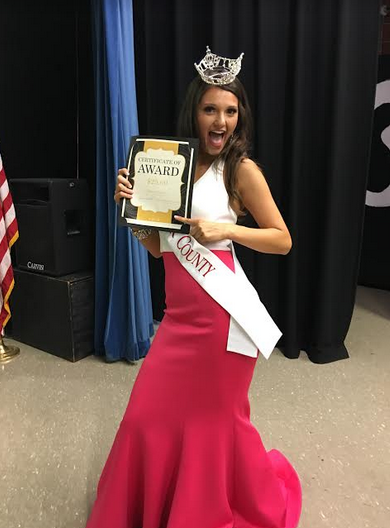 When asked what she hopes people gain from her platform she stated, "I may have dipped into this a little earlier in my responses, but I compete in the Miss America Organization simply to be an advocate for sexual assault survivors. It's not common you hear someone who walks around wearing a crown and sash testify to being raped. I use my title to amplify my voice, my message. My biggest message to my followers is that the fight against sexual violence will be long and it will be hard. I will tell my story over and over if it makes one small change. I want my followers to hear that if they have been touched, directly or indirectly, by sexual violence I believe them. I believe their story and I want to help. I want my followers to hear that it is okay to seek the resources that are available to them.  I want them to know that it is never your fault. To be Miss Iowa, is to be Miss America to me. I have accomplished so much as Miss Polk County that thinking about what could be done if I were to win Miss Iowa brings tears to my eyes. I advocated for senate file 401, a bill that will allow sexual assault survivors in the state of Iowa to obtain a civil protection order, to be passed into law. I wrote letters to my legislators as Miss Polk County, was published in the Letter's to the Editor in the Des Moines Register as Miss Polk County, appeared on multiple television stations around Iowa advocating for SF401, and lastly, I got spoken word from legislators that my story touched their souls and that they would vote 'yes' for this bill. Yesterday, it was passed. Iowa joined 34 states and the District of Columbia yesterday by giving a little piece of hope back to a survivor's life. I fell to my knees as tears filled my eyes. Justice has been served. I was apart of that. I can't image the things that would happen as Miss Iowa. My message would be spread even further! Letting more survivors know that they are not alone! That there are resources available to them."
The best part about pageant week during Miss America is that your room-mate is another title-holder from their class! When asked how she would tell her room-mate about her home-state of Iowa, she said, "I love the lyric from Sugarland's song Who Say's You Can't Go Home that goes like this, "I've been around the world and that's a matter of fact." This speaks directly to my soul. I have traveled internationally four times and even studied abroad for a semester. I have experienced some of the world's deepest and richest cultures, but Iowa will forever be one of my favorite places in this world. I would tell my roommate about what it was like growing up and knowing to come in for the night when the street lights when on. The neighborhood kids would all run their separate ways yelling "See ya tomorrow!!" I would tell her about what it's like waiting for your grandpa to poke holes in an old mason jar lid and running through the back yard barefoot chasing lightning bugs at dusk. I would tell her what it smells like just after a thunderstorm rolled out of town and the grass seems to be glistening green. I would try to capture the values of a true Iowan in a sentence or two by saying we're the heart of America, the working class, love thy neighbor, and shop small Saturday. We are Iowa."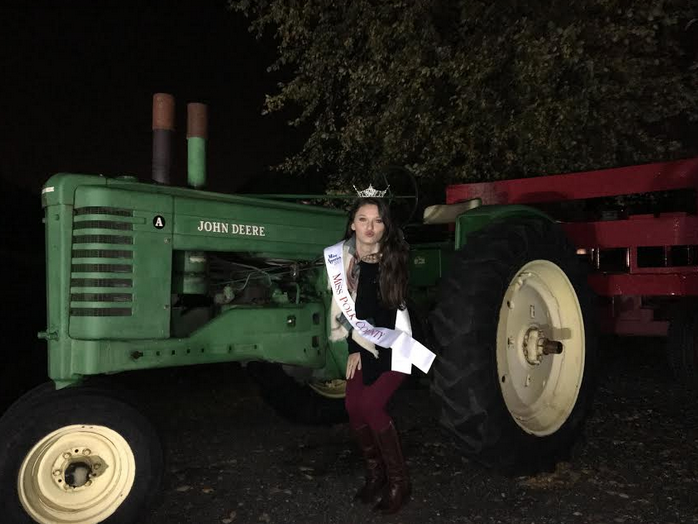 One of the fun parts about interviewing the contestants as they compete for their local title is asking them interesting questions! So we wanted to know, if you could place three items in a time capsule, which represent women of today, what would they be and why. And Messinger beautifully answered, "Three items doesn't seem like enough to fully embrace to women of today, but I think I would want a college diploma, a pair of black leather Christian Louboutin, and a mega-phone. The diploma and Louboutin's kind of go hand and hand. More women are following their dreams, going to school and obtaining the degree to their chosen career. Were going back to school when we feel motivated and inspired to do something more. The women of today are not only intelligent, but were dedicated and driven. Now the Louboutin, the black Louboutin's with the iconic red bottoms. Christian Louboutin is one of the most famous, sought after, timeless fashion trends. His shoes are sleek, sophisticated, and powerful. His shoes mean business. To me, there is nothing more satisfying than stepping into your favorite pair of heels and saying, "Yeah! I got this! Let's go make change!"  The women of today are just that! We're powerful, were strong, we're working in roles we've never been. The women of today are CEO's, doctors, lawyers, and social workers! We mean business. The mega phone is simple; hear me roar. The women of today are not only advocating for rights, but were standing up for everyone. We've put our foot down and have said, my voice matters! My opinion is valuable to our society. The women of 2017 are the strongest yet; we can only go up from here."
Pageantry is always looked at with such a scrutinizing opinion. So we wanted to know how the contestants would advocate for the MAO! Messinger asserted, "Pageantry always gets the short end of the stick. Just a few weeks ago, I was a guest speaker at a sexual assault awareness month event that happens world wide, it's called "Take Back the Night." I was the first speaker, telling my story, sharing my platform, and why I was there in crown and sash. Before the event started a middle-age man approached me and laughed as he said, "So you're here to sing the national anthem right?" He proceeded to walk away. After the event was over, the same man approached me again but this time his eyes were filled with tears. I had spoken to him. He said, "I am sorry for what I said earlier. It is courageous of you to share your story on a level like this. I don't pay much mind to pageants but you taught me tonight I should. You're powerful women." I almost didn't know what to say, how to respond to the man who mocked me before I took the microphone, but I thanked him. I encouraged him to give people chances, to not be so quick to judge. The benefits of pageantry are endless. It's service, scholarships, advocacy, and building connections. Pageantry saved me. I encourage everyone to talk, to actually talk, to a pageant contestant! Learn why they compete, what is their driving force. What makes them want to wear the crown and sash."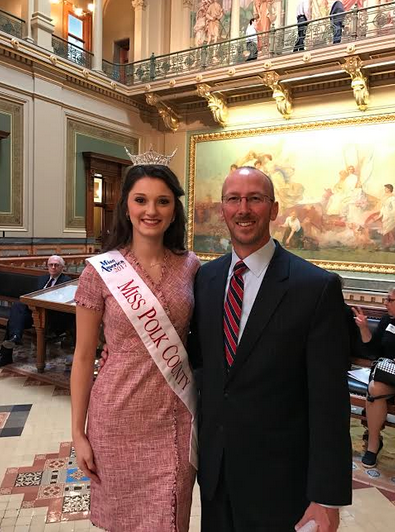 Being that our magazine's name is BRAVURA – we wanted to  know what makes each of the contestants Bravura; and Messinger said, "We are our own worst enemies; it is always hard finding our greatest qualities. However, I am bravura because there is a light inside of me that radiates to all around. After speaking with KCCI about why I felt so strongly about Iowa passing SF401, multiple survivors from around the state contacted me through social media. I probably have heard from 15 – 20 men and women who share my shoes. They all thanked me for being their strength, fighting for them when no one else was, and letting my voice also be their voice. It's a light that can't be dimmed. I was given a voice that can be so powerful it moves people to share their deepest thoughts with me. I thanked each and every survivor for contacting me. I told them that there was no real need for giving thanks to me; I am just being a good human. I've told them crown or no crown, I will always fight for our rights."
For those who want, they can follow Messinger on Facebook via: https://www.facebook.com/misspolkcounty2017/.
When asked what advice she would give to those wanting to step into the Miss America Org., she said, "Take the plunge! It will seem a little scary at first but it'll be worth it.  I really say that about a lot of things though, joining new sport, signing up for the school play, taking an art class, anything! You never know until you try. There is always someone who will be willing to help you along the way. If you're thinking about entering a pageant, do some research, find out who the current titleholders are and reach out to them!
Her final thank you's went out to: There is not a way to simply say thank you. It is a wild ride. To say I have a support team standing beside me is an understatement. I remember winning Miss Polk County on September 24, 2016 and calling my best friend Morgan. She had already seen the news on Facebook; we didn't even talk for the first 30 seconds. We laughed. We screamed. I have been dreaming about walking across the Miss Iowa stage for years. The first thing I said to Morgan after our 30 seconds were over was, "Morgan! Were going to Miss Iowa!!!" There is no "I" in this. Without my "people" I would not be Miss Polk County. It's my parents, my friends, my teammates, my professors, my advisors, my advocate, my director, my family, my roommate, my fellow contestants, my university, my dance/ color guard teachers, previous Miss Iowa's! Without all those people, I wouldn't be a successful Miss Polk County. So simply, thank you. This is as much of you as it is me.