NYIBW – Designer: Jude Jowilson
One of our favorite parts from attending New York International Bridal Week, (NYIBW), is walking the expo floor! Not only do some of the designers have their own, private runways set up, but the designers are also very personable, and you're able to learn a lot about themselves as a designer, their brand & vision. Of these designers, in particular, was Jude Jowilson! Within the first few minutes of speaking to him, I knew that he was a charm!! And his pieces were one to envy as well!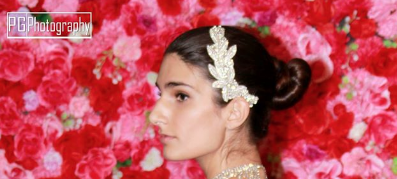 As I was walking the floor of NYIBW, I saw, out of the corner of my eye, this exquisite floral backdrop, and then my eyes landed on the wedding gown which was being modeled. I saw that the booth belonged to designer Jude Jowilson.
As we began talking, I came to know that Jowilson is a, "fashion designer with over ten years' experience creating custom-made evening gowns and wedding dresses." He said that he was, "inspired by his grandmother, a skilled home-based seamstress," and he, "developed an interest in fashion at an early age."
Jowilson graduated with a Bachelor of Fine Arts degree and later opened, "my own boutique in Cebu City, Philippines," which is in his native country. Later he came to New York City, where he continued his fashion design education at Parsons The New School for Design.
When looking at his designs, one will easily learn that his, "design aesthetic is sophisticated, classic with a modern approach and exquisite attention to detail." Jowilson's gowns are manufactured and hand crafted in the USA, using the finest fabrics and materials. He truly does "specialize in couture quality with delicate embroideries, intricate draping and dramatic silhouettes that define luxurious elegance"!
Check out some of our images, courtesy P.G. Photography!