Miss America Age Eligibility
Prior to any new changes taking place within the Miss America Organization, there was already rumors about a possible age limit increase. And those rumors have turned true! As of 12/31/2018, if a contestant is not older than 25 years old, she can still compete in the Miss America Organization. For some women who thought they had their final shot at the crown, the opportunity is still there. And there is a lot of positive chatter about this!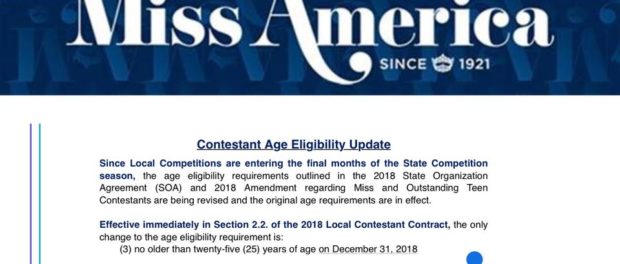 Contestants who thought they gave their all in their last pageant, are ready to hit the stage again for their local pageants. One such contestant is Rose Bolella, of New York, who wrote on Facebook, "So, as of January 1st the Miss America Organization raised the age of eligibility by 1 year, making me eligible to compete. With that being said, in three weeks I will be competing for the titles of Miss Staten Island/ Miss Richmond County for one last time."
Local pageant systems also shared the news for those who are looking to compete. For example, the Miss Clark County Scholarship Organization posted on their Facebook page, "The Miss America Organization has just changed the Miss contestant's age eligibility! Contestants may now be no older than 25 by December 31, 2018! If you or anyone you know would like to compete in Miss Clark County, let us know by Sunday morning before our first workshop!"
The Miss Arkansas Scholarship Pageant also posted, "The Miss America Org has officially raised the age of eligibility to 25 on or before Dec 31, 2018! Effective immediately! Thank you to all who worked so hard on this!"
And we are certain that the hard-work of those who were behind this positive change, will surely pass off. This, inevitably, increases the number of young women who are interested in competing for a local title. And will also spark the interest of those who thought they were no longer eligible due to their age.
Check back soon, as we will update this article to reflect the thoughts of those competing within, and a part of, the Miss America Organization, in regards to this great news!