Sri Venkateswara Temple Celebrates 25 Years
New Jersey is home to many places of worship; and over the years, the multicultural facet of our state has grown tremendously. One of these well known places of worship is the Sri Venkateswara Temple, in Bridgewater, New Jersey. To give just a brief insight on the historical aspect of the temple's name, "Venkateswara" otherwise also known as "Govindha," is a form of the Hindu god, Vishnu. Venkateswara's most prominent temple is the Tirumala Venkateswara temple, located in Tirupathi, Andra Pradesh, in Southern India.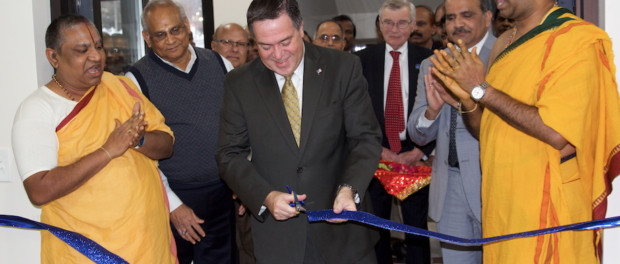 This month, the temple celebrated its 25th anniversary of being a part of the Bridgewater Township community. A lovely evening of music & song was presented for guests in attendance, and Bridgewater Mayor, Daniel Hayes, was their chief guest. He was also the primary ribbon cutter to inaugurate their new Cultural Center. Hear what Mayor Hayes had to say in regards to being at this special event in the video below:One guest at the event said, "We have come to this temple for many years, and it has grown a lot over the years." And growth the temple has surely seen. In 2004, members of the temple proposed an expansion "in efforts to better fit the needs of our ever growing community." They went onto state, "Once the expansion is completed, our Temple complex (including the Temple, cultural center, and priest housing) will encompass an amazing 100,000 square feet of buildings, parking facilities for 500 cars, and 24.5 acres of landscaped property."In regards to the community center, it has been said that the Cultural Center is "40, 000 square feet in total including the basement and covered verandas." And if you have not been to a performance at the Culture Center yet, it includes:
A state of the art theater

600 capacity fixed seating

Acoustically designed

40'x60' stage

Green rooms

Sound and lighting equipment

A 300 capacity multipurpose hall for small functions

Modern kitchen facilities

If you are looking for a cultural experience, then take a drive up to Bridgewater, and visit the Sri Venkateswara Temple.