The Road to MAOTeen 2018 – CMNH Dance-A-Thon
Children's Miracle Network Hospitals has been the official National Platform of the Miss America's Outstanding Teen Program, since 2008. CMNH was picked as the national platform, "to further reinforce the efforts that have been so successful on the national level for The Miss America Organization." In addition to whatever her personal platform may be, Miss America's Outstanding Teen, also takes the role as the Teen Ambassador for the Children's Miracle Network Hospitals as she raises funds and awareness for both CMNH and the MAOTeen Organization! How amazing is that?!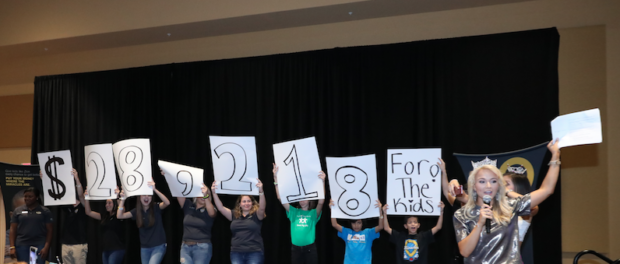 The partnership between MAOTeen and Children's Miracle Network Hospitals has been in conjunction for nearly a decade. And this evening, we saw this partnership come to life with an amazing dance-a-thon and live donation!
Not only did the 51 Miss America's Outstanding Teen contestants dance the night away to raise money for CMNH, but their Miss-sisters joined into the fun as well!
More than $28,000 was raised this evening, FOR THE KIDS! Here is a video recap of the MAOTeen Dance-a-Thon, which took place tonight:
Miss America 2017, Savvy Shields, gave an emotional speech at the end of the dance-a-thon, stating:

"Tonight was a night of inspiration, dance, hope, and so much more.

Tonight we join forces to dance; we dance to inspire, we dance for more birthdays, we dance so kids can follow their dreams…and most of all, we dance for the kids.

These hospital bands are symbolizing the pains the battles, the struggles….in this room have experienced, and families across the countries, in your home states have experienced as well. This bracelet also symbolizes hope…"

If you would like to make a donation to MAOTeen, benefiting CMNH, you can visit the following link, www.maoteen4kids.org, and search for your home-state's Teen contestant, and help them in their fundraising goals for Children's Miracle Network Hospitals!