USA National Miss, The Road to Nationals – Damiana Dalleo
We are excited to be continuing our new and fresh pageant series, "USA National Miss - The Road to Nationals." Not only has the organization awarded over half a million dollars since 2015 in cash, college scholarships, and prizes, however, they also "provide the young women in our organization with extraordinary opportunities." In our series, "USA National Miss - The Road to Nationals," you will come to meet some amazingly young women who will be competing for the National title in Boca Raton, Florida, this Summer! Through this camaraderie of sisterhood, we were able to meet Damiana Dalleo, USA National Miss Garden State Jr. Princess 2017! And instantly we fell in love with this little princess! Continue reading to learn more about Damiana and her journey to the crown, as she prepares for Nationals in Boca!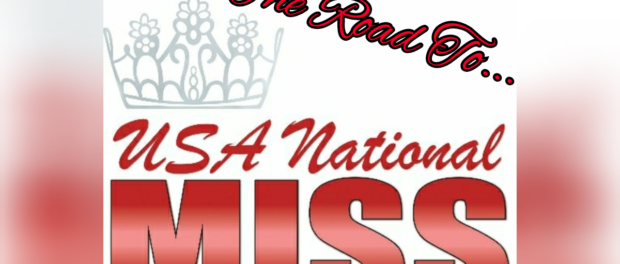 Tell our readers a bit about you, what your title is, and why you like pageants!
USA National Miss Garden State Jr. Princess 2017
LOVE making friends!
What is your platform?
One of Damiana's charitable platforms is Color A Smile.  Color A Smile is an nonprofit organization spreading smiles through cheerful drawings.  Every month thousands of drawings are disseminated to hospitals, assisted living facilities, Meals on Wheels programs and our military personnel.  Since the age of four, Damiana has collected and colored more than 2,000 "cheerful masterpieces". Damiana has created her own charitable platform, Because You Read.  Because You Read collects new and gently new books that are provided to literacy programs and nonprofit organizations supporting the under-served communities of New Jersey.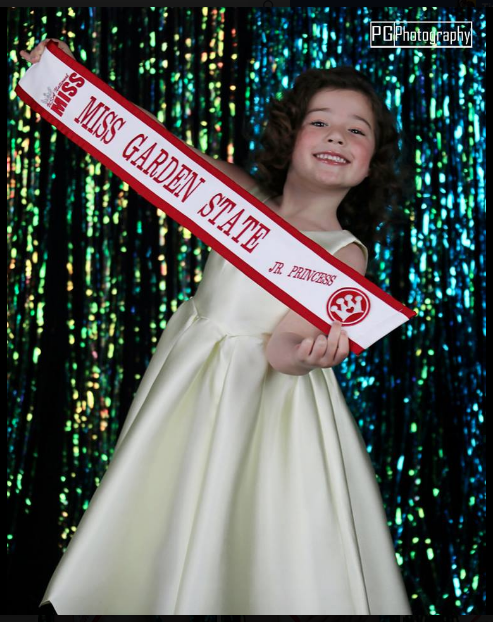 The Crown CARES is the National Platform for USA National Miss; what have you done to advocate for Crown CARES and teach people about bullying?
Damiana has periodically handed out brochures to promote bullying awareness and prevention.
What has been your greatest contribution to Crown CARES thus far?
Damiana hosted an awareness fundraiser; JUMP TO SUPPORT CROWN C.A.R.E.S. The fundraiser was held at the Sky Zone Trampoline Park in Lakewood, New Jersey on May 21st.  Sky Zone donated $5.00 to every jumper during the hours of 4:00 pm – 8:00 pm.
USA National Miss has been coined as a fashion-forward, national pageant organization. What is your definition of fashion? Do you like to do your own shopping? Where do you shop?
Damiana's definition of fashion is dresses that sparkle!  Mom still shops for Damiana.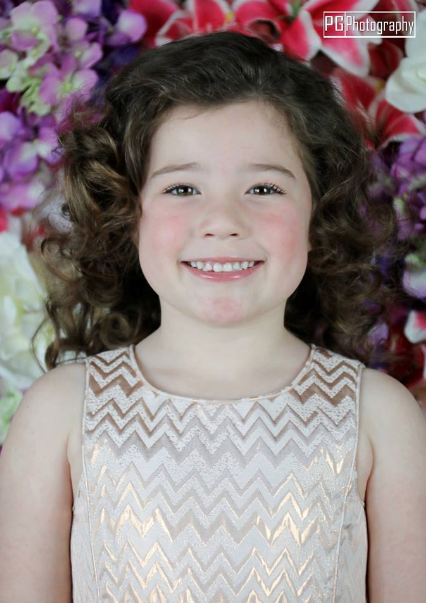 Who has been the most influential woman in your life and why?
Damiana's kindergarten teacher Mrs. Liberatore; she taught her summations and identifying sounds and sight words.
What do you want to be when you grow up? Why?
Damiana loves animals.  When she grows up she wants to be an animal doctor.
If you could have one superpower, what would it be?
Damiana's favorite superhero is Super Girl.  She loves her powers and abilities such as flight, super breath and x-ray vision.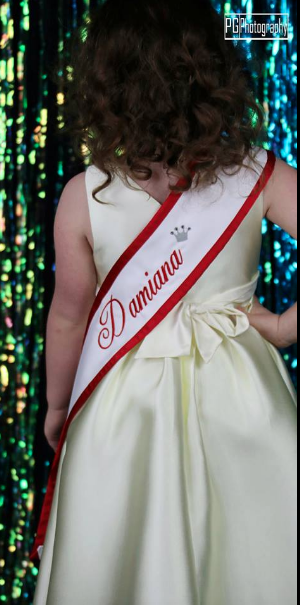 If we asked your pageant sisters to use only three words to describe you, which three do you feel they would use and why?
Warmhearted ~Affectionate~Trustworthy
What has been your most memorable pageant memory so far and why?
Damiana was thrilled to be presented with a Certificate of Commendation and Proclamation whereas the Township of Brick had "Damiana Dalleo Day".
What advice would you like to give to young girls who are interested in being part of the USA National Miss pageant system?
Be Yourself!
Where can fans follow you on social media?
Facebook Page, USA National Miss Garden State Jr. Princess 2017 Damiana Dalleo
Check out more photos from Damiana's photoshoot with P.G. Photography: