The Road to Miss Arkansas – Hannah Oliver, Miss River Delta
Hannah Oliver, Miss River Delta, is the next contestant to be featured as part of our series, "The Road to Miss Arkansas." Continue reading to learn more about Hannah and her journey to the crown.


Please share with our readers your platform along with a brief description of what it is.
My platform is Multiple Sclerosis: Taking Steps Toward a Cure. I raise awareness and funds for Multiple Sclerosis because there is no known cause or cure for the disease. In order to make a change and find a cure we must increase awareness for the disease and raise money to fund research.

How long have you competed in pageants? How do you think you've personally grown with all your prior pageant experience?
I competed in Little Miss Stuttgart a multiple times when I was younger, but I truly began this journey  in 2012 when I began competing in preliminaries for Miss Arkansas' Outstanding Teen. When I started in the 8th grade, I was a shy and timid young girl. Not only have I gained confidence in myself through the Miss America Organization, but I have also gained impressive interview skills, various scholarships, and irreplaceable friends along the way.

In regards to your platform, why did you choose to go with this particular one?
My grandfather, Tommy Oliver, was diagnosed with Multiple Sclerosis in 1980. I have watched him struggle, and I have seen everything that he has had to go through. It has really made me want to make a difference in the lives of those living with MS and the families affected by it.

How has working alongside your platform made you into a stronger person?
Working alongside my platform has made me realize that it is so important to be thankful for your health. Determination is the main key because if people with Multiple Sclerosis can accomplish their goals and dreams, then you can too!

What have you learned from your current Miss Arkansas Savannah Skidmore as well as our Miss America Savvy Shields, which you hope to carry with you if you were to win the title of Miss Arkansas?
Savvy and Savannah have both stayed true to themselves while wearing the crown. By watching them, I have learned that it is so important to be genuine, open, honest, and kind because Hannah with no crown should be exactly the same as Hannah with a crown.

As a title-holder, what is one of the single-most important messages, which you think you convey to your followers?
Never give up on your dreams. When I started in 2012, I did a total of 9 preliminary pageants before I was crowned Miss Apple Blossom's Outstanding Teen and was able to compete for Miss Arkansas' Outstanding Teen. It got really hard, and a lot of the time I wanted to stop and just quit. I did not give up though, and today I am still competing. I am still reaping the benefits of the Miss America Organization. If I would have given up at preliminary pageant number, 8 then I most definitely would not be the young woman that I am today.

If you were to win the title of Miss Arkansas, what is the one thing which you would strive the hardest to accomplish?
I want to spread the word about my platform, Multiple Sclerosis: Taking Steps Toward a Cure, to all of Arkansas by using the crown as a microphone to portray my message. We can all do something to make a difference in the MS community, whether it be by telling someone about MS, volunteering with the National MS Society, helping a patient who has MS, or raising money for or making a donation to the National MS Society.

Imagine you're competing for Miss America, and your roommate has never visited Arkansas; how would you describe your state to your roommate?
Currently I am a student at Mississippi State University, so I am becoming a professional at describing how wonderful the state of Arkansas is to people who have never been there. Arkansas is a place where there are warm hugs, tractors driving down the roads, lots of gravy, the most beautiful sunsets, some of the most incredible people, and hearts filled with love.

If you could place three items in a time capsule, which represent the women of today, what would they be and why?
I would place my Miss Arkansas evening gown to show the fashion styles of today, a tube of lipstick to represent not only the outer but also the true beauty that today's women possess, and a pink dumbbell to represent the strength of women today.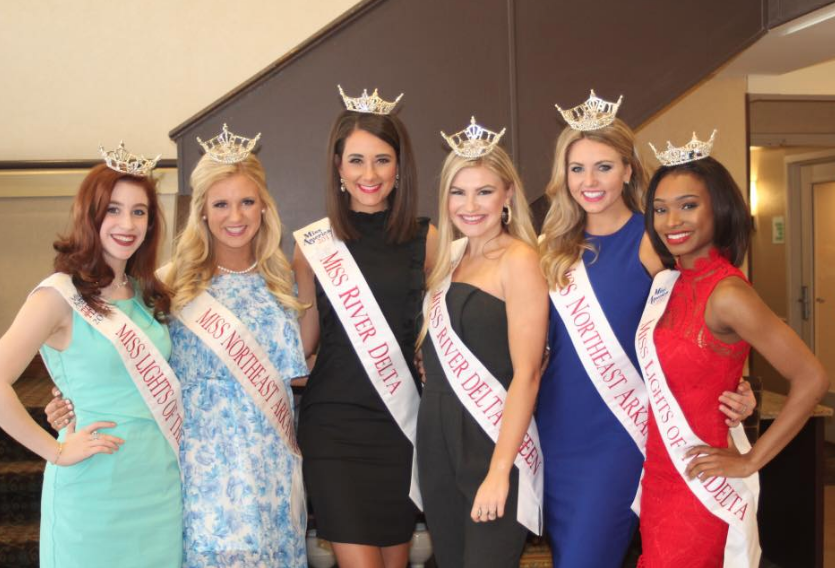 Because of media, many people tend to look at pageant with a very scrutinizing opinion; For you. personally, what have been some of the biggest benefits of being a part of the Miss America Organization. And how would you share the positive nature of pageants with others who may not be familiar?
The pageant world is everything but scrutinizing in the Miss America Organization. It has had such a positive impact on my life because I have gained interview skills, confidence in myself, time management skills, best friends, scholarship money, and so much more. Once people really understand and realize what the Miss America Organization stands for, then they will realize that there is absolutely nothing negative about it.

The name of this magazine is Bravura. "Bravura" is an artistic word for exceptional; in your opinion, what makes you "bravura"?
I am very outgoing and flamboyant. If my friends say that they are wearing a t shirt to dinner then I will wear a romper with wedges. If my teacher says that the quiz is only over the notes then I will read the book and review the notes. If I am given a job or task of any sort I am going to do it to the best of my ability plus a little bit more. I believe that is what makes me exceptional. I always want to go "all out" in everything that I do. People shouldn't expect anything less from me!

Where can fans follow you on social media?
https://www.instagram.com/hannaholiver9/
https://twitter.com/hannahhh_oliver
https://www.facebook.com/hannah.oliver.58
What advice do you have for those who want to take part in pageants?
DO IT! Take advantage of every single opportunity because you will grow so much through pageants, and you will meet friends that will last you a lifetime.

What words of thanks do you have for those who have helped to bring you to where you are today – a member of the Miss Arkansas Class of 2017?
Denise Holdaway, my director, has been here with me through it all this past year. She has been a constant encouraging factor and friend. I am so thankful for all of the advice she has given me and all love she has shown me.

What final words, if any, do you have for the readers of Bravura Magazine?
In Ben Rector's song "Like The World is Going to End" he sings, "Now that I think about it, maybe we should always live like the world is going to end." Live every single day to the fullest with a joyful heart and a positive attitude.