The Road to Miss Arkansas – Megan McAfee, Miss Conway
"The Road to Miss Arkansas" continues with the next contestant, Megan McAfee. Continue reading to learn more about her, and her journey to the crown!


Please share with our readers your  platform along with a brief description of what it is.
My platform is "So the World May Hear: Changing the World for the Deaf and Hearing Impaired". My platform is an initiative to work towards giving the gift of hearing around the world as well as educating others on the effects of hearing loss.
How long have you competed in pageants? How do you think you've personally grown with all your prior pageant experience?
I competed in small, local pageant growing up but this is my first time to compete in anything the size of Miss Arkansas. I believe I have grown tremendously by competing in the Miss America Organization. I have found value in representing more than just myself through my title by giving back to my community.
In regards to your platform, why did you choose to go with this particular one?
I chose my platform based on my previous work with my sorority's national philanthropy, Speech and Hearing. Delta Zeta is where I first began to learn about it while falling in love with giving the gift of hearing. I find great joy in knowing that my efforts have granted many strangers the ability to hear the same sounds that we tend to take for granted.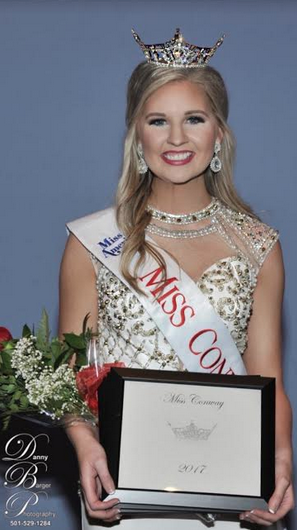 How has working alongside your platform made you into a stronger person?
I have become a stronger person through my platform through the personal experiences I have had. Having the opportunity to interact with someone who communicates differently than you is a learning experience that I hope everyone has the chance to experience themselves. I have grown in my appreciation of the little things I take for granted such as hearing the rain, or being able to listen while looking away.
What have you learned from your current Miss Arkansas Savannah Skidmore as well as our Miss America Savvy Shields, which you hope to carry with you if you were to win the title of  Miss Arkansas?
Being a part of the Miss Arkansas class of 2017 is a unique experience in having Savannah and Savvy as role models; we are so lucky! I am extremely thankful to have them as the example of how to serve our community, state, and country in the most graceful way possibly. The most memorable statement I have heard from Savvy following her crowning of Miss America was that true role models say "There you are" rather than "Here I am". This has been a statement I have kept in mind when I arrive to an event and I think my hair looks bad or think of the homework I could be doing; I remember that me being present in that moment is for those who I am serving, not myself.
As a title-holder, what is one of the single-most important messages, which you think you convey to your followers?
As a title-holder, the message I convey the most is that time and service matters! To the young girls looking up to me, I encourage them to spend time giving back to their community and to contribute to their own future in their own way.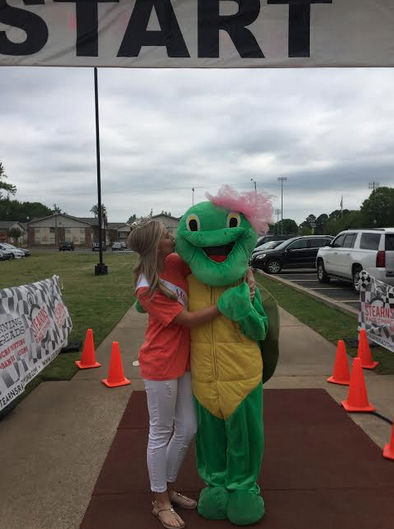 If you were to win the title of Miss Arkansas, what is the one thing which you would strive the hardest to accomplish?
If I were to win the title of Miss Arkansas, I would strive to inspire. As a college Junior from a very small town, I would like to inspire other young girls in small towns to continue to work hard and strive to be the best they can be.
Imagine you're competing for Miss America, and your roommate has never visited Arkansas; how would you describe your state to your roommate?
I would describe Arkansas to my roommate as somewhere with abundance diversity! One thing I love most about Arkansas is that each corner of the state is different from the others. Whether it's the landscape, the people, or what the towns have to offer, there is so much to experience throughout Arkansas. One thing that is most common throughout the entire state is the ability Arkansans have to support and encourage one another. I love the comradery that those living in Arkansas automatically have just because of the state we share.
If you could place three items in a time capsule, which represent the women of today, what would they be and why?
If I could place three items in a time capsule to represent the women of today, they would be a history book, a mirror, and a crown. I would first place a history book to show the history of women in the United States and to show what great leaps and bounds the women of today have made in society through hard work and determination. I would secondly place a mirror in the time capsule to represent the confidence that women today have in themselves and the other women around them. I would encourage those opening the time capsule to look in the mirror and appreciate themselves each day. Lastly, I would place my crown in the capsule to represent each of the amazing women that I have come in contact with and felt support from during this journey. These women have completely altered my image of what a true woman of service is, and many of them wear a crown or have at one time in their life.
Because of media, many people tend to look at pageant with a very scrutinizing opinion; For you. personally, what have been some of the biggest benefits of being a part of the Miss America Organization. And how would you share the positive nature of pageants with others who may not be familiar?
Being new to the Miss America Organization, I am still learning a lot. However, the amount of support and encouragement I have found through this organization has made a huge impact. I have learned that there is so much more to the Miss America Organization than just a pageant, there is family and a support system to last a lifetime. In other pageants as well as those in the Miss America Organization, I have found best friends and women who I look to as mentors and leaders in my life.
The name of this magazine is Bravura.  "Bravura" is an artistic word for exceptional; in your opinion, what makes you "bravura"?
I believe what makes me Bravura is my outlook on life. I strive every day to make each day the best that it can be. I look for the good in every situation and each person I come in contact with.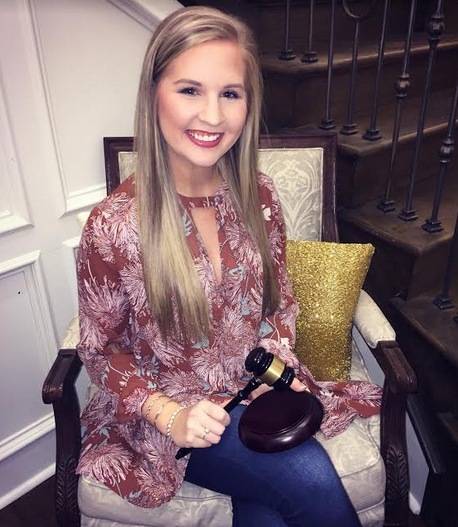 Where can fans follow you on social media?
Instagram, Twitter, Facebook.
What advice do you have for those who want to take part in pageants?
The advice I would give to those wanting to take part in pageants is for them to be 100% themselves. Integrity and being genuine are the most attractive qualities I think a woman can possess. There is only version of you, so never try to be something you are not!
What words of thanks do you have for those who have helped to bring you to where you are today  – a member of the Miss Arkansas Class of 2017?
Wow, words cannot express the gratitude I have for those who have helped me reach where I am today. I never imagined 12 years ago, walking across the Miss Arkansas stage as a princess that I would be where I am today. It is with great thanks to my family, my closest friends, my Miss Conway family, and to those who continue to support me each day, that I am the woman I am today.
What final words, if any, do you have for the readers of Bravura Magazine?
My final words to the readers of Bravura would be to step out of your comfort zone, serve your community, love those around you, and be kind to each person you come in contact with. You never know who you will impact in those experiences, and you don't have to be wearing a crown to do so!