The Road to Miss Utah – Katie Ann Powell, Miss Sandy
The next contestant to be featured as part of our series, "The Road to Miss Utah," is Katie Ann Powell. Continue reading to learn more about Katie, her platform, and journey to the crown!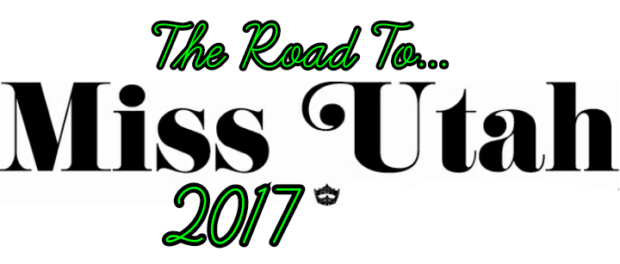 Please share with our readers your title & platform.
I am Miss Sandy the Media Detective. In a world of rapidly progressing technology it takes detective 101 skills to sort through media messages determining what is true and what is false. As the Media Detective I teach young sleuths to be media literate and analyze and evaluate the media they consume.
How long have you competed in pageants? How do you think you've personally grown with all your prior pageant experience?
This is my first year competition in pageants. Pageants have the unique ability to stretch your abilities while encouraging each girl to be their best self. I have personally grown through this pageant experience as I've dedicated time to develop my talents and refine my character.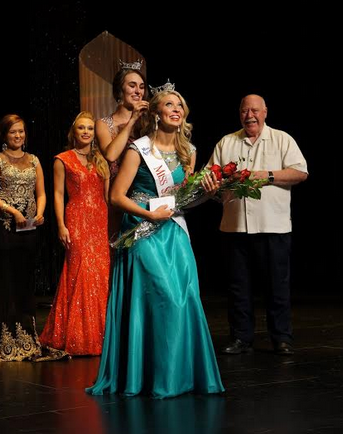 In regards to your platform, why did you choose to go with this particular one?
Nearly everyone walks around with a smart phone in their pocket. On average we are each faced with at least 3,000 media messages a day. That's a lot! As an owner of a smart phone I wanted to become media literate and use technology to better the world. The more media literate the world is the more power we can have in positive technology.
How has working alongside your platform made you into a stronger person?
As I've teamed up with the White Ribbon Week program, which is a week long school program that teaches principals of safe technology usage, I have learned alongside the kids and refined my technology skills. We also teach that there needs to be a balance between real time and screen time. As I've been involved with the White Ribbon Week program I have come to balance my personal technology time making sure that I am always seeking to have fun outside, with friends, or learning a new skill.
What have you learned from your current Miss Utah, Lauren, which you hope to carry with you if you were to win the title of Miss Utah?
At one of our workshops Lauren told us that once you put on the crown it is no longer about you. The crown is a symbol of service. As soon as you have the crown on your head it is about how you can serve the people of Utah with your unique skills. Lauren is an example of service daily as she consistently seeks to reach out to the Utah community. If I were crowned Miss Utah I would always remember that the crown is a symbol of service and strive to reach out and connect with the Utah community as Lauren did.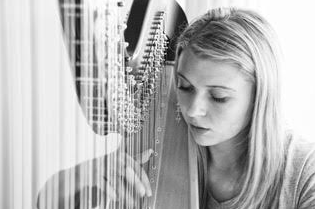 As a title-holder, what is one of the single-most important messages, which you think you convey to your followers?
Every individual is important in a community. A community works like a clock that is made of many unique and individual parts that all work harmoniously together. In a community we need a variety of unique individuals to make a harmonious community. You are important in your community. Everyone is important.
If you were to win the title of Miss Utah, what is the one thing which you would strive the hardest to accomplish?
As Miss Utah I would strive to spread media literacy throughout the whole state empowering Utahans to be responsible and leading digital citizens.
Imagine you're competing for Miss America, and your roommate has never visited Utah; how would you describe your state to your roommate?
Utah is a state of possibilities. From red rock and sand, fresh snow power and steep ski slopes, pine tress and hiking, salt and great lakes, Utah has it all. The state is surrounded by mountains creating many valleys. We are a state that values the outdoors and the arts. Live music is always drifting through the streets of our down town.
If you could place three items in a time capsule, which represent the women of today, what would they be and why?
I would place a high heel, a baby blanket, and a computer. The women of today have learned that to be feminine, motherly, and a power in the work force at the same time if they learn to prioritize. Opportunities have opened up to women.
Because of media, many people tend to look at pageant with a very scrutinizing opinion; For you, personally, what have been some of the biggest benefits of being a part of the Miss America Organization. And how would you share the positive nature of pageants with others who may not be familiar?
The Miss America program is a powerful program that produced women role models who are scholarly, service oriented, healthy, talented, and well spoken. The program allows young women to advance their voice in their community and advocate change through service. Many people think pageants are all about the one night onstage and the glittering crown. The Miss America pageant is about the hours of service before the stage, the development of talent, and the education of the young women.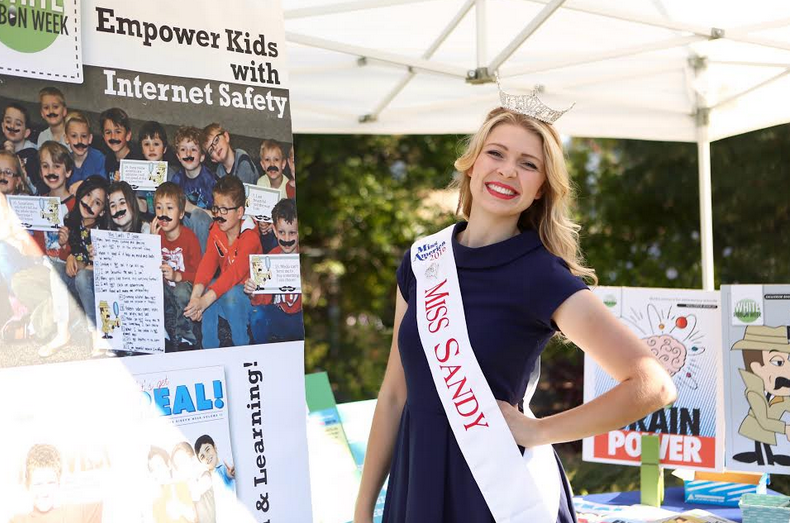 "Bravura" is an artistic word for exceptional; in your opinion, what makes you "bravura"?
Everyday I strive to be exceptional or 'Bravura'. One area I have excelled in is music. I am a harpist and a passionate one at that. I strive to refine my craft in order to use my talent of music for the enjoyment of others. It's the most rewarding experience when you see a smile turned into a frown as you play someone's favorite song.
Where can fans follow you on social media?
Facebook: Miss Sandy 2016, and Instagram: misssandy.ut.
What advice do you have for those who want to take part in pageants?
Never compare yourself to the other girls. One of my favorite quotes is: "A flower does not think of competing with the flower nest to it, it just blooms." Just because one contestant is talented does not mean you are not talented. Just because one contestant is beautiful does not take away from the fact you are beautiful. Make friends with the girls. The friendships you make in the pageant world last as mine have.
What words of thanks do you have for those who have helped to bring you to where you are today in the Miss Utah Class of 2017?
My family, directors, teachers, and friends have all encouraged me, lifted me, supported me, and helped me become my best self. So many people have dedicated hours helping me refine my talents and character. I am grateful beyond expression for those hours that many gave up selflessly to help me. Thank you for sitting with me and quizzing me on current events. Thank you for teaching me to walk in heels. Thank you for encouraging me with supportive words. On my own I am small, but with my family, directors, teachers, and friends I am strong.
What final words do you have for the readers of Bravura Magazine?
It doesn't take a pageant to provide an environment where you strive to be your best self and serve your community. Get outside and start spreading smiles. Service can be small: a simple note or a kind text. Don't wait until you decide to compete in a pageant to start serving in your community.