The Road to Miss Michigan – Mallory Rivard, Miss South Central Michigan
Mallory Rivard is the next contestant to be featured as part of our series, "The Road to Miss Michigan." Continue reading to learn more about Mallory and her journey to the crown.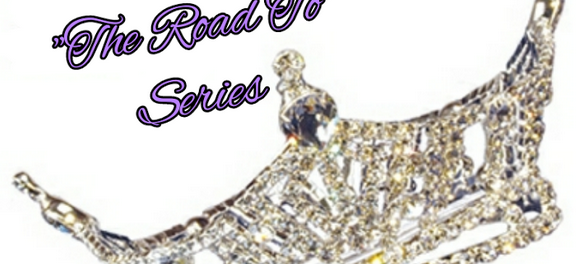 Please share with our readers your title & platform.
My name is Mallory Rivard and I am Miss South Central Michigan 2017. My platform is the Power of One:  The Value of the Volunteer. I am a 22 year-old senior at Saginaw Valley State University and will graduate in 2 weeks with honors with a dual bachelor in Elementary Education and Early Childhood Education.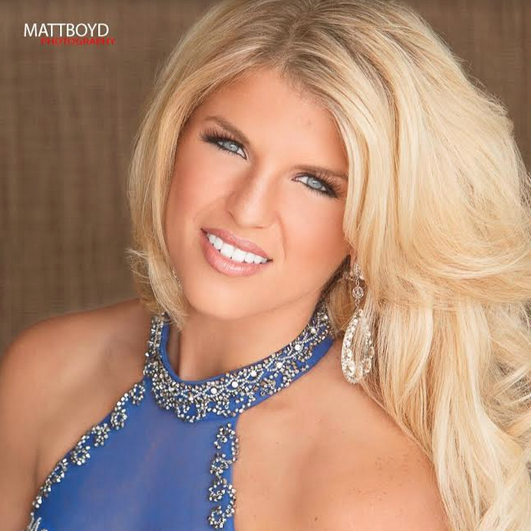 How long have you competed in pageants? How do you think you've personally grown with all your prior pageant experience?
I first became involved in the Miss America Organization (MAO) when I was five-years old in the princess program. This program served as a fundraiser for my hometown local pageant, the Miss Bay County Organization. Not only was I able to have talented, smart, and kind woman to look up to within the organization, I was able to perform onstage as a child and that brought me so much joy.
As I got older, the Miss America Organization has helped me become the person that I am today. Every phase of competition has challenged me intellectually, physically, socially, spiritually, and mentally and has made me a more professional young woman. Additionally, I have been able to network at the different philanthropic events and appearances as a local title holder, to make lasting connections with professionals in my community. Lastly, I have also been able to earn thousands of dollars in the MAO and will graduate debt free from Saginaw Valley State University in May 2017.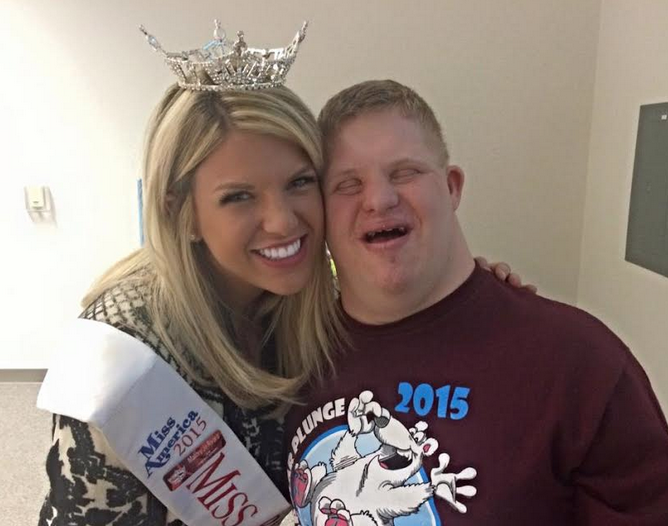 In regards to your platform, why did you choose to go with this particular one?
Volunteering is an opportunity to try something new. When people of all ages, genders, skill-sets and personalities get involved in their community, they come to better understand the world around them. They often begin to care more, learning about themselves along the way. Typically, volunteers quickly begin to realize that their gift of time can transform lives and inspire others to become involved.
Personally, throughout my years of volunteer experience, I have developed invaluable life skills: confidence, social interaction, communication skills, dependability and compassion. Volunteering also helped me develop a new appreciation and understanding of people who are different than me: those with a disability or illness, or who have cultural, social and economical differences, or the elderly.
As an educator, I have realized that many youth right now do not volunteer in their community. One reason is simply because no one has ever asked them. A persistent problem is that many young adults are not familiar with ways to become more involved. Therefore, I founded the Youth Volunteer Corps of Bay City in August 2015. As the Program Director, I continuously strive to enhance our community by providing quality volunteer opportunities for youth ages 11 to 18. Youth Volunteer Corps is an international non-profit organization that provides a variety of team-based, structured and diverse, activities to help meet community needs. I also involve youth in service learning and reflection strategies that inspire them to engage in a lifetime commitment to service. Throughout my work with the Youth Volunteer Corps, I have engaged young adults in over 1,800 hours of volunteer service throughout various projects around our state.
Additionally, after seeing the commitment and work ethic of so many young people in the community through the Youth Volunteer Corps, I wanted to recognize these youth by investing in their future. That's why in May 2016, I started "The Power of One Community Impact Scholarship" to encourage and reward youth who have made a difference in their communities. In June 2017, I plan to double the scholarship and recognize two students. Those interested in applying or learning more about the scholarship can read more on my website http://itsthepowerofone.weebly.com.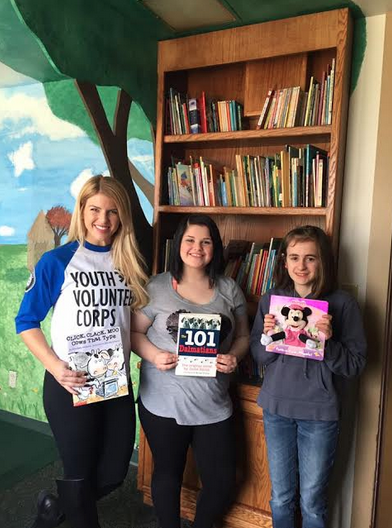 What have you learned from your current Miss Michigan, which you hope to carry with you if you were to win the title of Miss Michigan?
Arianna Quan, Miss Michigan 2016, has been fearlessly authentic throughout her year of service. She never changed for anyone. I mean the girl wore pants at Miss America and if that doesn't scream authentic and real then I don't know what does. Arianna inspires me to embrace my own uniqueness and be fearlessly authentic every day.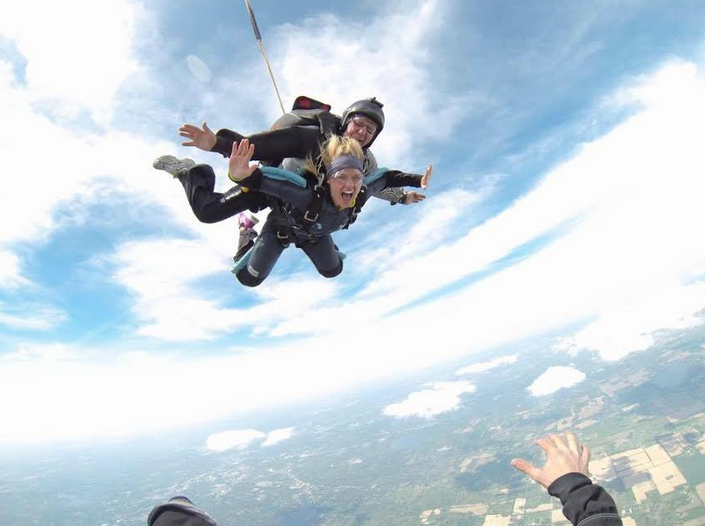 As a title-holder, what is one of the single-most important messages, which you think you convey to your followers?
I like to think that one of the most important messages that I convey on my social media accounts is the idea of being brave, being bold, and being yourself. I started a personal blog a couple of years ago (malloryrivard.wordpress.com) to write about my adventures throughout life and to inspire others, especially women, to embrace being yourself.
For example, I'll admit that I am weird and enjoy doing things that absolutely scare me. One day every year I have been pushing myself to conquer a fear…my birthday! I consider it a way to *celebrate* being myself and living another year.
Last year for my 21st, I went skydiving. Literally the craziest experience of my life jumping thousands of feet to what I thought was my death. However, after… I felt SO empowered. This year, I will be running a half marathon. So I write small blogs about things like this and challenge others to push themselves outside of their comfort zone. I have received great feedback and enjoy inspiring others in any way that I can.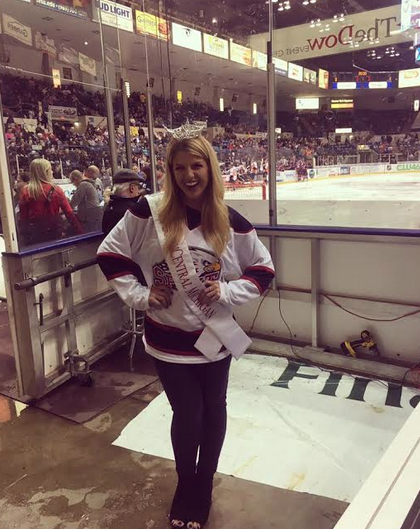 If you were to win the title of Miss Michigan, what is the one thing which you would strive the hardest to accomplish?
As Miss Michigan, I plan to continue to promote volunteering among a broader audience. Throughout my year of service, I plan to travel and embark on a statewide campaign going into schools to engage students, show them the benefits of volunteering, and provide them with ways to get involved with service organizations such as the Youth Volunteer Corps. I plan to partner with the six Youth Volunteer Corps across the state of Michigan and their affiliates such as the United Way, YMCA, Boys and Girls Club, and as well as volunteer centers to connect our youth with quality service learning programs. However, my work to promote volunteerism does not stop there. Additionally, I plan to partner with state legislators in Lansing to pass legislation promoting volunteerism and requiring volunteer service in high school before graduation. At my high school in Bay City, volunteering was made a priority and was a requirement for graduation. I think that other students across Michigan could learn and grow through volunteerism as well, which is why I will work with these elected officials to pass legislation requiring volunteer service.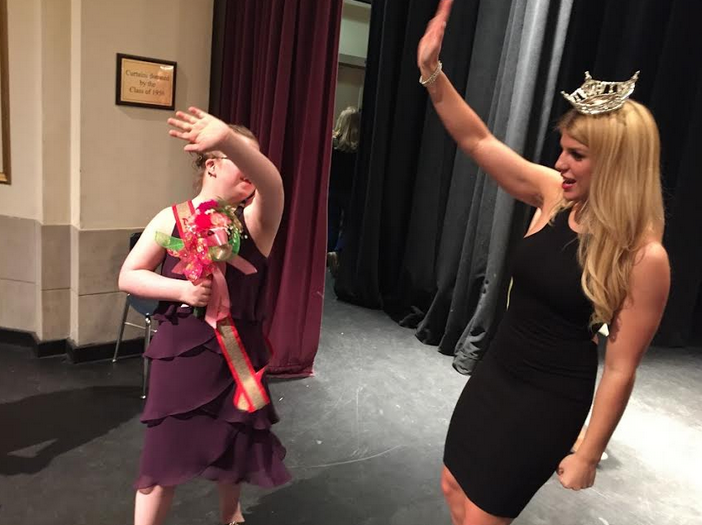 Imagine you're competing for Miss America, and your roommate has never visited Michigan; how would you describe your state to your roommate?
The thing I love most about Michigan is that you're always a short drive away from a river or lake. I enjoy being on the water in the summer whether its kayaking, tubing, or paddle boarding.
However, our weather can change in an instant so always wear layers! It can be 30 degrees in the morning and then 75 by 3pm in the afternoon!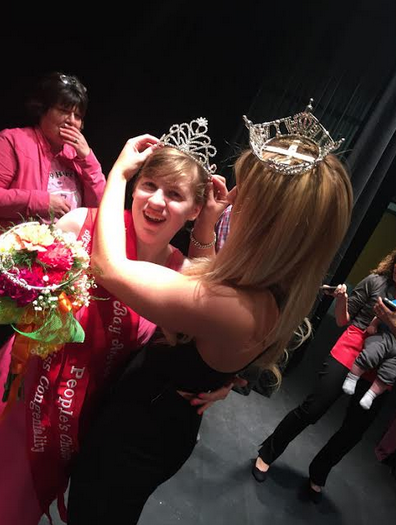 If you could place three items in a time capsule, which represent the women of today, what would they be and why?
A picture of diverse women: In 2017, there is no one definition for beautiful. We need to continue to make every race, ethnicity, and body size part of the conversation and expand the definition of beauty to include attributes beyond just physical appearance.
Red lipstick- Women in 2017 are bold, fearless, authentic and are not afraid to speak.
A scale: to represent how far we have come in the fight for equals rights for women, but still show the work that has to be done in the future.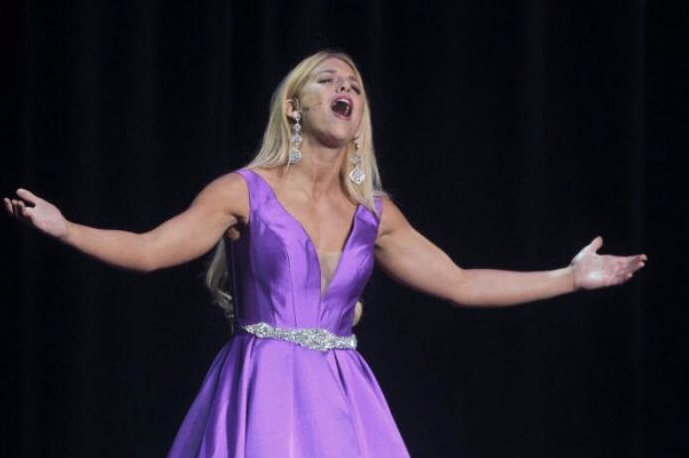 Because of media, many people tend to look at pageant with a very scrutinizing opinion; For you. personally, what have been some of the biggest benefits of being a part of the Miss America Organization. And how would you share the positive nature of pageants with others who may not be familiar?
The Miss America Organization is the largest scholarship provider for women in the world. I have been able to personally graduate debt free thanks to the scholarships I have earned while growing professionally as a young woman in all aspects of my life.
MAO has challenged me intellectually, physically, socially, spiritually, and mentally and has made me a more well-rounded young woman. Additionally, I have been able to network at the different philanthropic events and appearances as a local title holder, to make lasting connections with professionals in my community. Lastly, I have been able to meet and become friends with other goal-orientated woman that have very similar interests than me.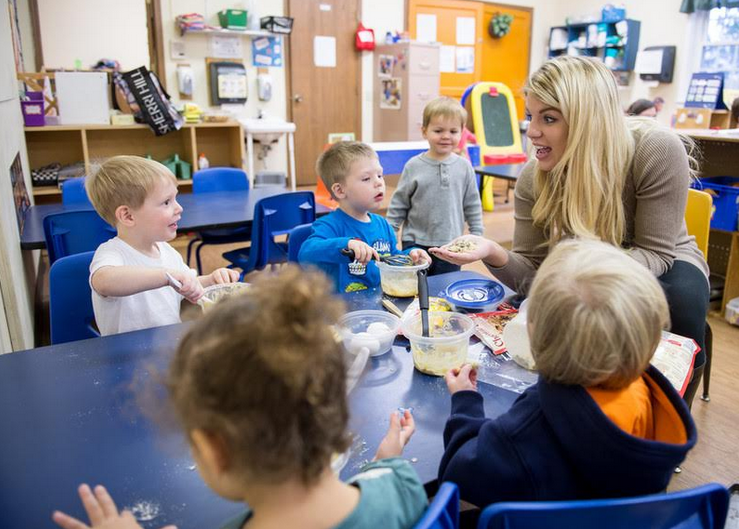 "Bravura" is an artistic word for exceptional; in your opinion, what makes you "bravura"?
I think that my passion for people makes me "bravura". As an educator, I genuinely care about my student's success not only within the classroom but outside of the classroom as well. I continue this passion for people not only in my professional life but in my spare time as well by volunteering for various organizations within my community. I truly try to make the world a better place by helping others in any way that I can and I hope to continue doing that as Miss Michigan 2017.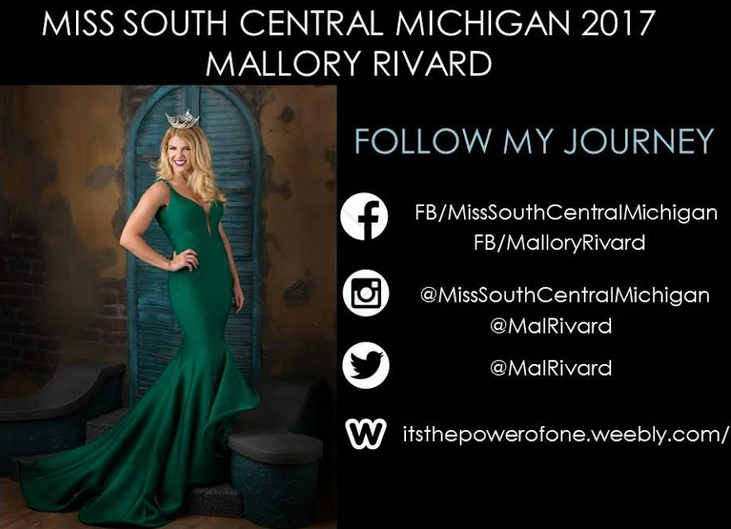 Where can fans follow you on social media?
Facebook, Facebook Page, Instagram, Instagram @MissSouthCentralMichigan, Twitter, WordPress, and  Weebly.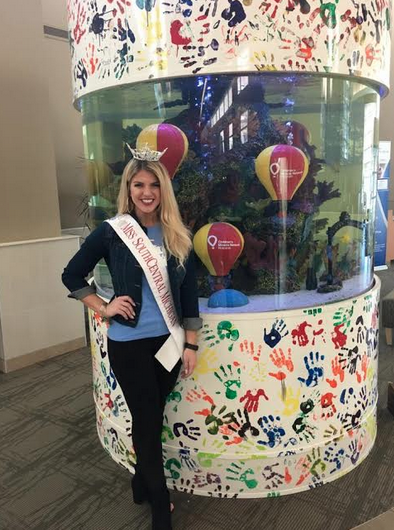 What advice do you have for those who want to take part in pageants?
I think the biggest piece of advice that I can give to someone starting out in pageants is to simply remain true to yourself. So many people, including myself in my early years, start out thinking they have to  change things about themselves to do well and that's actually the complete opposite. The moment when I stopped trying to be someone else and actually embraced my flaws was when the judges saw my true confidence and they saw who I was as a woman.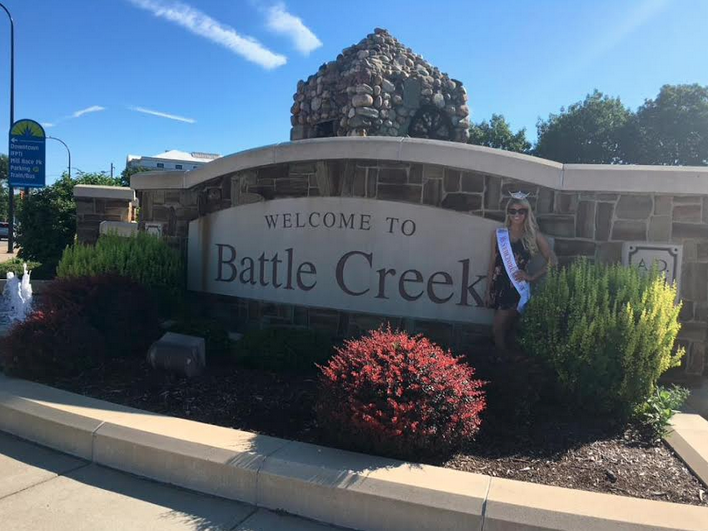 What words of thanks do you have for those who have helped to bring you to where you are today in the Miss Michigan Class of 2017?
I am so blessed to have such a strong team of people behind me. They have supported me as "Miss South Central Michigan" but most importantly they have supported me as Mallory Rivard.
They celebrate my successes no matter how small, pick me up when I am down, and help motivate me when I need it the most. I am forever grateful to the people that have been behind me since day one and I can't express how thankful I am to have them in my corner.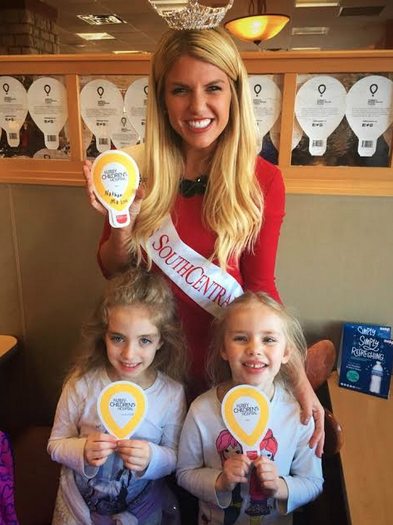 What final words do you have for the readers of Bravura Magazine?
Be brave, be bold, be you.
With hard work and dedication you can accomplish anything you put your mind to.