ACFW Season 10 Couture Show
Atlantic City Fashion Week celebrated their 10th season with a bigger venue, more designers, top models from the industry, and much more! Lamont & Jeana Bowling have spent years perfecting their craft towards Atlantic City Fashion Week, and each year something new & something fabulous has been added to their show. This year VIP ticket holders were offered a nice area to have cocktails before the runway show began. There were many designers who showed this season during their couture night, and a few of them really stood out to me. And a HUGE thank you to Andre McNeil from Olympus Studio for partnering with us on the pictures!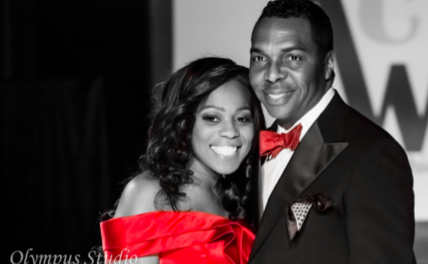 But before I get into the looks of the evening, hands down Sharita Marrero – Makeup Director – and Tina Gillam – Hair Director – for this season did a great job. The looks they had in mind were just…mind-blowing! They really stepped their game up from last season and have not set an even higher standard for Season 11!
Now…here are some of the looks which I truly enjoyed from the evening! The first designer is Evgeniz Luzhina; Evgenia has been a costume designer for more than 30 years. She worked for different theaters in Russia and Unites States where she has created costumes for more than 50 plays. She has produced her own Fashion show called "Passion Runway," which was presented at the Russian Embassy. The piece below truly stood out to me on the runway; I absolutely loved the combination of gold with red, and the hi-low portion of the design was my favorite. And Evgenia beautifully accessories all her designs to bring a true sense of her Russian culture as well.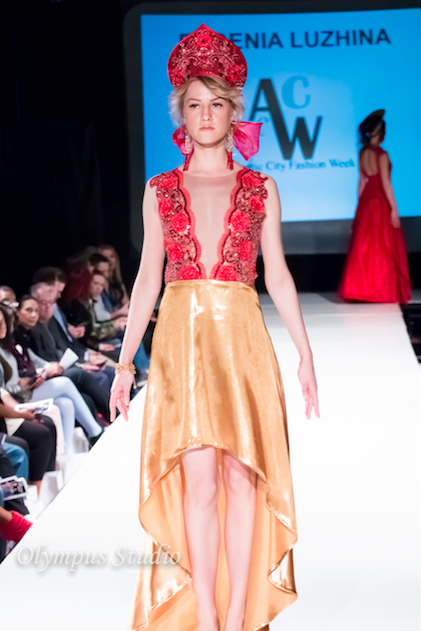 Legrand Leseur was the next designer who I enjoyed from Saturday evening; Leseur has always wanted to push the limits by creating interesting suits and looks that havent been done before. And as you can tell by the image below, he truly has. At the age of 23 to officially launch the fashion house under his name in 2013 and become one of the top designers and creative directors in the area. What I loved most about this particular design is that he 1., styled it on a female model with a bit of sex-appeal at the same time, and 2., the color blocking technique was popping! I loved how he mixed the different colors together and added a bit of color with the sunglasses as well! Job well done!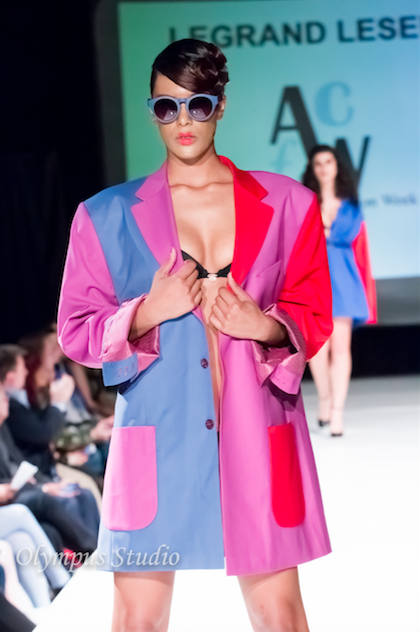 Clavon Leonard is another designer who is all too-familiar with the ACFW name; and he knows just how to accessorize each piece before it hits the runway. It was difficult to choose just ONE look which stood out, so I had to share with you two. The first is the image below, shown on international model Gio. I really liked seeing this suit paired with the blue men's bag. And the second look which I just had to share with all was the all red suit — they say real men wear pink, but REAL MEN REALLY wear red! Where was this during Valentine's Day?! I loved it, and the model carried the suit with such swag and presence on the runway!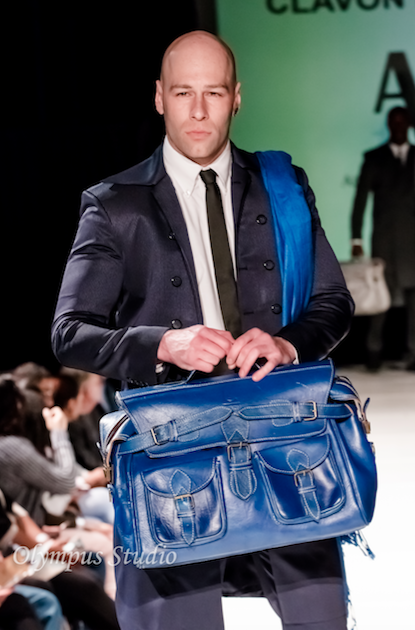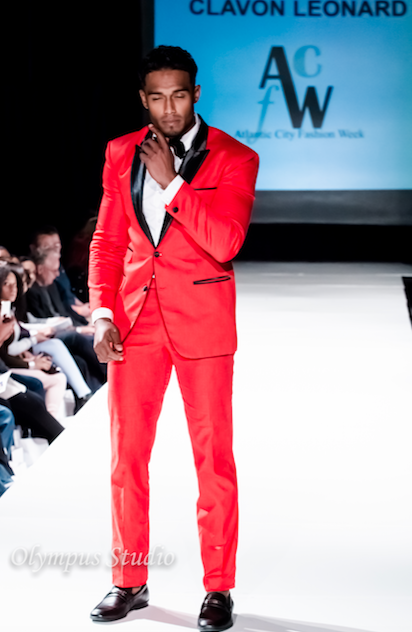 Another designer who I really really enjoyed was Henrioci. Now here's a fun fact about this designer – both her, and our Editor-in-Chief, went to high school together…how small of a world is that! My favorite piece from her collection that evening was the one pictures below, which model Erick Valore carried ever-so beautifully (not to mention also one of my fave models!!!) The cuts on this gown were perfect and fit Valore like a glove. And I loved how the gown had just enough flow going on the bottom! This is a perfect evening gown wear for any pageant girl 😉 😉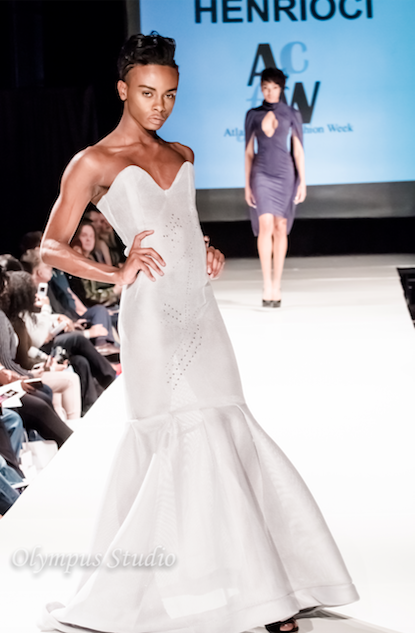 Now there's a fun fact about Sylvia Nah which I need to share as well – did you know she has a mobile seamstress business? Nah will travel to consult with you either in your home or at a location of your choosing, or you can arrange an appointment at your convenience onsite at her sewing studio in South Jersey. What I loved most about her collection was her use of color; each piece had fun color work going on, and it made it even more enjoyable to watch! This piece especially, was one of my favorites. I loved the halter look and the diagonal cuts in the bottom of the piece as well.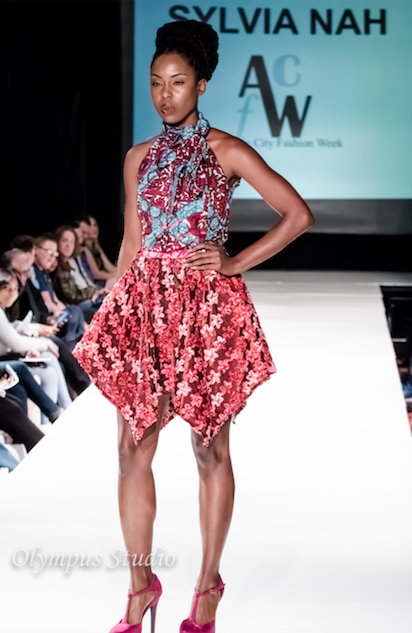 Juhi Jigiasi showed her collection of traditional wear. On a side note…I had fun trying on sarees a few months ago for my friends wedding! But back to the show…the men's pieces from Juhi's collection stood out the most. I loved this look on Gio (again!)…and he could definitely pull of being an Indian groom if needed in the future! Someone just get him a horse for the bhaarat……! Juhi's use of colors was great, and really stayed true to the traditional Indian garments.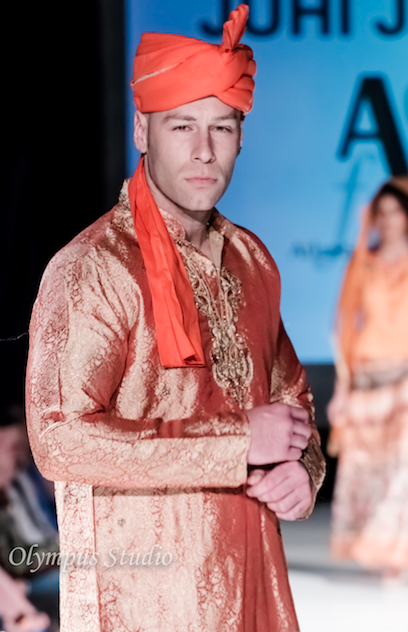 They say…a picture speaks a-thousand words…and this shot from K. Nicole Collection says so much more! The passion on the models face; the roses in her hair, the way she owns the design on the runway…so many things are happening, I was at a loss of where I should focus my attention. Hands down this was my FAVE piece from her entire collection. And I especially liked the bling on the model's neck as well!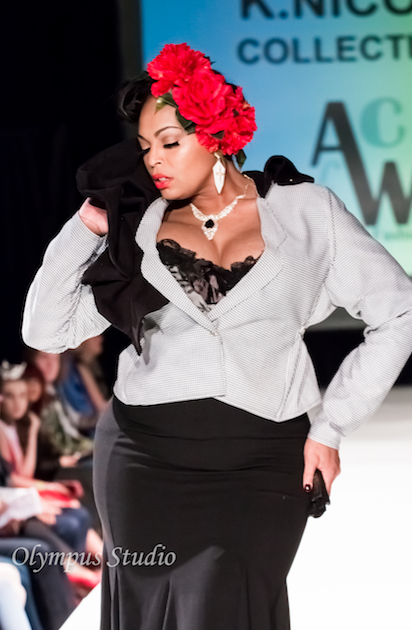 So there you have it guys…this was my take on this season's best couture looks from Season 10 of Atlantic City Fashion Week. I look forward to what these designers (and others) will be showing in future seasons, and what the future of ACFW holds as well!
Amanda out!