Remembering Cara McCollum
A year ago an angel was taken from our lives: Cara McCollum.
Anything that she was a part of, was done with grace, love, laughter, and moreover, a smile on her face. We got to know Cara on both personal & professional levels, and enjoyed each & every interaction we had with her.
Whether I invited her to come speak at a school, or dressed her in a saree for fashion week, Cara approached each get-together with professionalism & poise. And more than that, she was always ready to get her feet into something new!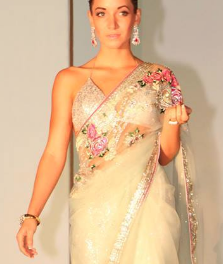 Cara wanted a different way to reach everyone, and it was with that she created, "The Birthday Book Project." This was a non-profit organization which provides brand new, gift-wrapped books to K-5th graders for their birthdays to promote the idea that reading is a gift. She started this when she was a just a teenager, growing up in her hometown of Forrest City, Arkansas. Her team at the SNJ network started a Go Fund Me page to continue her tradition in South Jersey. You can also find out about The Birthday Book Project via Facebook and how you can be a part of this amazing project as well!
When Cara moved to New Jersey, she instantly became part of The Garden State; in 2013 she competed for a local title, and won the title of Miss Island Resort, lading her to the path of Miss New Jersey. She went for the crown and won the hearts of not only the judges, and the Miss NJ Education Foundation, but also her pageant sisters who remember her always. During her reign as Miss New Jersey, her platform was "giving the gift of reading."
And Cara did just that; she visited numerous schools across the state, and shared with children why reading was so important, and that it truly was a gift. And though she is no longer with us, her mission still continues. Recently our current miss New Jersey, Brenna Weick,  partnered with local title-holders, directors, and even her co-workers from SNJ Today collectively worked together to wrap and gift books to kids in the community.
Every morning when there is a ray of sunshine peeking through the clouds, we know that your radiant smile is shining down on us. You may not be with us but we know your presence will always surround us. I am so thankful to have met you when you were Miss New Jersey and even more grateful for the memories we have shared. You have always been such a positive person and that positive-feeling transitions to those whom you've interacted with.
There is a piece of Cara with all of us. And because of you, I have made a new set of friendships & bonds with the Miss New Jersey Org. You opened my eyes to pageantry and how amazing these women can be. Thank you for influencing the lives of people the way you have. And may you continue to do so from the Heavens above.
RIP Cara, we will forever miss you.
February 6, 1992 – February 22, 2016