Angel Brinks – Street-wear Denim Trends
Bravura Magazine is excited because today we have a special guest writer for the publication, fashion designer, Angel Brinks, who you also know from VH1's hit TV series, "Basketball Wives L.A." Today she is here to share with us tips on how to rock those amazing street-wear denim trends that you've been seeing all over the place! Brinks is known as, "the Queen of leggings and couture body suits...whose sexy dare-to-wear, one-of-a-kind pieces have been popping up nationwide at award shows, red carpet appearances, and on today's hottest performers and Hollywood starlets."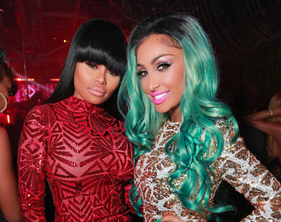 Not only has Brinks participated in New York Fashion Week, but from high-fashion events from coast to coast. Since Brinks has stepped into the fashion industry her, "head-turning fashion brand embodies glamour, sex appeal, confidence and the performing arts to present a line encouraging customers to embrace their inner star-quality." Fans of the brand include celebrities such as Amber Rose, Blac Chyna, Joseline Hernandez, Vivica Fox, Ashanti, Trina, Mya, and many more!
So as we said, Brinks is here to share with us her take on street-wear denim trends! Brinks stated, "Chic street-wear denim a super hot trend for for Winter 2016 and Spring 2017! The look is extremely diverse and super practical. Here are a few of my denim staple must haves to have you looking your absolute best this season"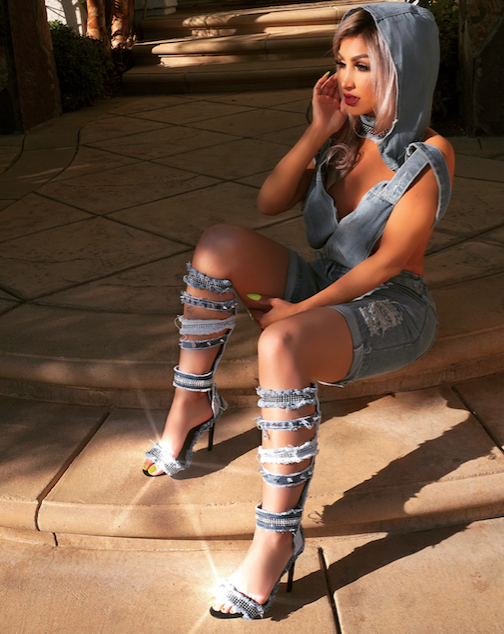 Denim Chokers: Chokers are a huge trend on their own right now and I can't get enough of the denim ones. They are so neutral; (they) match with everything and can totally dress your outfit up or down. I love them so much, (that) I just launched my own choker line with a ton of denim selections including looks featuring rhinestones, patchwork and fraying. Check them out here!
Distressed/Destroyed Denim: This is a great way to make a casual look super edgy.
Patchwork: Patchwork denim will turn heads as a pair of high-waisted jeans or even some knee-high boots (Nicki Minaj recently rocked a pair of my brand new patchwork boots) but because the look has so much going on, make sure you pair it with something basic and solid such as a white tee or a solid color dress.
Denim Bags: I have a huge handbag collection and am notorious for always switching them out with my different outfits. Earlier this year I made myself an every day denim bag that I used a few days out the week since it went with practically everything and I was constantly getting stopped everywhere I went about the bag so I decided to start offering them on my site, and now I can barely keep them in stock.
Bonus points if your denim bag has fringe which I can't get enough of!

Be sure to visit Angel's website and see her awesome take on denim fashion trends which are making waves across the fashion scene!