SOHO FW Designer Spotlight – Batista Collections
Celebrating season number two, SOHO Fashion Week (sohoFW) makes its return to the FDNY Museum at 278 Spring Street in the SOHO section of Manhattan on Saturday, November 19, 2016. There will be a 3:00 PM show and a 7:00 PM show.
From the Executive Producers of Atlantic City Fashion Week and fashionSTYLE LIVE, their latest addition to the New York Fashion Week market, SOHO Fashion Week brings together an intimate show that includes Couture, Ready to Wear and Children's Fashion.
Another one of the many designers who is showing during Season 2 of SOHO Fashion Week is Batista Collections. We had the opportunity to catch up with the brand before SOHO Fashion Week!
If this is your first time showing at SOHO Fashion Week, what made you inclined to showcase your collection? SOHO is a must stop in New York fashion. Over the years I have enjoyed the classic yet modern, elegant, edgy and artsy eclectic look that in my mind speaks to SOHO. My work is in this vein and I believe my collection will have broad appeal in SOHO.
Share with us the inspiration behind your collection which you're showing in SOHOFW. In my latest creations purple plays a dominant role. I was inspired by my childhood memories in the Caribbean and the ubiquitous Sea grapes that adorn the dramatic oceanfront. Fully ripened in early fall, Sea grapes announce the coming of winter. Large, luscious green leaves give way to deep purples and reds as the winter nears. Luscious orange-reddish sunsets blending into pink and the evening can easily cap a delightful afternoon. Pink is dominant in my collection!
What is one of your most favorite piece from the collection you're showing and why? My favorite is a full size evening piece, the final look for the evening. The piece is classic yet elegant and easy to wear.
What do your designs say about you as a designer/brand? SOHO fashion is continuously and restlessly reinventing itself. This is how I approach design and the art of knitting and crochet. Knitting is deeply spiritual & liberating, removes blockage and opens new paths for growth, experience and beauty. Knitting is a meditation and through meditation the self is focused, gathering power and strength, renovating yet staying current. A piece from a Master Knitter has the potential to transform a person.
"Bravura" is an artistic word for exceptional. Tell us what makes you "bravura"! Bravura is a synonym for "Atrevida." An Atrevida is a self-proclaiming woman who celebrates her femininity and sexuality unabashed, with "gusto." I approach my work with Gusto and Bravura!
Where can attendees learn more about your work and/or purchase your designs if interested? They can visit my website, or my studio, which is in DUMBO (145 Front St. Brooklyn, NY 11201).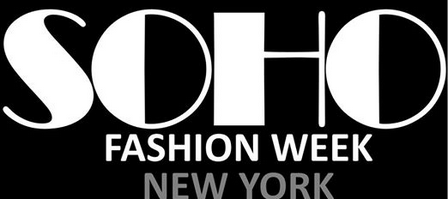 About SOHO Fashion Week:
Tickets for SOHO Fashion Week are $50 for general admission and can be purchased on our website. Additional information about model casting, VIP seating or press credentials can be found on our website. SOHO Fashion Week is presented in part by fashionSTYLE Magazine and KingBee Media LLC. SOHO Fashion Week is the latest addition to the high end fashion industry market. SOHOFW is held twice a year in New York and is attended by VIPs, press and fashionable attendees.