Former Miss America Autograph Signing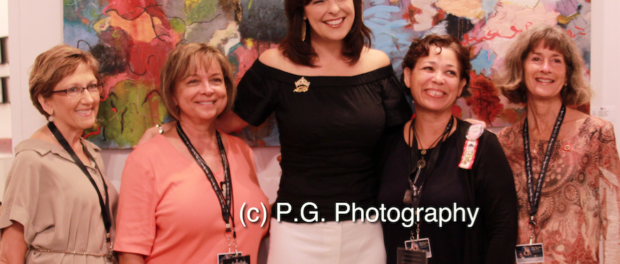 Earlier this evening the Miss America Organization hosted a "Former Miss America Autograph Session." With a line which went around the corner of The Claridge Hotel, all Miss America enthusiasts, both young & older, were waiting with their Miss America programs, photos, sash bags, and other items to get signed by the Former Miss Americas.
Some of the Former Miss Americas who were present included:
Miss America 2015, Kira Kazantsev
Miss America 2011, Teresa Scanlan
Miss America 2009, Katie Stam Irk
Miss America 2004, Ericka Dunlap
Miss America 2000, Heather French Henry
Miss America 1999, Nicole Johnson
Miss America 1984, Suzette Charles
Miss America 1962, Maria Beale Fletcher
Miss America 1963, Jacquelyn Mayer
Miss America 1955, Lee Meriwether Borden
Miss America 1948, BeBe Shopp Waring
Waiting in line to get their memorabilia signed were many young girls, one of which was 8 year old Maison (image, bottom left), who is Miss Pennsylvania East Jr. Pre-Teen; I asked her what she liked so much about Miss America and she said with a smile, "I think it's fun because you get to see all the girls to their talent. And I think it's fun!" And speaking about talent…this bubbly little girl does some amazing magic tricks which involve eggs and a chicken!
As we walked around the Holtzman Gallery we met with Shari Kaminski, a NJ resident (seen below in the image). When asked about her thoughts on the Miss America Organization she said, "The MAO (Miss America Organization) is a great pageant line; they are role models for these girls. These are brilliant, driven, motivated women who happen to be beautiful AND talented."
And honestly, Ms. Kaminski couldn't have said it better. Years after having obtained their title, the Former Miss Americas are still carrying themselves with poise, class, and a certain sense of chic in their persona. They greeted each young girl with smiles on their face, taking the time to speak with them, learn about their platform and more!
Among the young girls who were patiently waiting for their turn was Kentucky's Outstanding Teen, Chapel Tinius. She was very excited to get her Miss America program signed and said, " It is amazing to watch and support my sister, and it's an honor to be here!"
Jordan Axel, was another young woman we met at the Autograph Signing; she is the current Miss Indiana's Outstanding Teen. Axel was excited to share about her time in Atlantic City. "Yesterday we had our Teen day; (at the preliminaries) we sat together. We will also all go to the finals together." Additionally, she also had a special message to share with her fellow sister who is competing for the title of Miss America and said, "I am wishing her the best of luck and she will always be my Miss America!"
Miss Alabama, Haley Barber, also had some amazing supporters who were at the Autograph Signing. Allyson N., who is the current Miss Jefferson County, and Payton E., who is the current Miss Greater Gadsden, were quite excited to share why they love Hayley so much! Allyson stated, "This year is my first year and it has been amazing to support my Miss Alabama, and all she's accomplished. I am so very proud of her." Payton also said, "I've been competing for 3 years now…to see these women (the alumni) and see Hayley's community service pay off is amazing."
Miss Wyoming's Outstanding Teen, Rae'lee K., who competed in the pageant for the first time, also had some kind words to share for her sister. "She's (Jordyn's) been working incredibly hard from what I saw at the preliminaries. And I cannot wait to see where this takes her. She has made Wyoming proud! Go Jordyn!"
But all in all, one of the best parts was just seeing the smiles on everyone's faces as they met with the Former Miss America's! Click here to see more images from The Former Miss Americas Autograph Signing! And if you haven't already, there's still time to get your tickets for the Miss America pageant, which will take place tomorrow night at Boardwalk Hall. Visit this link to purchase tickets!