The Road to Miss America – Miss Texas Caroline Carothers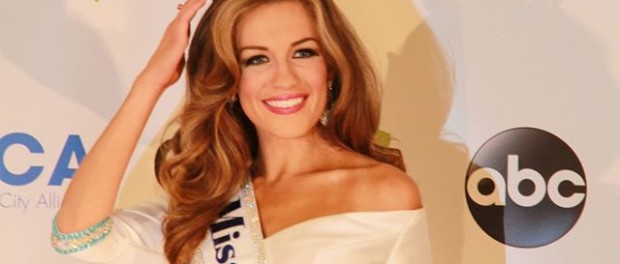 The next contestant featured in our series, "The Road to Miss America," is Miss Texas, Caroline Carothers.
Age: 20
Hometown: San Antonio, Texas
Platform Issue: With + Me = I Can
Talent: Piano
Education: Bachelor of Science Degree in Secondary Math Education from Baylor University
Scholastic Ambition: To obtain a Master's Degree in Curriculum and Instruction
Scholastic Honors: Baylor Provost's Gold Scholarship; Kappa Delta Pi International Education Honor Society; Kappa Kappa Psi Outstanding Sophomore; Tom Whitt Memorial Scholarship
My Secret Wish or Dream: I would love to be the First Lady of Texas.
My Proud Accomplishment: I am most proud of my "Ribbons of Hope" campaign benefitting Twirling for the Cure and Susan G Komen. I love seeing twirlers across the nation wearing my pink rhinestone hairpieces, knowing that these were the result of my innovation, hard work, and willingness to take a risk.
My name is Caroline Carothers, Miss Texas.  I am a junior and Feature Twirler at Baylor University where I'm majoring in Secondary Math Education. In partnership with Amazon Education, my platform "With + Math = I Can" seeks to change students' attitudes about math by encouraging them to adopt a positive growth mindset. As a baton twirler, juggling serves as a metaphor for my life. I'm always juggling school, work, deadlines, and priorities. I know that with preparation, hard work, and perseverance, I can achieve my dreams. I hope that I can influence students with this same message, whether talking about growth mindset, coaching baton, or teaching algebra.