The Road to Miss America – Miss Tennessee Grace Burgess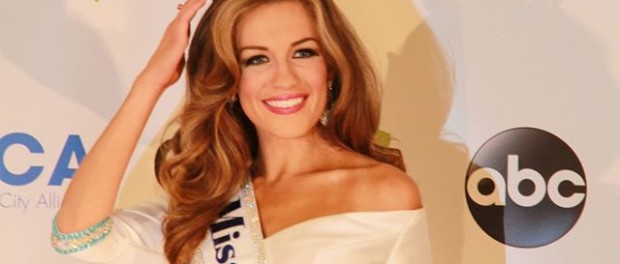 The next contestant to be featured as part of our series, "The Road to Miss America," is Miss Tennessee, Grace Burgess.
Age: 22
Hometown: Memphis, Tennessee
Platform Issue: Childhood Literacy: Ready, Set, Read!
Talent: Vocal performance – "Desperado"
Education: Pursuing a Degree in Child Development with a minor in Psychology from The University of Memphis
Scholastic Ambition: To obtain a Master's in Child Studies at Vanderbilt University and become certified as a Child Life Specialist in a Children's Miracle Network Hospital
Scholastic Honors: University of Memphis Emerging Leaders Scholarship; University of Memphis Leadership Recognition Award for Distinguished Service; Gamma Beta Phi Honor Society; National Society of Leadership and Success; University of Memphis Dean's List; Tennessee Quality of Life Scholarship; Tennessee HOPE Scholarship; Alpha Gamma Delta "Strive for Pi" Award
Weekend Activity: I love spending weekends at TN Tech's STEM Center for STEM Fab Fridays and STEM Safari Saturdays! My favorite part is the STEMmobile, a 53' classroom trailer on wheels!
My Proud Accomplishment: I have personally raised over $20,000 for CMN Hospitals. The majority of the money I raised has come from the annual Miracle Mile 5K Run I founded and coordinated by recruiting corporate sponsors, working with city officials, and implementing bib chips to create a timed event.
Imagine growing up in a home with no books. My mission to impact children's literacy began six years ago when I realized for many children, this was a harsh reality. Since then, as National Ambassador for Reading Is Fundamental, I've raised $11,000, provided 10,000 books for children, and established a Mid-South Literacy Council. I've implemented a statewide book drive with Volunteer Tennessee and the Governor's Books From Birth Foundation that culminates on Miss America Serves Day. I've created a Literacy App and started a "Read With Me" Social Media Challenge to further increase awareness. If we don't provide a firm reading foundation for children, they will become one of the 93 million adults who read below the level needed to contribute successfully to society.