The Road To Miss America – Miss Oregon Alexis Mather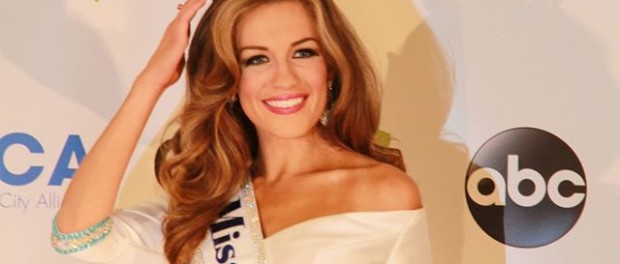 As part of our series, "The Road to Miss America," we had the chance to sit down with the reining Miss Oregon, Alexis Mather, to answer a few questions!
Please tell us about your platform, which you're supporting for the Miss American pageant, and why you chose this particular one.
My platform is "Mentoring to Develop Leaders."  I chose this platform because of the mentors in my life.  I am forever changed and feel that they helped set me on the right track for my life and my bright future. The Miss America Organization's mission is similar.  They provide scholarship money and mentoring for young women. These young women go on to become tomorrow's leaders.
Please tell us three things any Miss America representative needs or should possess in order to have a successful reign at a State or National level.
Leadership skills – Miss America is a leader and must be able to inspire others.   Miss America inspires hope for Americans especially in uncertain times.  In addition, she also must be able to work with a team. It is her responsibility to lead her year, but also she need assistance of a multitude of sponsors and volunteers to accomplish that. She must be able to use her teamwork and leadership skills to ensure the program grows for future generations.
Humility – It takes humility to have a heart of service for others. Miss America represents something bigger than herself.  This can mean putting yourself second to the greater need and not pushing your own way.  Respect of others and being gracious goes along with that.
Self-confidence – Everyone has an opinion.  Miss America must be able to be strong enough in herself to respect that other people may not like her choice of clothing, hair, or make-up.  You are not able to inspire others to be themselves unless you recognize your own self-worth and potential.
If you were crowned Miss America 2017, what is the one thing which you are looking forward to accomplishing or being a part of?
My personal goal is to visit every state. I want to ensure that girls in small towns like mine (Astoria, OR) know this opportunity is available. I also want people to understand the benefits of the Miss America program. It has done so much for my life!
What advice do you have for the young girls who want to one day step into your shoes and represent their home state as gracefully as you have.
Never give up!  I did not win my first or even my second pageant.  I would tell them keep learning, listen to the advice, and try try try again. Also, understand what you are applying for. It isn't a crown on your head. You are applying to serve ​​​​​​​​your state and fellow Americans.  You must be gracious and have a heart of service!
"Bravura" is an artistic work for exceptional; what makes you a "bravura" choice for Miss America 2017.
I  am driven.  If I set a goal for myself, I will see it through.  So often, I see my peers get easily distracted from their goals.  I feel like I have made myself the exception.  I look at achieving goals as something where I personally may not always get the outcome I set out to get, but I always succeed because I pour my whole self into what I am doing.   I do my best. This way I have no regrets and continue to grow.
---
Now learn some more details about Miss Oregon!
Age: 21
Hometown: Astoria, Oregon
Platform Issue: Mentoring to Develop Leaders
Talent: "Der Hölle Rache" in Mozart's opera The Magic Flute
Education: Working towards a Bachelor's Degree in Psychology at Portland State University
Scholastic Ambition: Obtain a Master's degree in Psychology with a minor in music
Scholastic Honors: Rotary International scholarship award recipient; Two-time recipient of Service Above Self essay awards through Rotary International; Astoria, Inc. scholarship recipient; Honor Role; Astoria Chamber of Commerce scholarship recipient
My Defining Moment: After I sang, I had a person come up to me with tears in their eyes to say how my voice and song affected them deeply. It made me realize I had an incredible opportunity to have a positive effect on others.
What I've Learned from the Miss America Program: The reward from competing is not the crown or the title, but rather the journey and experiences along the way.
My mission as Miss America is to empower people to overcome their perceived imperfections. Whether it is poverty, divorce, bullying, disease, or the loss of a loved one, we must all learn to be brave. Mentor relationships are crucial to developing young people to their full potential as tomorrow's leaders. I look forward to making substantial progress toward this goal as Miss America. I will capitalize on both my personal and professional experience to teach kids how to be brave, confront challenges, and evolve from simply outrunning adversity to actively pursuing new challenges.