The Road to Miss America – Miss Maine Marybeth Noonan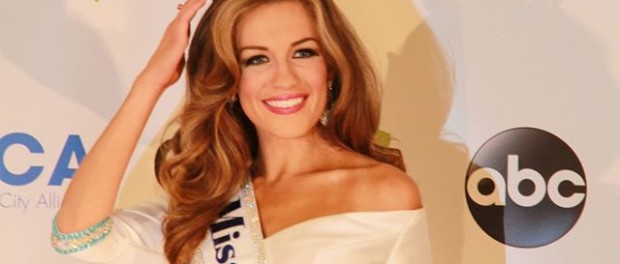 The next contestant to be featured in our series, "The Road to Miss America," is Miss Maine, Marybeth Noonan. This was a special segment, as Marybeth also took the time to speak with me and answer some questions about herself!
Please tell us about your platform, which you're supporting for the Miss America pageant, and why you chose this particular one.
My platform, Be Their Voice, focuses on fundraising for childhood cancer research as well as providing assistance to families affected by the disease. After seeing my friend Josh battle Hodgkin's Lymphoma in high school I was inspired to help other teens and children who are fighting cancer.
Please tell us the three things any Miss America representative needs or should possess in order to have a successful reign at a State or National level.
The best title holders are confident, hardworking and passionate about their platforms. When you are confident, that radiates throughout your reign and sets a positive example for the young girls who look up to you. When you are a hard worker, it allows you to accomplish great things and make the most of your year of service. Lastly, when you are passionate about your platform it pushes you to use your crown to make a difference in this world.
If you were to be crowned Miss America 2017, what is the one thing which you are looking forward to accomplishing or being a part of?
I would lobby for more funding for pediatric cancer research and visit as many children's hospitals as I can to help make a positive difference in the lives of children battling this disease.
What advice do you have for the young girls who want to one day step into your shoes and represent their home state as gracefully as you have?
Dave Grohl once said "No one is you and that is your power." Keep that in mind throughout your reign and you'll accomplish great things.
"Bravura" is an artistic word for exceptional; what makes you a 'bravura' choice for Miss America 2017?
I created a business at the age of fourteen which taught me valuable marketing and business skills at a young age. I would use these skills during my reign as Miss America to promote my platform and this phenomenal organization.
---
Now get to know about your Miss Maine 2017 contestant!!
Age: 21
Hometown: Raymond, Maine
Talent: Vocal Performance
Education: Lyndon State College
Scholastic Ambition: To graduate with a 4.0 GPA
Scholastic Honors: FOX 23 Broadcaster's Scholarship; Vermont Association of Broadcaster's Scholarship; Lyndon Scholar Scholarship; Robert E. Long Scholarship; President's List; Dean's List.
My Inspiration: Broadway performer, Robyn Hurder, is a graduate of my former high school. Because she returns to my hometown to volunteer by sharing her talent, she inspires me to reach for my dreams, but never forget where I came from.
My Proud Accomplishment: I created a children's party entertainment business called Rent A Princess at the age of fourteen.
Marybeth Noonan is a 20-year-old broadcasting major at Lyndon State College. She created a business at the age of fourteen called Rent-A-Princess where princesses entertain at children's parties. Marybeth added a charitable component to her business, where she visits children's hospitals dressed as Elsa from "Frozen." Her platform is Be Their Voice, which is focused on fundraising for childhood cancer research as well as providing assistance to those affected by the disease. Her passion for pediatric cancer stems from her friendship with her classmate, Josh, who battled Hodgkin's Lymphoma and is now cancer free.