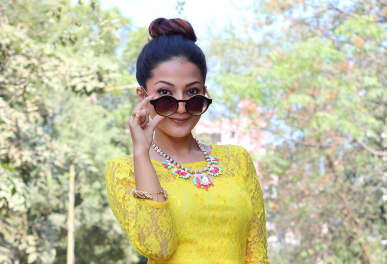 I'm super excited as winter is almost over in Delhi and Summer is just around the corner! Well there's no doubt that I love winters but, I like summers too. I'm sure even you guys are pretty tired of wearing overcoats, jackets, beanies, scarves and what not. Its high time we bid adieu to all the woolen clothing and get into shorts and summer dresses.😀
I finally decided to say goodbye to winters and got myself a pretty lace dress from StalkBuyLove. The color screams summer and I thought it was the best way to show you guys my excitement for the coming season.🙂
Enjoy the pictures!
(Outfit details: Dress- StalkBuyLove, Shoes- Steve Madden, Neckpiece- Flaunt n Flair, Sunnies– Forever21, Watch- Guess)
(Lipstick- Chambor 670)
Quite frankly, I love lace! Its one trend that's been here for decades and is still so massive. From tops, to skirts and sophisticated gowns everything points to a regained sense of femininity.
Why is it so perfect for Summer? Because its versatile, its feminine and it adds a bit of romantic chicness to your look. You can wear lace almost everywhere, be it to work, brunches, dates, beach holidays or dinner parties.
Whether used as a feminine accent or sported as an overall look, lace will surely lend an undisputed elegance to your wardrobe.  🙂
Hair & Makeup
For this post, I've tied my hair into a top knot as its the perfect hairdo for the upcoming summer season. And since the ensemble is quite bright, I've kept the eye makeup and lips pretty nude.
Soon I shall be posting a tutorial of this look on my YouTube channel. Please subscribe to it here and do let me know if you have any suggestions/requests.
Hope you all had fun reading this one! If you did, please follow back or leave a comment below.❤