7 Years of Atlantic City Fashion Week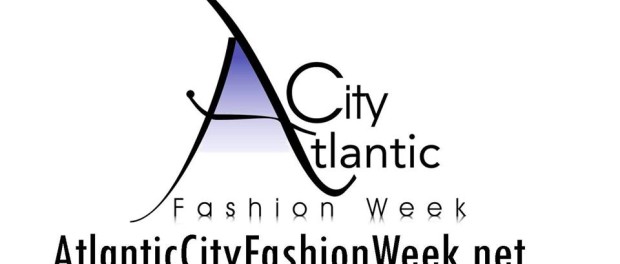 Seven years ago, I had the opportunity to meet two amazing personalities – Lamont & Jeana Dean Bowling – the executive producers of Atlantic City Fashion Week. Having personally covered so many different Fashion Week events, I was surprised when I found out that Atlantic City had their own Fashion Week event – after all, it doesn't scream out "fashion" to you, when you have all the casinos around you! But I have to admit, I was taken aback – in such a great way – when I saw what the Bowlings were able to execute at One Atlantic seven years ago. And now, in 2015, as they prepare for their seventh season, it's only a matter of creativity & execution to see what they will come up with next.
And the Bowlings feel the same way; they stated, "Atlantic City Fashion Week has grown from very humble beginnings. Our first show at One Atlantic had 30 models, 4 hairstylists and 10 designers. We sold about 75 tickets to the event and loved every minute of it. We were immediately hooked! Every year since that first show, we have grown into a larger venue, selling out events as we went along. This season, we will have 4 shows featuring over 50 designers, 140 models and nearly 100 hairstylists & makeup artist."
So yes, it is true – with time, passion, determination, and hard work, you can make anything happen. And through these past seven years, their team and the number of designers who take part grown, but they have also become a platform where first-time designers can showcase their unique talents. Lamont Bowling so humbly asserted, "We love the energy of "first time designers". To have an opportunity to show your collection in a show of this size is rare but we do it because it is rare. There is so much new talent out there just waiting for the opportunity to stand next to a season veteran and say, I did it!."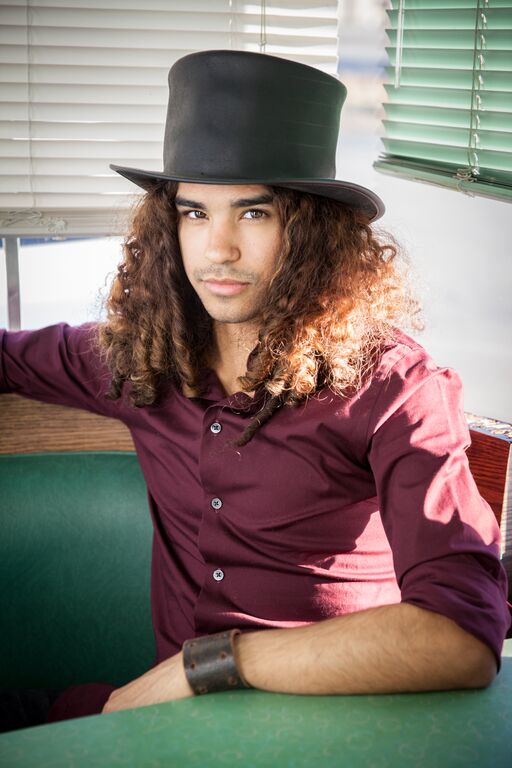 And Pennsylvania-based designer, John Leon, was one of these designers, who was a first-time to the ACFW brand. Leon has been designing since he was very young, but only began his path towards evening-wear five years ago. Four years ago he met the Bowlings; "At the time they were doing a show called The Pink Show, for breast cancer at a small venue in NJ," Leon stated. It was there that a mutual friend, who also happened to be a model, "Vanessa Banks introduced me to them. I am blessed to be apart of the family for so long. It was so inspiring to me to see them grow the way they did. They keep me going and are constantly pushing me and challenging me; whether it's designing a custom gown for Jeana, or making a new collection for ACFW. I always end up saying: finally someone is supporting young and up and coming designers. We need all the help we can get."
And John Leon has been one of those designers, who season after season, has come back to wow the attendees of ACFW with his new collections over the years. It's a mutual investment, which goes towards both parties. As Lamont explains, "To see a designer that is willing to make that investment time and time again tells us that we are doing something well. We ask for lots of feedback from those designers to find out what we can do better to represent their brand (when) on the runway. We never take them or their ideas for granted and work hard every season to improve. When a designer returns the following season that is our reassurance that we are doing something right."
New Jersey based designer, Lainy Gold, is yet another person who has become quite familiar, and at one, with the ACFW platform. She went onto assert that, "(Atlantic City Fashion Week)…it's the "Greatest Show On Earth," and I truly mean that. It's very professional and well run – from the (model) auditions to the final walk; the venues are always excellent – Lamont & Jeana are like family to their staff, and have (also) made me feel so important. I have shown at other venues and have enjoyed it; nonetheless, the closeness I feel with this organization is very hard to find!" The other angle that I love about Atlantic City Fashion Week is that a designers true freedom and creativity is always brought to the runway; I have been to some shows where people want "this and that," and expect a designer to cater to THEIR needs; however, ACFW has become a platform, "[d]esigners are not afraid to break the rules and the boundaries. It's extremely entertaining. It's a true joy to watch," as John Leon stated.
And the Bowlings feel the same sentiments when talking about returning designers at their show. "We have had designers that travel to our show from six of the seven continents – lots of national named retailers and designers. Our audience can be assured that they will be entertained and excited and that the collections aren't something they saw on the runway weeks earlier in other fashion events."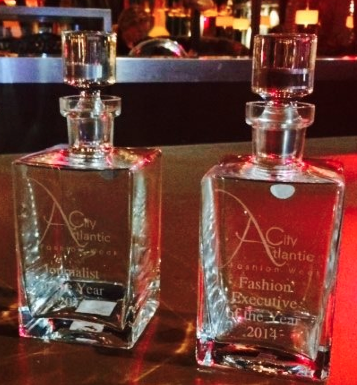 In the recent seasons, one of my most favorite new additions to the ACFW brand has been the Atlantic City Fashion Week Awards; for me, this is a bit more personal, because it was instated three years ago, and during their first awards season, I was given the title of Top Fashion Executive. During their second awards season, I won Top Fashion Executive again, in addition to, Top Fashion Journalist.
Personally, I felt that this was an amazing opportunity, which the Bowlings came up with, to honor and recognize those in the fashion industry who are establishing themselves with all their hard word. Jeana went onto add that, "[t]here are so many people that make ACFW a success and we wanted to bring some of those individuals to the forefront. ACFW could never be successful without the many models, journalist, photographers and designers that make it all possible. Although we thank the many people at the end of our events, sometimes you feel like saying "thank you" just isn't enough. So, one night of the year we all dress up and give back to those who have helped us achieve success. It's our way of saying thank you."
And I think I can speak for everyone when I say – we appreciate that "thank you."
But truth behold, the Bowlings are NOT the only people who make ACFW what it is today; they have an amazing team, stemming from hair & make-up, to backstage, and the overall production of the show. Jeana stated that, "some of our team members have been with us from the first show. Others have come along the way.  We have even received request from local celebrities to host or be a part of our team." So who is a part of this amazing team you may be wondering? Lamont added, "we now have a Creative Director, for both Hair and Makeup, Roberta Batts and Iman Clements. Our Media Director is Janae Bowling. Additionally, we also have a Model Captain and Stage Director, who is Chanise Smith. Christina Strickland is our Social Media Director; our Vendor Coordinator is Sherrye Hawkins. We also have a Security Director, Joshua Steeley; our Front End & Ticketing Manager, Mannie Bowling; our Music Director, Johnathon Luna – and if that wasn't enough, we also have our Lead Stylist, Jene' Dean, our Administrative Assistant Monique Powell, and last, but not least, our Event Director, who pulls it all together, Victor Kyler. ACFW would not exist without the dedication and hard work from our family."
In a time where fashion is at the forefront of everything we do and see, it's a great feeling to see someone put together something that personifies what fashion is all about – creativity, individuality, and moreover, FASHION.
I look forward to Season 7 of ACFW – not only because I will be showcasing my second collection – but because with every season things only get BIGGER and BETTER!
* * * * *
To purchase tickets, please visit: http://www.atlanticcityfashionweek.net/purchase-tickets.html