BBC releases India's Daughter on YouTube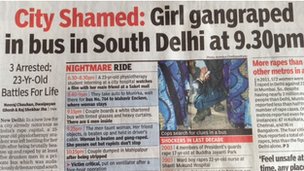 Editor's Note: The video is graphic, so please do not watch around younger children.
The BBC has nationally released their most recent documentary via YouTube this week, "India's Daughter." This is a powerful film by Leslee Udwin about the rape and murder of Jyoti Singh, which set India not only in the media limelight, but raised a large issue nationally as well.
The 2012 Delhi gang rape occurred on December 16th, 2012, in Munirka, a neighbourhood in South Delhi, when a 23-year-old female physiotherapy intern was beaten and gang raped in a private bus in which she was traveling with her male friend. There were six others in the bus, including the driver, all of whom raped the woman and beat her friend. The woman died from her injuries thirteen days later while undergoing emergency treatment in Singapore.
The shameful part in all of this is that India banned the film ahead of its planned broadcast as part of the 2015 International Women's Day. What type of government do you have running a nation, if at the end of the day, they are going to BAN a video which raises awareness of a growing issue. There are many nations in this world who have internal issue; but instead of turning their heads way from them, they are working to fix those issue.
India, you should be ashamed of yourself.
But thanks to the powerful use of #socialmedia, the BBC is sharing it with the entire world – a story which is not meant to be hidden from anyone.
I encourage you to share this video with all of your #Facebook, #Twitter, and other #socialmedia friends; we should not remain silent. #Rape is a growing issue.