Music Exclusive – The Catching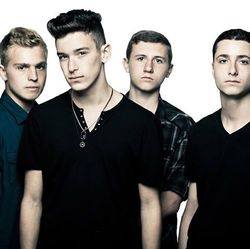 Growing up, I have always been the type of person to listen to Top 40, Pop, Hip-Hop & a bit of RnB. And of course, I cannot forget my crazy passion for Bollywood & Bhangra music as well! But in the recent year, I have become a bit more interested in Rock; and for those who know me, they know that's definitely not my top preference in music. And all of this is because of my Dad – yeah, my Dad…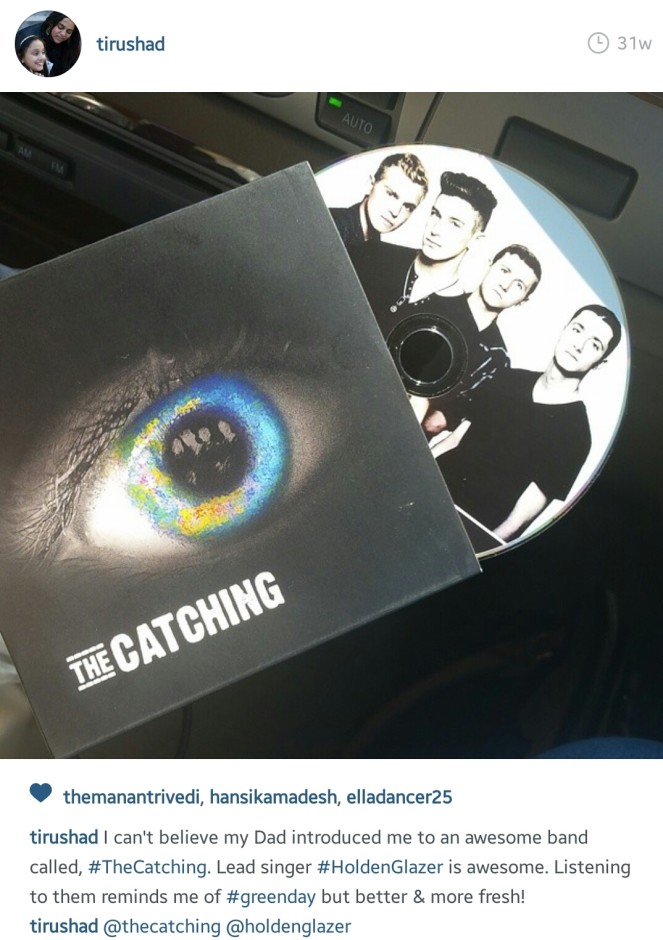 We were on a road-trip to DC for the weekend and out of nowhere my Dad pulls out this CD and says, "Hey, I know this band…you should listen to this." The cover was a bug eye, which said "The Catching." Anyways, I let him play the CD and the first song that played – The Perfect Crime – caught my attention right away! It reminded me as if I was listening to Green Day (and yes, I like Green Day)!! I listened to the entire EP and played it a second time again.
From there onwards, I knew that this was a band I had to get to know, and that's exactly what happened!
Please tell us a bit about each of yourselves and your part in The Catching.
Jake Farbman: I play lead guitars and sing backup vocals in The Catching. I'm also one of the main songwriters in the band, alongside Holden.
Drew Brendli: I'm a senior at Manalapan High School and I have been playing drums for about 6 years.
Evan Hemwall: I'm a guitar player for The Catching along with my right hand man, Jake Farbman. I love my role in The Catching because it is all about what I can do to enhance our sound. Weather it is playing different chord inversions to spice things up or adding a melodic solo over the chorus, it is truly a privilege to be able to manipulate the details of a song. This ultimately gives the catching the "standout" sound that we're looking for.
Holden Glazer: I'm the lead singer, primary songwriter/lyricist, and also the bass player in my band. I have always had an interest in music since I was a kid. There has always been some sort of emotional connection for me when it comes to music. When a song flows well I can feel it.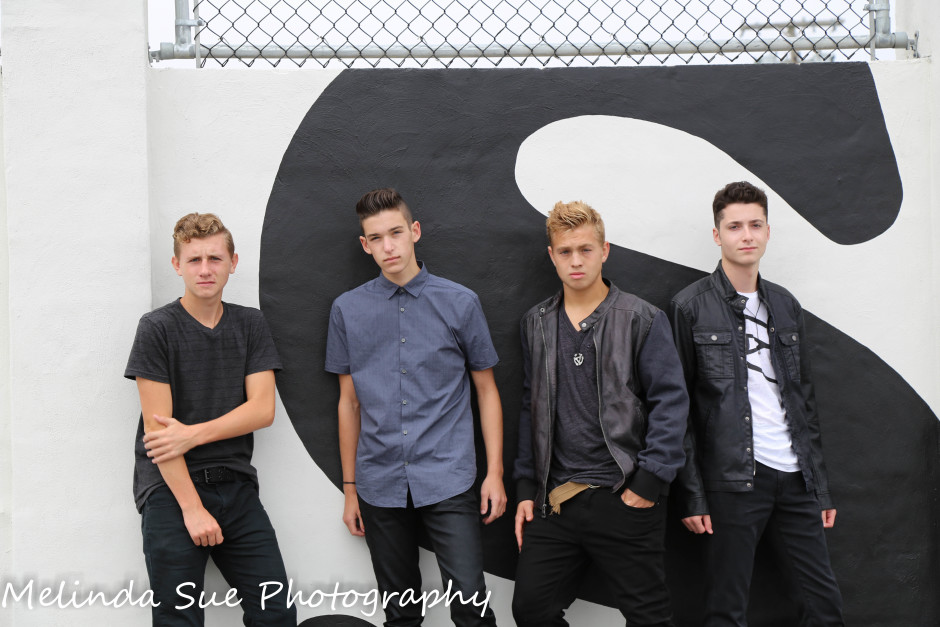 How did the four of you become The Catching? What is your personal history with one another?
Evan: It goes back to our days attending the Matawan School of Rock; Jake, Holden and I have always been good acquaintances and played in many shows together. As we grew up, the Matawan School changed management and moved over to Marlboro, so we made our way on different paths. I met Drew after I auditioned for the School of Rock All-stars. We quickly became great friends and he would tell me about his band Strong Soul (with Holden and Jake). I told him that if they ever needed a fill in guitarist or someone to help out to give me a call and I would be there. Two months after all stars ended, I got a text from drew, and the rest is history.
Has music always been a part of your life, or was it something that grew of interest later on?
Jake: I've been interested in music all my life. I first started playing guitar when I was 6 years old. I later then taught myself to play the piano and I can also play bass I can sing. Music has always been an essential part of my family.
Drew: Coming from a family that is not very musically inclined music was not always a part of my life. In the fourth grade I played trumpet and it wasn't until the 6th grade that I picked up my passion for drums and music.
Evan: Yes, I have home videos of my father playing the harmonica to me as an infant until I would fall asleep; I have hundreds of memories listening to music through his stereo system in the "music room" In my house. Music has been a major part of my life since the day I was born. Sure I played baseball and did all the recreational sports with my friends, but that was short lived. When I picked up my first guitar, I knew that it would be my passion for life.
Holden: Yes. Its influence and importance has grown even more over time, but ever since the beginning it has been a big part. It influences my actions and decisions I make in my life right now. There has always been some sort of emotional connection for me when it comes to music. When a song flows well I can feel it.
Who are your musical inspirations and role models?
Jake: My inspirations and role models are constantly changing. My first influential bands were KISS and Iron Maiden. One band the remains a consistent inspiration to me is The Gaslight Anthem. Currently, I'm very interested in the band Spoon, Jimmy Eat World, Bad Suns, Thirty Seconds To Mars, and AFI. When we were writing and recording the EP, Imagine Dragons, Arctic Monkeys and AFI were hugely influential. My favorite guitar players are John Mayer, Joe Bonamassa, Kenny Wayne Shephard, Ace Frehely, and last but not least, Adrian Smith from Iron Maiden. Although, I can keep going on and on with the list.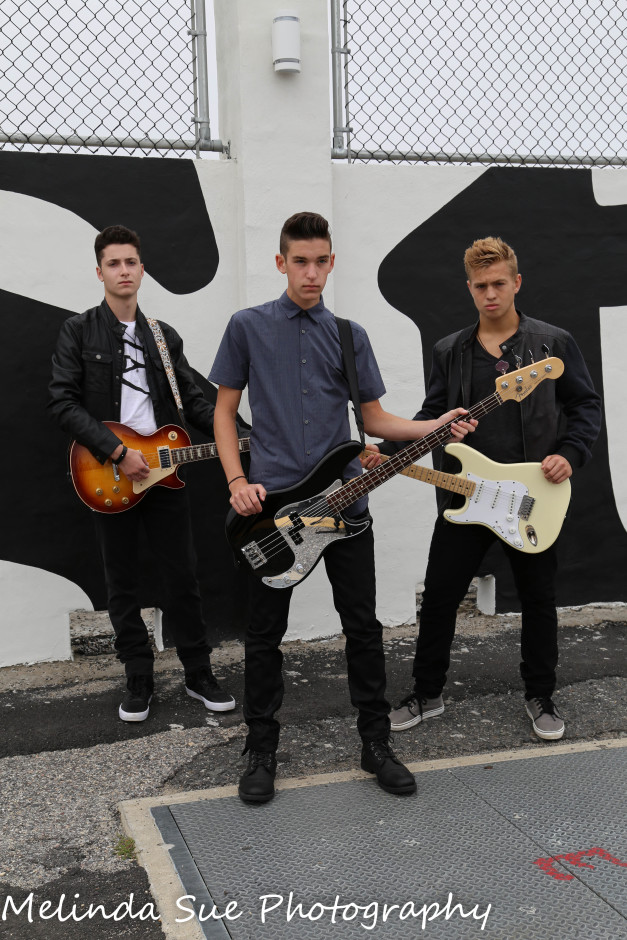 Drew: To be honest I am a very big fan of bands with three guys in it. Most of my favorite bands are Rush, The Police, Muse, Green Day and Blink 182. Of course there are exceptions but (I'm finding) it interesting, how many 3-man bands I listen to.
Evan: My father is a huge role model because he exposed me to all types of music and gave me the tools I need to be successful in making music. My musical inspirations vary with my age and interests, it used to be slash when I was into all the shredding, then it became Brian Sella of the front bottoms for his song writing, and now as I'm in The Catching we all seem to look up to bands like the Arctic Monkies, Kings of Leon, and bad suns for their incredible sound and stage presence.
Holden: My inspirations can change depending on what I'm listening to at a time. I'm mainly inspired by bands such as Green Day, Kings of Leon, Foo Fighters, Arctic Monkeys, AFI, etc. and well known iconic lead singers like Billie Joe Armstrong, Mick Jagger, Alex Turner, Elvis, and more.
If you were an outsider, listening in to your music, who would you compare the sounds of your band to?
Jake: The influences, which I had mentioned, above all come together to create this new sound called 'The Catching." I don't think we don't sound like any one band specifically. I'll leave it up to the fans to decide whom we sound like!
Drew: I would compare us to bands such as Panic at the Disco and Kings of Leon.
Evan: To be honest, I really wouldn't know who to compare us to. We have really worked on all of our songs and have developed a sound that is hard to pinpoint who exactly is in there. It's a lot like a melting pot of bands came together to give us our own unique sound.
Holden: I have constantly heard that we sound like a young Green Day, which is a huge compliment in my eyes. If I were an outsider I would probably have to agree. The only difference is that they have more of a punk aspect that we don't. We still need to develop our sound for me to determine that for sure.
And I agree with that; you guys do remind me of a modern-day, young and funky Green Day! So, onto this EP! My favorite song from your debut EP is The Perfect Crime. I can listen to it again and again…and, well, you get the point! Tell us a bit about the inspiration behind this song and why you picked this song to also be your debut music video?
Jake: Holden had brought in a melody and lyrics for a verse and chorus. I then put in my own twist and and input and added a solo. We just wanted to create a fun, catchy jam. We picked this song for the music video because we all had a vision for it. It was also the most popular song off the EP. The final product is going to be really cool. I can't wait for everyone to see the video. I'd like to thank everyone involved, but Rob and Ally Newman (our directors and videographers and close friends of the band) in particular, for everything they did in support of the video.
Drew: From my stand point on the drums I really wanted the chorus to "swing" and I wanted the solo to be a driving part of the song and you can definitely hear that in my choice of beats I play for each of those parts. We picked this song for our debut video because it has gotten great feed back and it was one of the most original songs on the EP.
Evan: The perfect crime has the distorted guitars; chorus that gets stuck in your head, and usually receives the best feedback whenever we play it. It is our most popular song so we felt that a music video for it would make the most sense. We all love playing that song because it's rooted with rock and roll, but has that nice hook that everybody loves hearing these days.
Holden: The start of that song came from when I wrote the guitar part for the verse. After that was finished everything seemed to follow including the lyrics and melodies. It came smoothly and was the easiest to record. As a band we knew it was probably our best song of the four and released it first because of that. The instant positive reaction only made us love the song more. For both of those reasons we chose that song for our debut music video.
Tell us a bit more about the process in creating your EP; how many songs did you work on before picking the ones you did. Why did you select the songs we see on the EP now? Where can our readers can a copy of your EP from?
Holden: The recording process for the EP was definitely complicated, but also very smooth. We went into the studio with two of the four songs (The Perfect Crime and Other Side) finished, having written Until the End the day before and All for One in the studio. We formerly had a lot of material written under the name Strong Soul, but we decided to change our sound and wrote new songs in doing so. We started with drums and once those were solid, everything else followed. Our producer, Jon Leidersdorff, usually has a good idea of what he wants to hear in a song once its direction is determined. For each song we knew what essence we wanted and got a great product as a result of a couple months of work. Although we are really happy with it, we definitely know we have some growing to do and also have a good idea of what to do differently next time around.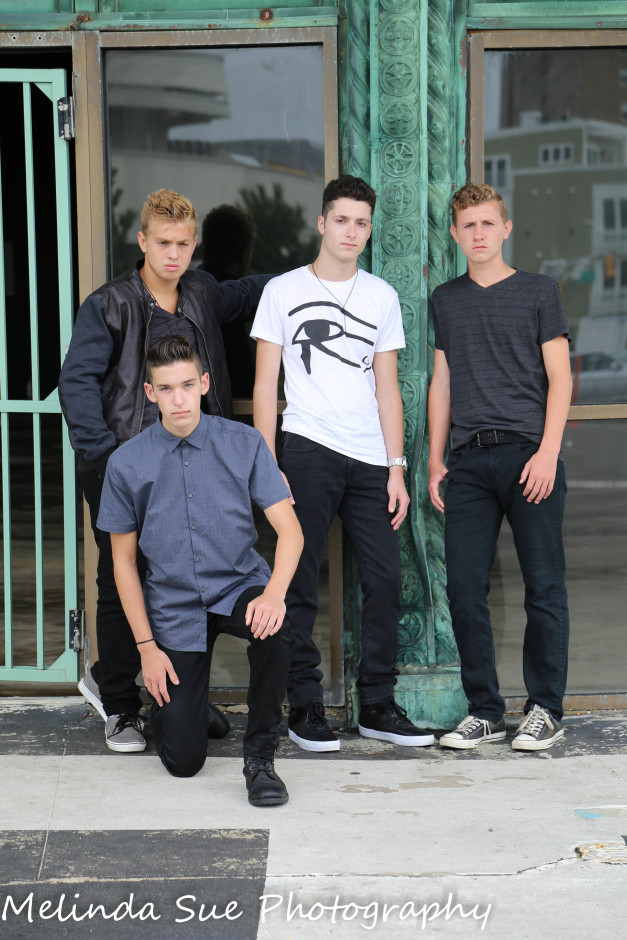 Share with us your favorite song from the EP and why?
Jake: I'd have to say my favorite song from the EP is Until The End. It was a real departure from anything that we'd have ever written before. The song was more modern and kind of paved the way for the types of songs that we wrote after that. I came up with the guitar parts and the chorus melody at first and then it turned into the final product that you hear on the record. However, to make the song more striking, our producer, Jon Leidersdorff suggested that we change the key of the song. It made the final product more catchy and easier to sing for Holden.
Drew: My favorite song on the EP is All For One. I just love how punchy it is and how the bridge is really groovy and kind of makes you bob your head back and forth.
Evan: Wow, that's a tough one because I love all of these songs. I would have to say Until the End is my favorite because it's technically our most involved song. It's a fast song with an uplifting chorus and an anthem-bridge. I love listening to it because it has such a positive vibe to it, and I love playing it even more because all the energy we put into it recording wise comes out on stage.
Holden: I love The Perfect Crime…it is one of those songs that you want to listen to over and over, at least for me. Besides that I really love Other Side. I wrote that song and had a clear picture of it from the beginning and it came out the way I wanted it to.
Tell us a bit about the design for the EP and why you chose for it to look the way it did when finished.
Holden: The cover art for the EP was actually made by a good friend of mine. He tends to come up with some interesting concepts and this one just happened to stick out. It was originally an old picture of us in his eye without any effect, but we decided to add a little to it to make it more interesting.
Jake: The cover art for the EP was a bit of a controversy within the band. We kept going back and fourth between a design and a photo of the four of us. A friend of the band eventually designed the eye, which you see on the EP. Originally, the whole background of the eye was grey. Then I suggested making it black. It looks edgier that way and more striking. That's when we knew that the eye had to be the cover art. I personally think that the four of us inside of the eye are a really cool touch. The eye creates interest in wondering what this band sounds like. It's a bit mysterious!
Is there an album in the works?
Holden: As of now, we have been writing a lot of new material (enough to make an album), but we only plan on releasing EP's until we get our name out there. There are a couple songs that we have written recently that I think really need to be heard possibly even more than the first four. We constantly talk about what it would be like to record a debut album and would really love to be given the opportunity someday, but for now we are just trying to get our name out there the best we can and gain some important experience along the way.
Being that all four of you are still in high school, how do you balance a personal lifestyle of being a teenager and a professional lifestyle of being a member of a band? What has been the biggest difficulty you've faced and how have you managed to overcome it?
Jake: Being that we're all in high school, it's not always the easiest thing to get rehearsals together or find studio dates that always works. But we always sort it out and usually end up making it work. The hardest thing for me is dealing with schoolwork. However, it doesn't interfere so much. The biggest difficulty as a band is dealing with Drew and Evan's work schedules. Holden and I are the 2 youngest in the band and I'm the youngest. So, we don't have as many responsibilities. We always overcome it, move around our schedules, and make up for loss time.
Drew: It definitely gets hard balancing band, school and social life. The biggest difficulty I face is finding the time to do everything but I overcome it by planning ahead and keeping the band as a top priority.
Evan: As a member of the band, my personal lifestyle has not really clashed all too much with our professional schedule, although now as were playing more and doing more with our time I do see things getting to be tougher to manage. For instance, I have a job delivering pizzas, and it's hard to coordinate when I can do things with the band because my schedule for work is reliant on whenever they need me.
Holden: For me, I mix the two pretty well. My friends tend to be involved in my music, which is great, but I also spend time with them aside from the band. As a band we are trying to just hangout more but it always turns into some kind of music session.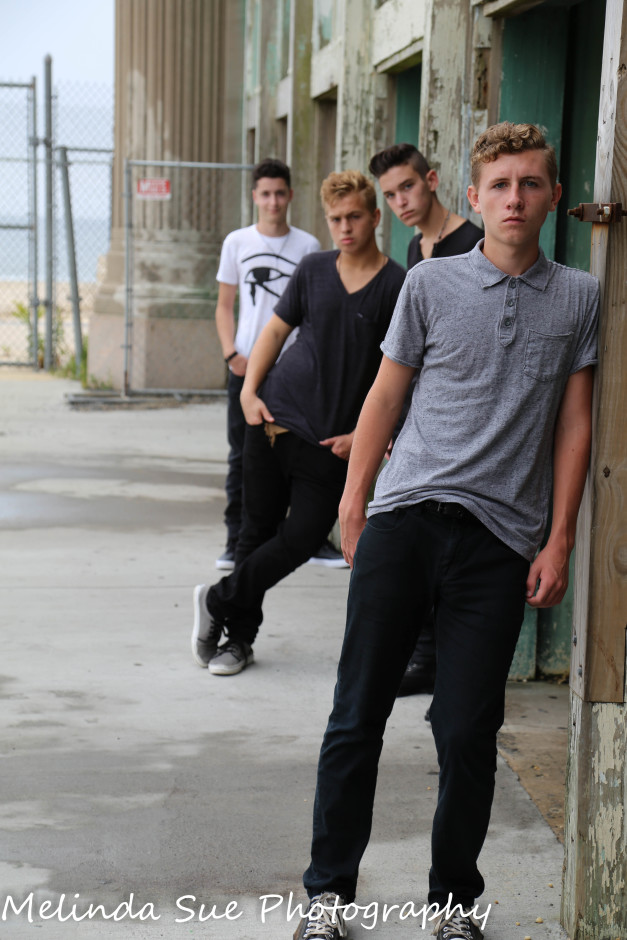 Besides music, what are your other hobbies and interests?
Jake: I have a really strong interest in aviation and would like to earn my pilots license in the future. I'm also interested in playing golf and following football and hockey in my free time. Music is my biggest interest though.
Drew: I am on the varsity soccer team at my high school. Soccer has been a part of my life since a very young age and is easily one of my favorite hobbies.
Evan: Other than music I am a full time runner. I do cross-country in the fall, winter track in the winter, and spring track in the spring. Then I just train for cross-country in the summer until it starts back up in the fall.
Holden: I love to surf when the weather is nice enough. It really is a great way to relax and also has inspired some of my writing. Besides that, music is my primary way of expression.
When you finally decided, "Alright, this is what we're going to do," with your music, how did you work on getting the name of The Catching out to the public's attention? What challenges did you face in regards to getting the exposure your music needed?
Jake: I think that getting your music out to the public is forever going to be an ongoing process for any band. You're trying to spread your product (the music) out to as may people possible. There's a reason why they call it the "music business". It's easier to get it out to more people today compared to a few decades ago. However, there's so much more buzz on the Internet making it harder and harder to get noticed. We new we needed good music. From the response we've gotten, we were able to check that off the list. Then, we needed to present ourselves to the public as a serious alternative rock band with a presentable image. We were able to do that. The biggest challenge, which isn't even so big at all, is how people interpret us being kids. Sometimes it has worked to our advantage, and other times it has worked to our disadvantage. People are typically even more impressed when they find out our ages.
You have performed many live sets since the band has been created; what do you find the most thrilling part about performing for a live crowd?
Jake: As a band, we feed off of audience participation and reaction. There's no better feeling then watching and hearing the audience cheer, clap and sing along to our OWN songs. Every show, we have people come up to us after asking, "How old are you guys? Where can I buy your music?" People are always blown away by our ages. They're especially surprised when they find out my age because I'm the youngest in the band.
Drew: I love playing shows because when you have an audience that wants to move and interact there is just no better feeling than being on stage and feeding off of that energy.
Evan: Playing to a live crowd is a thrill. You have all eyes on you while you play the music you've worked so hard on. The most thrilling part would have to be the crowds' reaction to a song. Hearing them applaud your work is invigorating and makes you feel alive when you're on stage.
Holden: Honestly, just the fact that we are on stage and playing our songs gets me excited. The positive reaction from the crowd definitely adds a lot more to that too.
There are many different male-bands in the music industry. What is that X-factor which The Catching has that sets you apart from the rest?
Jake: The X-Factor that sets us apart from other male-bands in the industry is our original music and impressive live show. We like to show others how it's to be done. When fans hear our record, we want them to be intrigued by The Catching and not want to stop listening to our music and spread it around to their friends. When fans leave our live shows, we want them to be impressed and still have the songs running through their heads after the show. Usually, that's the case. Our presence, talent, and age are 3 major X-Factors that set us apart.
Evan: The Catching has a sound that has been worked on for almost two years. Holdens ability to write hooks that get stuck in your head for hours, Drew's powerful drumbeats that you can feel in your chest, and Jake and my flare on guitar to give the song all the extra components it needs in order to standout from the other bands in the industry.
Holden: I really don't think there is a young rock band in the industry that is popular right now. If we were to gain success that would definitely set us apart from other artists/bands.
Five years from now, where do you hope to see The Catching and yourselves musically?
Jake: In 5 years from now, I would love to see The Catching be signed to a major record deal, on a headlining tour, and to have a growing fan base at a constant pace. Personally, I am always looking to improve my musical skills on all my instruments. I love exploring different genres to learn how to play on guitar and piano. My songwriting will always be worked on, as it's something I enjoy and always want to become better at.
Drew: Five years from now I want to be on tour for our 2nd studio album playing some nice venues. I see us musically more mature and maybe more technical and really digging into our true sound.
Evan: Five years from now, who knows where we'll be. We could be playing the garden, or maybe someone's wedding, but the important thing is that we will still be making music that we love and never giving up on our sound.
Holden: Five years from now, I hope to see that we've gained a small following at least and have developed our sound. I want us to be one of those bands that people name off the top of their head or automatically know.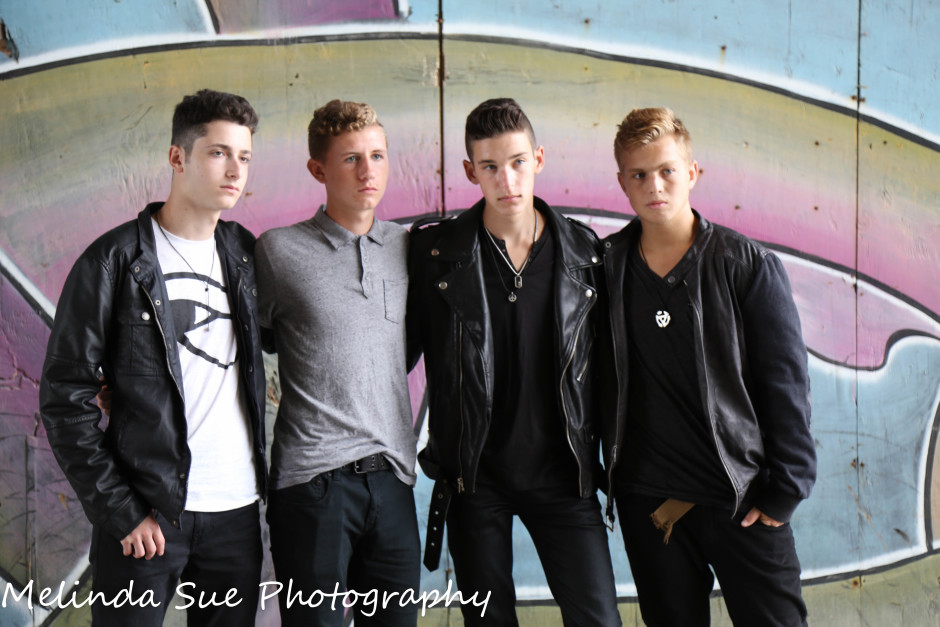 If you could open up for any band on tour, who would it be and why?
Jake: I would like to go on tour with The Gaslight Anthem because they're a big influence to my songwriting and I've met the lead singer, Brian Fallon, before. They seem like some cool guys. They're also popular enough where we'd be playing much bigger venues than we currently do, but not popular enough to headline arenas, which is perfect for us. Their band is still on the rise. I think our music would compliment each other.
Drew: I would open up for Kings of Leon any night, any venue, if there was one person or a million people in the audience just because of how much they have influenced our band and because of how much I love them.
Evan: There are so many bands we love, but if we had to choose one, I know I would pick the Arctic Monkies. We love their sound and they have inspired us in so many ways, if we were able to open up for them we would be sharing the stage with some of our role models in front of tens of thousands of people.
Holden: We all have similar influences, but the most prevalent in all of us is definitely Kings of Leon. We really look up to those guys and would love to open up for them on tour. They are a huge inspiration to each of us and influence our playing styles.
'Bravura' is an artistic word for exceptional. Tell us what makes The Catching bravura!
Jake: We have songs that you will be singing for weeks on end and you won't be able to knock them out of your head!
Drew: This band is very energetic and lively on stage. We love to have fun and rock out!
Evan: The Catching has that fresh sound that people love to hear! We fill our music with emotion and skill to create songs that people will hum to themselves without a doubt. We try to make our music as bravura as possible, and in turn that makes The Catching bravura!
Holden: We really feel connected to our music and love every minute that we get to share as a band, playing music for all our bravura fans.
Do you have any final words for your fans and the readers for Bravura Magazine?
Catch Us If You Can!
Learn more about The Catching on social media:
http://www.thecatching.com, https://www.facebook.com/thecatching, The Catching Youtube
Instagram: @thecatching
SoundCloud: @thecatching
Twitter: @thecatchingnj