New Music – New Gurdas Maan Album Roti Set for Release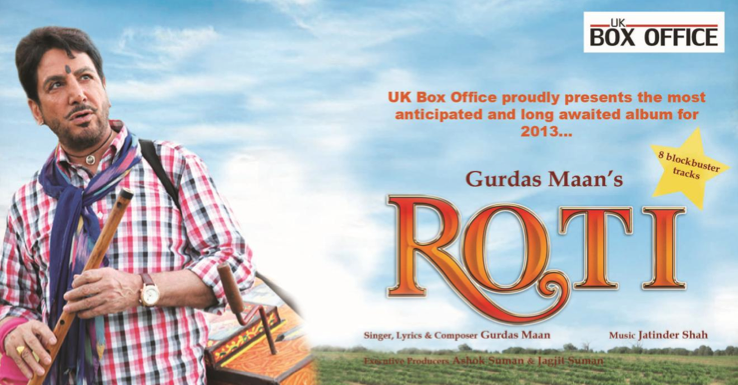 Legendary Punjabi artist Gurdas Maan's forthcoming album titled Roti is set for official release on 1st August 2013.
The highly anticipated album is to be released by leading media and events company UK Box Office, with whom Maan's last few projects have successfully launched, as well as his highly acclaimed UK tours. UK Box Office director, Mr. Ashok Suman, believes that the two and a half year wait that fans have endured since the last release, Jogiya, will be repaid with a collection of masterful tracks. "We are very excited about the forthcoming album, Roti. We believe Mr Maan's huge global fan base will greatly appreciate the latest project. The eponymous title track of the forthcoming album has already increased listeners' anticipation as Maan premiered the song in his last UK tour. Along with the now familiar album centerpiece, there are seven more lyrically and musically profound tracks to complete the eight-track album line-up:
* Roti
* Pind Di Hawa
* Sajna Tenu Tak Tak Nahi Rajna
* Raati Chann Naal Gallan Karkey
* Je Layee See Te Nibhani
* Akh Mere Yaar Di
* Ja Chup Karkey Tur Ja Ni
* Farmaan
As ever, the album is composed, written and sung by Gurdas Maan. One noticeable inclusion in the latest production is that of Jatinder Shah, who provides the music and only helps to increase the intrigue and anticipation of what is already destined to be a chart success. Speaking on his latest, Maan says, "I am happy to finally reward the fans' patience with a collection of songs that will hopefully remain with them long after their release. The whole team have worked extremely hard on the project, from its conception up to the actual launch under UK Box Office."
Since the release of the chart topping previous album Jogiya, in February 2011, Gurdas Maan has toured the globe from Europe through America, Canada, Malaysia, Australia and recently the UK. "We thank all fans for their uncontested passion for this global icon and we are proud to release another exhilarating album," UK Box Office Director Jagjit Suman announced.
The release of the album comes in conjunction with the latest initiative by global music authorities to obliterate piracy. A lot of public campaigning over the years by both genuine fans and iconic artists has sent out a clear message to help support the industry by legally purchasing music and keeping the talent sustainable. "The problem of piracy is something we are collectively trying to battle. We hope that by continuously promoting legitimate musical talent we can in some way allow fans to realize the importance of legal downloading", states Mr. Suman. Maan has even talked about this sensitive issue on a live show and further reiterates, "Obtaining music is like any other purchase. If you truly admire the work then do it justice by purchasing it in the right manner." Fans are highly encouraged to buy the original or, as often favored, download Roti from iTunes.