On Camera Sizzle – Jennifer Irene Gonzalez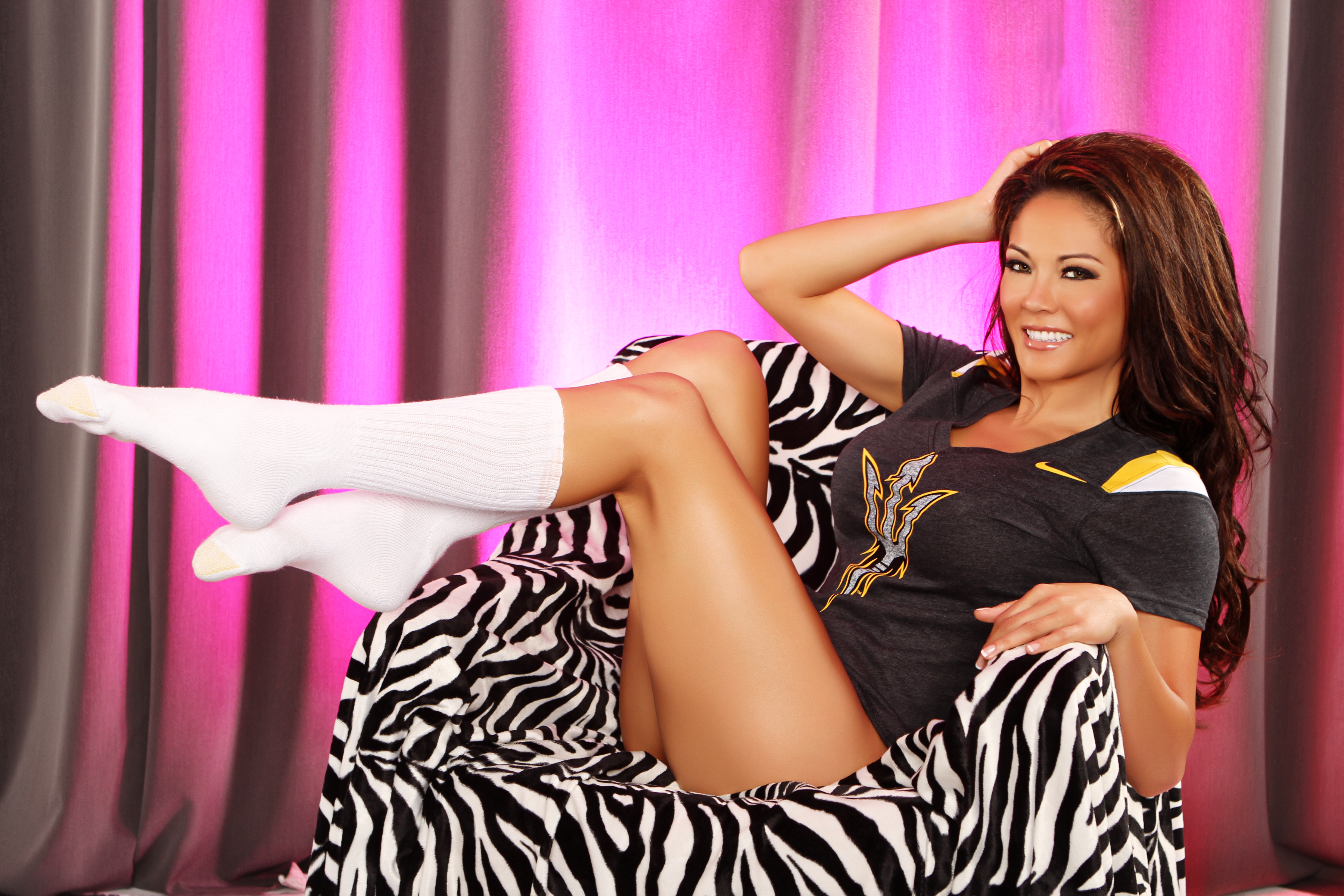 Jennifer Irene Gonzalez is one of the most sought after international models; she has been working around the globe and making her name a household name. The intoxicating Taiwanese-Spanish model was crowned Miss Taiwan USA in 2010 and placed top five in the Miss Asia USA competition. Soon after, a whirlwind of magazine covers, editorial features and billboards followed including a total of eight magazine covers in 2012, three billboards, countless features and two national advertisement campaigns.
And this isn't her only talent. She became a signed artist with Upscale records in Newport Beach and received a record distribution deal with SONY BMG. Since then she has established an extensive resume consisting of acting, runway, print, commercial, promotional modeling, singing and dancing performances. She is excited to continue to add to the list!
I had the opportunity to sit down with her for an exclusive interview with Bravura Magazine.
What inspired you to be where you are today?
Things like art, beauty, entrepreneurs, world travelers and even my accomplishments & failures are inspiring to me. Those, plus some, supplemented with some passion and topped off with a need to express it all is ultimately what inspired me to be where I am today!
When you announce something such as being featured in Maxim Magazine, and gracing the covers several major publications such as FHM, how does that make you feel?
Being in FHM (UK, Turkey, Slovenia, and Philippines) and being featured in Maxim Español, along with other major publications has given me an authentic feeling of competence to achieve the targets within my sight. I am just appreciative of the opportunities and couldn't be happier.

[Hair & Makeup: Jennifer Irene Gonzalez, Photographer: Alexandra Hays Photography]
How does it feel to walk past a newsstand or a random person holding one of these magazines with you in them?
It's unreal. It makes me want to take the time to find out about them, since they do for me. The support of others is what keeps me going.
I didn't know this till Bravura mentioned it. You are a mix of Taiwanese and Spanish (very sexy mix!). Do you find it hard facing stereotypical photographers or stylists who want to showcase you in a "particular limelight?"
I don't find it hard at all. I always do my research before working with someone, and if they are professional photographers and stylists, I usually trust what they are doing. I like to be versatile, but if I have to showcase to a specific limelight, I work hard to do my best.
Staying on the topic of mixed-culture. What have you done both personally and professionally, to stay in touch with your roots?
To stay in touch with my roots, I always make time to be with my family and of course eat all the traditional food. Professionally, I'll do some work for Asian and Spanish magazines, and I'll do a lot of traveling to experience the culture first hand.
Since you began your career as a model, have you become used to the limelight and paparazzi following? Or is there never a point of really getting used to it and it's just something you have to deal with?
I'm working on getting more comfortable with the limelight, however I'm not sure if there will ever be a point where I'll start getting used to paparazzi following.
Many models later make a career change where they go from behind a camera lens or the runway, to the big screens. If offered a role for a film, would you accept it? What would be your "ideal role"?
It would all depend on the specific role. My ideal role would be a mix of Reese Witherspoon and Jennifer Aniston…something in comedy or drama. Accepting a role for something like Legally Blonde or Water for Elephants would be a dream come true!
Many shows like 'America's Next Top Model,' have received much criticism because people think that these types of shows are either rigged or they don't really portray true talent in the best light. Do you think that's true? Or do you think that these types of shows have much potential for someone who wants to make a career in modeling?
I believe all of those shows are scripted or rigged to some extent. For example, they may keep a model on a show simply because she has good show ratings, even if she's not as talented as those who have poor attitudes. But, regardless if they truly are rigged or not, I believe these types of shows do have the potential to catapult someone's modeling career simply from the publicity.
Some of the "best models" in our industry are paid $80-million + a year. Do you think models are overpaid or underpaid for the work they do?
Wow, I haven't heard of models taking home $80 million a year…I've heard of $45 million at the most. To determine if models are over or underpaid really depends on what the work is, the model's personality, energy, independence, and so many other factors. The highest paid models in our industry work extremely hard and definitely worth every penny. They are exceptionally savvy, strong icons that have positive energy. They are paid that much because they are the face of multimillion-dollar companies, and can increase the sales of any product.
You've gone from being a girl who once dreamed of modeling to winning a pageant title and gracing the covers of magazines. How do you balance a personal life which so much going on professionally?
I build downtime into my calendar. I set aside time for activities that I enjoy, which gives me things to look forward to.

[Make-up/Hair: Val w/ http://iconimage.net, Jewelry: Patricia Margolis, Photography: Jenna Kraczek]
How do you think you've grown as an individual throughout your career and experiencing all that you have?
Each year contributes to my growth as an individual as well as a model…for the better. My outlook, goals, and motivations have been transforming throughout my whole modeling career, and I'm so much happier. The years have been good to me with only a small amount of regrets. I have grown enough to realize some of my mistakes, and I will continue to work on the rest.
What experience do you have for those who want to make a career in modeling, especially young girls/women?
You have to have a good attitude, positive energy and have good work ethics.
"Around here […] we don't look backwards for very long. We keep moving forward, opening up new doors and doing new things, because we're curious… and curiosity keeps leading us down new paths." — Walt Disney
Ok Jennifer, it's time for my Fire Round Questions! Just give an honest answer; there's no right or wrong here!
Nude shoot or lingerie shoot?
Lingerie
Stranded on a desert island or being cooped up inside a wintry cabin?
Desert Island
Hot sex or passionate love?
A lady never tells.
Single or currently dating?
Currently dating
Type of men that interest you?
Confident, Intelligent, and humorous