Bravura Magazine Releases Forces of Nature: World Tour Mixtape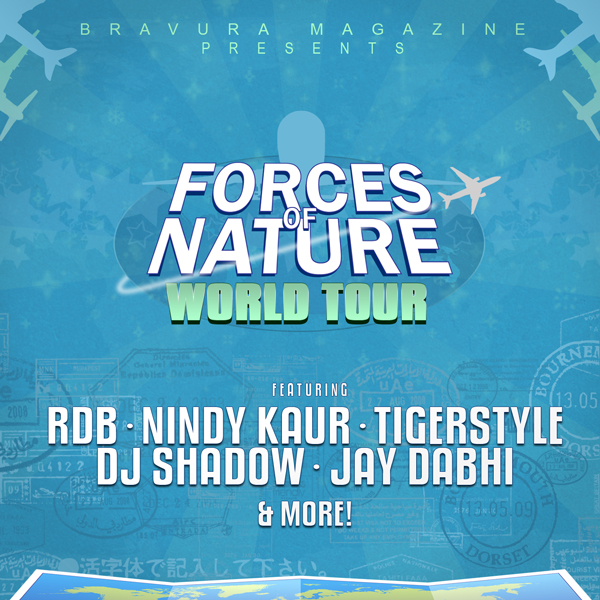 Since its inception, Bravura Magazine has released a series of mixtapes with handpicked music by South Asian artists across the world. The first mixtape, Forces of Nature, was a compilation of original production and remixed tracks by urban Desi artists. The second mixtape, Forces of Nature: The Sequel, featured artists such as Ajaxxx, RajStar, and RDB & Nindy Kaur.

This year, Bravura Magazine has truly gone international with its newest release: Forces of Nature: World Tour. This mixtape is a collection of some of the best music by South Asian artists from the US, Canada, UK, Dubai and India. The mixtape release features international artists such as DJ Shadow of Dubai, Electro Magnets of India, Shweta Subram from Canada, NY Mixshow DJ Jay Dabhi of 92.3 FM, and Bollywood music superstars RDB & Nindy Kaur.
With a clever mix of Bollywood, Bhangra, R&B, and Hip-Hop, Forces of Nature: World Tour has something for every music lover. Editor-in-Chief, Tirusha Dave stated, "I've been working with my team on releasing these mixtapes because we want our readers to enjoy amazing music by artists across the world. This mixtape is extra special because I've asked all the artists to submit a track which they feel, personally, defines who they are as an artist and a track they are really proud of this year."
Ajaxxx, one of the artists featured on Forces of Nature: World Tour, stated, "As always, it's been a real pleasure working with Tirusha and the rest of her team at Bravura Mag. They've got a lot going on in terms of music, fashion, and movies, and it's great to see that. So with the new CD, I wanted to continue my involvement in the series. They haven't disappointed yet so I'm really looking forward to it."
Nindy Kaur stated, "This mixtape was a fun project. I was able to showcase two of my tracks, Akhiyan and 2 Seater, which were both exclusively remixed by amazing DJs. Both DJ Tejas and DJ Shadow did a great job in keeping the originality of the track and giving it a new flavor as well. Bravura Magazine has always been a big supporter so I'm glad I jumped on this project."
G-Deep, who Bravura Magazine has worked with before also stated, "…they [Bravura Magazine] has always supported my music and I'm very happy to be a part of this mixtape. Bring is Back is a light and fun track, I know you're all going to love it."
With 22 tracks featured on Forces of Nature: World Tour, this mixtape is the perfect addition to your growing collection of South Asian music. Whether you're a Bhangra, Bollywood, Hip-Hop or R&B fan, there's something to fulfill your music needs.
To download the mixtape for FREE, please click here.
For press/media inquiries, please email: contact@bravuramagazine.com.