With Halloween just a few weeks away, it's time you start looking into your party planning and get those last minute things done now. Because before you know it, it'll be time to great your Trick-o-Treaters with the awesome evening you've got planned! We thought it would be great to share a few spooky and fun-filled ideas for your upcoming get-together! And if you have an idea you'd like to share with us, then send us your thoughts: contact@BravuraMagazine.com!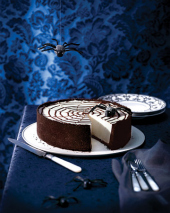 When it comes to creativity, Martha Stewert is the queen of all things creative. Yeah, that sounds a little redundant, but it's the truth. I've gone straight to the goody bags, and nothing says creative than pressed pumpkin leaves and they are quite easy to make.

Tools & Materials:
* Fresh leaves
* Scissors
* Craft knife
* Spray Adhesive
* Colored paper/note cards
* Hole punch
*Ribbon
*Bag of Candy

Step-by-Step Instructions:
Gather freshly fallen leaves with stems. If desired, use a pair of scissors to trim them into a pumpkin shape.
With a craft knife, cut facial features. Snip the stems to preferred length.
Dry for several days in a leaf press or sandwiched in newsprint inside a heavy book.
Coat one side with spray adhesive, press onto colored paper or note cards, and let dry. For the tags, punch a small hole in the paper, thread with a ribbon, and tie to a bag of candy.
Now that we've got the giftbags done, time to move onto more fun things! Or should I say YUMMY things! Don't worry, I have some amazingly delicious items that your guests will die for!
My first yummy treat is dessert! Who wants a real meal when you can have savory snacks and sweets all night long?!

Just look at this yummy Spider-Web Cheesesake! It's devilishly tasty…I know because I've made it before! Martha is a dream come true when it comes to the kitchen also! The recipe below serves 12-14 people. But Gigi's suggestion? Make double the cheesecake because trust me…once people take a bite, they'll want more!
Ingredients
For the Crust

Vegetable oil, cooking spray
18 ounces chocolate wafers (about 90), finely ground (4 1/2 cups)
1/4 cup plus 2 tablespoons sugar
6 ounces (1 1/2 sticks) unsalted butter, melted
1 teaspoon coarse salt

For the Ganache

4 ounces bittersweet chocolate (preferably 61 percent), finely chopped
1/2 cup heavy cream

For the Filling

32 ounces cream cheese, softened
1 1/2 cups sugar
1/4 teaspoon coarse salt
3 tablespoons fresh lemon juice
1 1/2 cups heavy cream, cold
Candy Spiders, optional
Directions
Make the crust: Coat a 10-inch springform pan with cooking spray. Mix wafers, sugar, butter, and salt in a medium bowl. Pat mixture into pan, pressing firmly into bottom and all the way up sides. Cover, and refrigerate until ready to fill.
Make the ganache: Place chocolate in a food processor. Bring cream to a simmer in a small saucepan, then pour over chocolate. When chocolate begins to melt, process until smooth. Reserve 2 tablespoons ganache for decorating, and spread the remainder evenly on bottom and all the way up sides of crust. Cover, and refrigerate until ready to fill.
Make the filling: Beat cream cheese with a mixer on medium speed until fluffy, about 3 minutes. Reduce speed to low, and slowly add sugar and salt. Raise speed to medium-high, and beat until very fluffy, about 3 minutes. Beat in lemon juice.
Whisk cream until medium-stiff peaks form. Whisk 1/4 of the whipped cream into cream cheese mixture, then fold in remaining whipped cream. Pour filling into crust, and spread evenly. Gently tap bottom of pan on counter to release air bubbles.
Transfer reserved ganache to a pastry bag fitted with a 1/4-inch round tip. Starting in the center of the cheesecake, pipe a spiral, spacing lines about 1/2 inch apart. Pull the tip of a paring knife in a gently curved line from the center of the spiral to outer edge. Wipe knife clean, and repeat every inch or so to form a web.
Cover, and freeze for at least 1 hour or overnight. Unmold cheesecake, garnish with candy spiders if desired, and serve immediately.
I'm craving a piece after sharing this with you! Ouch! Finally I've got a scrumptious drink to add to your menu! It's Martha's original, Bleeding Heart Martini! And her majesty's recipe serves four, so you'll definitely want to make a few pitchers full!
Ingredients
2 ounces dry vermouth
8 ounces premium gin
Ice cubes
4 Pickled Baby Beets, each placed on a cocktail skewer
Directions
Chill 4 martini glasses in the freezer or fill with ice water and let sit until frosty, about 5 minutes (pour out water). Add the vermouth, dividing evenly; swirl to coat the glasses, then pour out. Add gin to a cocktail shaker filled with ice. Shake vigorously until chilled; divide among chilled glasses. Garnish each with a skewered pickled baby beet, and serve immediately.
Well there you have it my lovely readers! Gigi will be getting back to you with more holiday planning as Thanksgiving, Christmas and New Years come around! But till then, I'd love to hear your holiday planning tips and share with our readers as well!
xoxo
Gigi