Mumbai Masala – Bhindi Bazaar
By: Rahul Patel Ankush Bhatt's debut shows Mumbai's gritty, grimy, underbelly, complete with beedi-smoking gangsters, dance bars, prostituting eunuchs and all Mumbai ka gallis. Kudos to the director for getting this dark side right.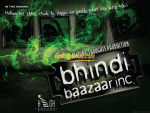 Piyush Mishra and Pawan Malhotra, both veteran actors, pull off their roles of opposing mafia bosses with ease. But the plots lacks the touch of a true gangster thriller. The subplots also add to lots of confusion in the story telling process. Ultimately, no part of the script ever matures into a full-fledged hook. I'd still say for one to watch the movie because of the performances of all the actors. Parental guidance and handbook of meanings of cuss words is must!
Total Stars: 3.5 out of 5